This site uses cookies. By continuing to use this site, you are agreeing to our use of cookies.

Learn More.
CubeCraft Games
Hey everyone! We are very happy to bring you this awesome BlockWars update! We have four epic new maps, Aces, Nuclear, Pirate and Village for you to play on. We've also readded some of the most requested features from the Chunk version of the game. Trap blocks and powerups will help you get the edge on the enemy team and secure a victory. While the new bomber kit will allow you to quickly blow up enemy defences and get to their flag.
As usual, you can find a full changelog at the bottom of this post. Now go out and capture some enemy flags!
Aces
This is 'ace'!

Pirates
Yarr gonna love this

Village
YMCA people would love this

Nuclear
UNLIMITED POWERRRRR!!


Changelog:


Added four new maps
New lobby sign board
Added power-ups
Added trap blocks
Added ability to purchase new trap blocks for points
Added bomber kit
Fixed natural regen not working
Fixed some achievements not be recorded
Fixed glass colors for stolen flags
Made lobby signs smaller
Auto-balancer is now disabled in the last few minutes of the game
Added pregame team balancing

​
We are super pleased to bring you an awesome
Tower Defence update! Three new maps, two new towers, one new mob and a whole bunch of other changes.
Remember to give
@toropov
a big thank you if you enjoy this update! Scroll to the bottom of the post for info on the Tower Contest and a full changelog for this update!
Be sure to check out this spoiler to see info and gifs of the new mobs and towers in action!
The evil
Wither
attacks both teams during
Armageddon mode
Witches
use their brewing skills to
heal
mobs around them.

The new
Leach tower
charges up and then releases a
shockwave
of energy causing damage in a huge area.
A close relative of the ice tower, the
quake tower stuns
mobs for a short duration while dealing damage.
Demons
I 'demond' you to play this map
Portals
The 'cake' is a lie!

Space
To get a good strategy you need to 'planet'

Tower Design Contest
After the huge success with our PvP kit contest we decided that you would all love a tower design contest! Design a unique tower, both in function and looks for a chance to have it added to the game for everyone to use! Head over to
THIS
thread for full info on the contest as well as to submit your entries
https://www.cubecraft.net/threads/tower-defence-tower-design-contest.113397/
Full Update Changelog
Added new Leach tower...​
Hello CubeCrafters
Here to bring you a cool update to
EggWars
. We've added
more maps to Solo
and made some feature changes to the game. So hope everyone has an awesome time and enjoy!
Updates
You now receive points from kills
You now recieve points for breaking the egg!
Added a compass in the shop, that allows you to track the nearest player
Added 3 Solo EggWars maps
Fixes
Allowed better block placing around generators, shops and spawnpoints (you can build under them)

Re-added the map 'Storm' *mistakes were made, but not by me*

Fixed the same team being on the scoreboard twice
Safari
It's grrrrrrrreat
Steampunk
Are you 'gear'ed up to fight?

End
Will this be your 'end'?
​
​
I hope everyone is enjoying the epic PvP update as much as I am! To celebrate and keep the hype going we are bringing you an awesome kit design contest with some pretty cool prizes! Head over to the kit creator and design the epic kit of your dreams. Submit your kit in a reply to this post to enter it into the contest.
Remember to include ALL the details about your kit, and bonus points for including pictures, epic backstory and/or video of your kit in action. You may submit up to three kits, any extra kits you submit will be deleted and not counted! You can see my comment below to see an example of a good kit submission
Prizes
1st
- Your kit will be added as an official kit. You will also receive a rank upgrade and an exclusive PvP T-shirt!
2nd
- Rank upgrade and PvP T-shirt
3rd
- Rank upgrade
Good luck to everyone in the contest! You also have a chance to win an upgrade and shirt over on
Twitter
!
Discord
Many of you have been asking for an official CubeCraft Discord for a while and it is finally here! For those of you unfamiliar with Discord it is alternative to Teamspeak that many players seem to prefer. The Discord rules are the same as the Teamspeak rules and you can join through this link
https://cbecrft.net/discord
Want to know more about what Discord is? Check
here
PvP Updates and Fixes
We also have a bunch of small updates and fixes for PvP, all listed below!
Assassins
Can no longer break the shop with arrows
Disabled players hitting out fire
Disabled player collision
Changed players names to all be yellow so that certain ranks don't have an unfair disadvantage
FFA
Fixed...​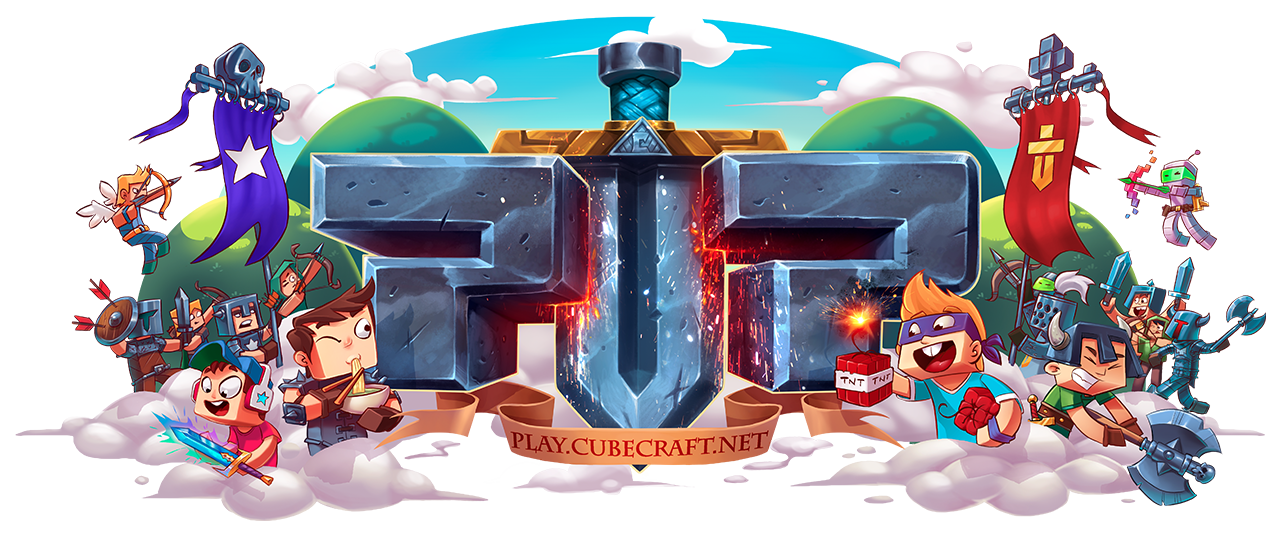 ​
Hello CubeCrafters!
You better strap yourself in, this is epic. Today we're bringing you a huge, out of this world, amazing PvP update. This update is split into two parts Free For All and fully customisable 1v1 Duels!
Lobby
The build team has redesigned the lobby, adding a vortex jump, invisible parkour and a very unique kit customiser lobby. There a few easter eggs around the lobby too!​

​
We have added a much requested feature... 1 vs 1 mode! But of course it's not just 1 vs 1, we have created 5 gamemodes! These include: Classic, Normal, Overpowered, Soup and Insane. There are 25 unique maps to play on, plenty of content to destroy from the ridiculously fun kits, whether it be your explosive bow or the ghasts that you spawn, there are endless possibilities of how you want to play the game. Thanks to our custom kit creation. And of course, we have a 1.8 mode.
Classic Mode
. 1.8 PvP!
Archer
- Bow
- 16 arrows
- Chainmail armour
- Golden apple

Survival Games
- Mixed armour
- Bow
- 8 arrows
- Typical SG items

UHC
- Diamond sword (Sharpness I)
- Iron armour (Protection I)
- Typical UHC items

Iron Warrior
- Iron sword
- Iron armour
- Golden apple

OP Warrior
- Diamond armour (Protection IV, Unbreaking III)
- Diamond sword (Sharpness IV, Unbreaking III)
- God apple

No Debuff
- No effects
- Diamond armour (Protection II, Unbreaking II)
- Diamond sword (Sharpness III, Unbreaking III)
- 16 Enderpearls

OP Archer
Diamond armour (protection II, UNbreaking II)
Bow (Power III, Unbreaking III, Punch I)
God apple
Normal mode
. 1.9 PvP with normal kits!
Archer
- Bow (16 arrows)
- Chainmail armour
- Golden apple

1.9...
You asked and we listened! We understand that not everyone is the biggest fan of the new 1.9 PvP and as such we have added a new '1.8 PvP' mode to our two most popular games, EggWars and SkyWars! As of right now, 1.8 mode (or classic as we are calling it) features removed cooldowns and reduced ax damage. We are entirely open to continuing to tweak this mode if you, the community, decide more of the 1.9 features should be removed.
If you're missing a 1.8 PvP mode in one of our other games, fret not! 1.8 mode will slowly be making its way to as many gamemodes as it fits. Releasing for SkyWars and EggWars is our way of testing, balancing, and perfecting the mode before the rest of the network receives it.
REMINDER
- 1.8 mode does still require 1.9 to connect to the network. This mode simply removes some of the most hated 1.9 PvP features.
Along with the new 1.8 mode, we have also released a number of bug fixes and minor improvements. You can find the full changelog below!
Classic (1.8) mode added to SkyWars team and solo
Classic (1.8) mode added to EggWars team and solo
Added more food in SkyWars chests
Added fancy new banners to game lobbies
Tweaked anti-cheat settings to hopefully lessen the amount of accidental lag backs
Fixed issues with 1.9 regeneration interfering with our anti-cheat and limiting the rate of regen
Fixed SurvivalGames Seasons water bug
Fixed EggWars lobby parkour
Fixed offline authentication, so we won't go down, even if Mojang does!
Fixed numerous small network instabilities
Fixed being able to become invincible in nether portal in SkyWars
Fixed being able to select multiple kits in Survival Games
Fixed camping being easy in Spleef
Fixed EggWars team names not matching
Fixed grammatical mistakes in Spleef
Fixed grammatical mistakes in SCB
We fully understand your frustrations with how long some of these changes took, but we are here, we...​



Hub
Hop online and explore the Easter hub. Have fun with our easter egg
hunt, find all 25 eggs and unlock a unique rabbit hat and a special gadget. I'm sure there will be lots of helpful guides on how to find them on YouTube later today.

Solo EggWars maps
We've added three new maps for our new
gamemode. In addition, we will be enabling double points for EggWars! Make sure to make the most of our Easter weekend. The Easter map is available for a limited time only.
Easter
Are you 'egg'cited? hurry up and 'hop' on


Stronghold
Be 'strong' and win!


Nightmare
What most of my date 'nights' look like... 'Scary'!
​
HAPPY EASTER!!
Enjoy double points!
​
Hello CubeCrafters,
I'm happy to announce the release of a brand new game,
Tower Defence
! It's been a long awaited game and it's finally here! Thanks to
@toropov
!! This game has finally been ported over from The Chunk and my apologies for the delay, we've just moved DataCentres and the 1.9 update broke a few things which have now been solved.
TowerDefence is a fast-paced tower defence game in Minecraft, similar to Bloons Tower Defence.


How to play
You will be matched up against another team. Your goal is to prevent your own castle from falling while trying to breach the other team's castle.
Teams are responsible for creating the mob waves. The mob summoner menu allows you to launch mobs. You will get zombies by default, other mobs must be unlocked by earning experience.
Experience is earned by sending waves of mobs.
The menu allows shift-left-clicking to buy the maximum amount of mobs of a kind and shift-right-clicking will remove all mobs of the selected kind.
Towers
Towers are the main mechanic of the game. You must build towers to deal damage to mobs.
There are several kinds of towers available by default and more are available in the shop.
Right-clicking a tower will bring up a menu on its statistics, an option to upgrade it, and if applicable, an option to sell the tower and get a percentage of the cost returned.
You can also quickly upgrade a tower by sneaking and right-clicking the tower.
The 3 x 3 Towers

Artillery Tower
-
Archery Tower
-
Ice Tower
-
Mage Tower
-
Poison Tower
-
Sorcerer Tower
-
Zeus Tower
The Artillery Tower shoots explosive shots and has a good Area of Effect. The Archery Tower is a cheap single shot tower that shoots arrows. The Ice Tower...​

Hello CubeCrafters,
Today I get to announce the release of our
eggcelent
EggWars update. Lots of you have been requesting EggWars solo mode, so we have added this, and also more than
doubled
the amount of maps that the amount of maps that we previously had.
We've also added 2 new kits:
​
Shell Cracker​

Golden pickaxe (Efficiency I)​

Egg Armour​

Leather Helmet
Leather Chestplate
Leather Leggings
Leather Boots​
And also a whole load more achievements, just for solo mode. Feel free to give these a crack to see how many you can complete!​
Solo EggWars Maps
Candy
'Sweeeeet' new map

Golf
Foooooooore CubeCraft

Construction
'Construct' yourself a good defence

TeePee
I do like a good 'Indian' meal
Farm
Keep 'mooooving' if you want to win
'Squeals' with excitement

​
Team EggWars Maps
Area51
It's outta of this world
Aztec
Keep cool and don't lose your 'head'
Forest
'Wood' you like a challenge?

Fairground
Prepare for the 'ride' of your life
...​

​
Hello CubeCrafters!
We've just dropped our Minecraft 1.9 update! Please read this whole post before before posting!
We've decided to
NOT
support both 1.8 and 1.9 client as we want to embrace the new features in 1.9 and make the most out of them! If you're still on a 1.8 client you won't be able to join the server from now on so make sure you update your client to join the fun
We've tested current gamemodes, and upcoming ones, with Minecraft 1.9 and we feel the new update is really cool. There's new blocks and block mechanics (Such as single glass panes now being a glass "pole" - check it out at Dance Off in the Lobby) so our builders can play with these to make you cooler maps!
We think the new 1.9 PVP mechanics are pretty nifty, we're going to monitor how it effects balance and gameplay over the coming days so you'll notice that we may tweak one or two things as time progresses!

FAQ (Will be updated)
"I can't connect to the server because it says I need to update"
You need to update your client to 1.9 - To do this, on the launcher screen select "Profile Editor", double click your Minecraft username, and change the version to "Use Latest Version". Save the profile, login and get playing
On a side note, I'd like to apologise for the network instability issues we've suffered over the past week. We've recently moved data centre to try and improve connectivity (Reducing lag). With this we had a few teething issues. We've solved almost all of these issues now so you should notice everything improving.
On a more positive side note, now we've moved data centre and sorted 1.9 we've got our dev team working full out to bring out new features and games (yes, including FreeBuild) so prepare to be amazed at some of the stuff we've got coming for you! A...