Jan 30, 2014
4,575
18,905
684
22
Hey CubeCrafters!
We're celebrating our Bedrock network, turning 4 years old. On the 25th of April 2018, our
CubeCraft Games Bedrock launched
, with SkyWars & EggWars being the only available games. Survival Games followed soon after, then MinerWare. Jump forward 4 years, we currently have 9 epic gamemodes to play. Our Bedrock network went from 1000 player peak to 30000+, which is incredible! - We couldn't have done any of this if it wasn't for our fabulous team and wonderful community. You've stuck by us from the beginning and helped us grow, and we'll continue to do so! - Read below to find out what we're offering in this mini-event.
Birthday Giveaway
We can't celebrate our Bedrock birthday and not host a giveaway. Our Twitter is going to be hosting a giveaway for 4 rank upgrades. Java and Bedrock players can enter. Keep an eye out on our Twitter
HERE
!
Free Birthday cage!
To our Bedrock players, we're giving you all a free loot cage to collect and show off in our games. Simply find the Birthday Bundles NPC in our Bedrock hub and click it to claim your free cage! What are you waiting for?!
Free Bedrock Cage.
​
Birthday bundles - Returning content!
Similar to our 3rd Bedrock birthday celebration, we're temporarily unlocking our previous cosmetic bundles from the last 2 years. All bundles from Halloween 2020 to Spring 2022 will be available. You can find them in the Birthday Bundles NPC in our main Bedrock hub. But you better hurry, as they won't be available for long!
Bedrock Bundles NPC
​
Celebration - EggWars Teams of 4
To celebrate our 4 year milestone, out with the old, in with the new. Now available on our
Java & Bedrock network
. Check it out.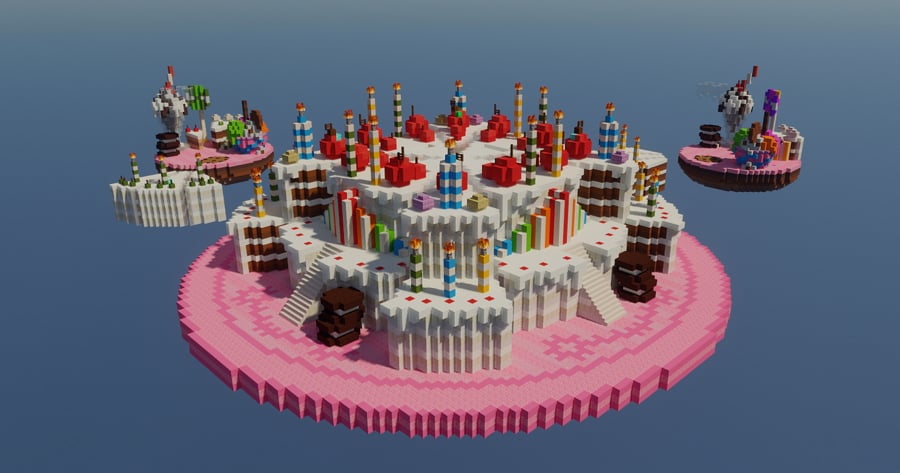 Make sure to celebrate a win on this map!
​
Thanks for reading! We hope you enjoy this 4th birthday celebration!
Last edited: