Protocol Developer
Team CubeCraft
💻 Developer
Apr 24, 2020
69
477
79
Pronouns

He/Him
Hello CubeCrafters
This is an update to
this
thread regarding our removal of pre-1.16.200 versions. For the past year, we've supported all the way down to 1.16.100, and since then you have been able to join the network from that version onward. However given current circumstances, it's no longer viable for us to continue supporting 1.16 versions.
With this being said, we will be
removing support for
all
1.16 versions on November 30.
Why are you dropping the version?
We understand that some people may be upset with this change, however, it is no longer sustainable for us to continue supporting this version any further. We've held onto 1.16 a lot longer than we typically do any version, and initially reversed our removal of 1.16.100 & 1.16.200 due to feedback from the community. But since then, 2 new Bedrock versions have been released with 1.18 coming on the 30th, and the number of people playing on 1.16 versions has dropped dramatically. The more versions we attempt to support back, the worse the playing experience and the more difficult it becomes to maintain them.
Some of you may have noticed some obscure issues popping up on these older versions, such as the inability to break blocks at times or the lobby items being invisible. This is purely due to the nature of these versions becoming more of a technical burden and it not supporting newer systems created on our network due to its age or lack of features. The game itself is rapidly advancing, and we want to move on with it too.
Isn't 1.16 still very popular?
1.16 versions actually make up a very tiny number of people on our network.
On Friday, November 19 where we peaked at 23,000 players, only
266
of those were using a 1.16 version. This makes up roughly
1%
of our total online players. Looking at 1.16.100 specifically which tends to have a much more vocal demand, our statistics show that within the span of a week, the highest it peaked at is around 25 out of 30,000 overall players. To put it into perspective, this makes up
0.08%
of our Bedrock network.
Here is a visualization of the player count on 1.16.100: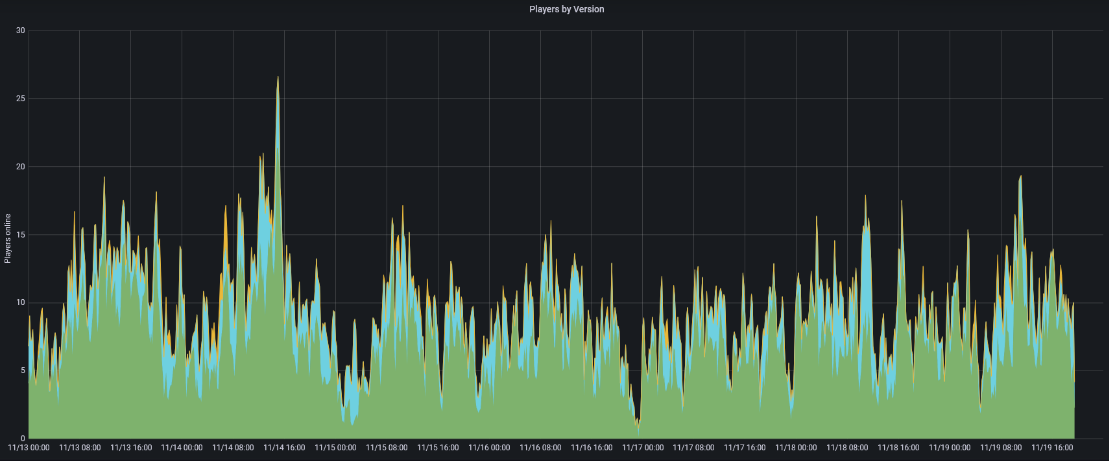 Green
= 1.16.100,
Blue
= 1.16.101,
Yellow
= 1.16.100.60
​
Given these numbers, it doesn't make much sense for us to continue holding back this far considering how few people actually play on this version.

​
How can I play on newer versions without as much lag?
We are aware that some people encounter worse performance on newer versions due to the introduction of Render Dragon, or issues such as the "pink glitch".
We do, however, have a solution for that!
Following the instructions mentioned in our HelpDesk article
here
, you can get an x86 build of Minecraft Bedrock which does not use the Render Dragon engine. Keep in mind that you will need to be signed into an Xbox account that owns the game in order for this to work. Using this build should make the game run at a comparable rate as it did on 1.16.100.
If anyone has any questions or concerns, we're happy to answer them!
Thanks for reading!