Hi I wanted to suggest a new game mode since I have only seen it once and in my opinion it can be improved.
Obviously it would be for version 1.12 since cube is going to close version 1.8 and perhaps the maps for this game mode could be very interesting due to the new blocks that this version of minecraft provides.
This mode is based on killing enemies on a specific map and overcome waves of enemies.
Each round you pass is more complicated and with the money you get by killing those enemies, you can buy weapons, accessories or open new areas on the map.
Everyone will start without armor and with basic weapons to survive the first waves until you can open other areas and buy better items.
It would be very interesting for cube to introduce this game mode since many people like it and it can give a lot of nostalgia.
To this day I still do not see any decent server where I can enjoy the zombies game mode, the only server that has it is hypixel and in a very simple and outdated way, so there comes a point where it is very repetitive.
Obviously this game mode would be a long term modality with a long development time.
Now that cube is going to update to version 1.12 on June 15, new blocks can be used to make a very cool map.
The fundamental thing would be an open field in which the players have a lot of space to enjoy the game mode, since in a very small and closed map there would come a point where in very high waves the map would be full of zombies and it would be impossible to run.
The idea is to create a fairly large map with various areas to unlock with the coins you get by killing mobs. In these areas, you are able to unlock new abilities or buy new items that could be of use and could not be obtained by the original playfield.
The most suitable for this game mode would be to play in adventure mode so that you cannot break or take advantage of any bugs and cover the entire map full of barriers in order to give you an advantage against the mobs.
As I have said above, very interesting areas could be made in which you have to discover and are good to hold the rounds
Areas of the map that may be interesting:
Grove​

Cemetery​

Collapsed Sanitarium, It would be good if it was in the middle of the grove.​

Abandoned church​

Some caverns that are accessed underground​

Sewers​

An abandoned hospital​

Military base​

Nuclear power station​
All of these are ideas of areas that can be put into.
Obviously this is not mandatory since there are people who have low end PCs and their PC cannot run the game with a texture pack like this.
Something style like in luckyblocks that you can wear it to have a better gaming experience in case you want and your pc can run it.
Something like that but with a unique cubecraft style.



The modes that I propose would be duos (2 players) and squad (4 players) since that is not in any server and it would be something innovative.
The difficulty of duos obviously has to be different from that of squad and each mode will have to have a separate leaderboard.
I have decided to choose duos and squads since in most games, not only in minecraft, what people usually play are duos and squads.
There is also the possibility of trio and solitaire, but solitaire would not make much sense in zombies on a server, since the purpose of this game mode is to have fun with your friends, not alone and in trios I do not think it is necessary, due what will there be squads.
This could be an example of the npc menu: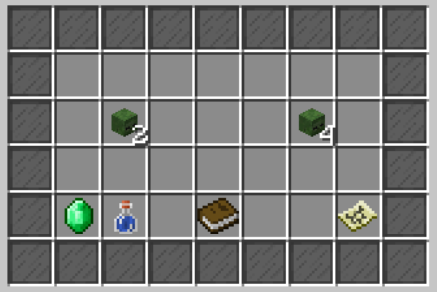 The waves of zombies are the rounds of enemies that we are going to survive.
Each time you pass 10 waves, the idea is to introduce a boss. I think the idea of a boss is clear to everyone. It takes longer to kill them and they do more damage and are harder to kill.
The mobs of each waves can vary in loads of types - the way they attack etc. Same for the bosses, they would have special skills. The level of difficulty would increase every wave.
The skills that bosses can throw at you could be, for example an ability that hits you and leaves you frozen for 2 seconds; lightning strikes your head; that throws fire at you.
The waves should be infinite until the players have died - so there's no 'end' to the game.
You also have to take into account that for that, each round will have to be adapted to a more difficult difficulty, since if it would not be very easy and the game would not make much sense.
Feel free to leave your thoughts and ideas down below if you have any, so for example abilities or ideas for mobs and their type of combat.
As I stated before, there are various areas which you could unlock by using the coins you've earned during the passed waves. Some areas contain shops where you can upgrade the your weapons, others contain shops with armor. There should be an area with a vending machine-like idea with additional abilities. These include possible advantages that may be of use:
Being able to upgrade your hearts, but to a certain extent - so not infinite health.
Normal bullets turn into fire bullets
Being able to revive your teammates and without this ability you cannot revive them.
An ability that gives you infinite Resistance I.
An ability that gives you infinite speed I.
A ability that makes you shoot weapons faster.
An ability that allows you to spawn a gun turret which helps you kill the enemies (can only be enabled once in X seconds).
An ability to be able to buy a mini soldier to help you defend (can only be enabled once in X seconds).
An ability to get a multiplier of points x2.
These abilitys are an example of future skills that could be developed.
Take into account that there is a maximum amount of abilities you can enable - otherwise it would become too overpowered. The idea of these vending machines can ofcourse be tweaked into all types (maybe one in which the quality of the weapon can be upgraded - let's say, more damage or increase of fire rate or increase of amount of ammo it can hold).
The type of weapon starts off as
common
and can be upgraded to:
Rare​

Mythical​
The weapons that I would propose would be:
Chainsaw / Knife​

48 Magnum​

M4A1​

AK-47
SCAR-L

Barret M82​

Railgun (Special weapon)​

Rocket launcher​

Vector​

SPAS 12​

Double barrel shotgun​

Molotovs​

Grenades​

Light machine guns​
As for the armor, it will be unbreakable and people can get full diamond with protection in case people upgrade the armor.
This is just an example of weapons that could be implemented.
It could also make an area on the map where there would be a chest, in which by paying a number of coins you get a random weapon as practically in all zombie games.
Many types of zombies could be made. I leave an examples of what I have thought
Normal Zombies​

Burned Zombies​

Radioactive Zombies​

Lunar Zombies​

Robotic Zombies​

Explosive Zombies​

Cyclops​

Dogs​
You can get to make many types of zombies that each one carries different weapons and each one has different characteristics from the others.
For example the Radiactive Zombie, if you are close to the one that infects you with poison for x seconds.
Regarding the voting options having rank, many things could be done:
Difficult (Easy-Hard-Extreme) but then the leaderboards would have to be separated in the difficulties.​

Time (Thunderstorm-Sunset-Night) [Requires gold rank].​

Drops (Enable/Disabled) bring a random box that you get a special weapon. [Requires diamond rank].​
Obviously you would have to make 2 separate leaderboards, one that is duos and the other is squad.
In the leaderboard, 2 factors could be counted:
The waves of zombies that you have endured the most.​

The waves that you have lasted in all the games what have you played, that is, if you play a game and last until 20, and in another game until 40, it would be 60 waves.​
In my opinion the best one would be better the first, but this ofcourse depends on every person.
I think it is quite interesting to innovate and create new things that are peculiar, logically this would have a lot of work behind and a lot of development time is simply a suggestion for the future.
The purpose of this game is to have fun with our friends and in turn also be competent to endure as long as we can.
It is a quite addictive game in my opinion and you can spend many hours without getting bored.
Any kind of suggestions or things that could improve the gaming experience are accepted.
Finally I want to thank
@XiiKa
who has helped me to translate all this in a better way, since for some sentences that I do not know how to express myself I use the translator and without her I would not know if I have expressed myself correctly.
To everyone else thanks for reading, I have made it as brief as possible, but explaining a game mode is something that requires a lot of text and effort.
I would like that the people who vote

leave the reasons why you do not like it or that you would change.
Those who vote

, It would be good if you give suggestions that you would like to add to the mode, all comments are welcome.
To everyone else, thank you for supporting it with a

.
Last edited: