Hello CubeCrafters!
I wanted to come up with a suggestion which is
should the leaderboard be implemented on forums again?
-As some of us may remember a while ago we had a section where we could see the top players of each game mode on forums, this allowed us not only the requirement to be in game looking for the current position, but also It was very helpful to connect to forums from a cell phone or tablet and check the current position of people who want to reach the leaderboard and be monitoring how many wins the opponent has and have an easier point of view from a mobile device or even from the computer without being in Cubecraft. This also might be useful for those who're on leaderboard and want to see themselves (if in this case you are on the 200th places).
Some time ago I saw a thread asking about this which a person gives an answer to the current question which did not was specific referring to this, therefore it didn't resolve the doubt. The answer to this same question was:
They currently removed or disabled the leaderboard on the forums because of their new, refreshing website.
-ActualIy I have seen many people
interested
and
sharing
their experiences on forums of their achievement by getting the leadeboard which is fantastic to show interest at this point. So these people might also be happy to have an option on forums to view their positions on leaderboard.
If somehow this will be implemented,
how could it improve in terms of appearance compared to the old one?

Currently status in game view, example of "Team Skywars Leaderboard"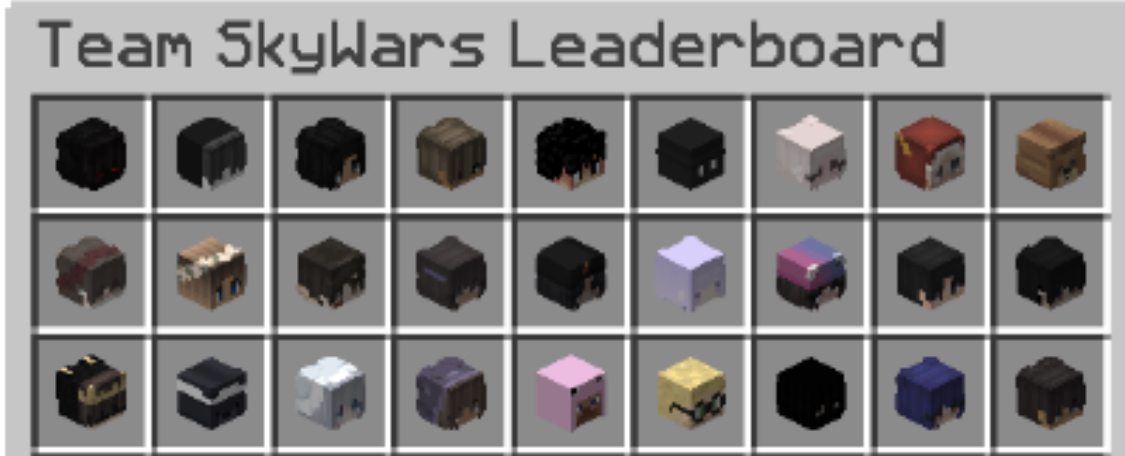 As seen above,
this is the only way we have to see the positions of each person now
. In this case it requires being
online
in game, but thinking of those who are busy and
cannot be online
for some reason the option of finding your position of yourself using any mobile device could be great use.
-Compared to the old one, we could only see the name of the top players which made it look so empty. If this in some way could be developed and implemented again, i'd like to suggest
the option of being able to see the skin next to the name of each top player
would be great and it will gives another aspect more professional and different from the previous one.
What you guys think about this?
Let me know down there I will read all of them you can also vote for it.
This was my suggestion and I hope I can also get feedback of any staff member and see their point of view related to this
.
-JoSee