Hey CubeCrafters!
We're excited to be bringing a new update for our forums - though it's small in content, it's massive in concept!
I've put a TL;DR here in case you want to know how suggestions are handled now really quickly. But read more if you want to understand why these changes have been made.
Added agree, disagree and unsure reactions.
Removed escalated tag, added forwarded and planned prefixes.
If your suggestion reaches 25 agree reactions, you'll get a response from the Product Team.
You can repost your suggestion following a format at the bottom of the thread.
After our community talk a while back, we asked for some advice on our suggestions subforum, and we believe we've reached a great way for you guys to be excited when you make a new suggestion!
New Reactions!
We've added three new reactions that are only accessible in the suggestions subforum:

If you agree with someone's suggestion, you'll react with the

Agree

reaction.
If you disagree with someone's suggestion, you'll react with the

Disagree

reaction.
If you're not sure or on the fence with their suggestion, you can react with the

Unsure

reaction.
All of these reactions count to 0 on your reaction score. You should be making suggestions to support the network, not for personal gain.
These are important, as this underpins the rest of our plans for the suggestion subforum!
New Prefixes!
We've also added a
Planned
prefix, and a
Forwarded
prefix. The Escalated prefix has been removed.
We want to be more open with you all, and want to publicly say if something is planned in our future roadmap here. This doesn't mean that we will tell you specifics on dates or time periods, and we still won't say if an update is being worked on, however, we will happily say if a suggestion is something we're wanting in the foreseeable future.
We've replaced Escalated with Forwarded - this means that you aren't hoping that a staff member will see your suggestion to gain any traction or feedback from the product team. We understand that this previous system was relatively biased.
Feedback from the Product Team
We understand that a staff member responding to your suggestion could be pretty cool, especially if they agree with your suggestion and escalate it. However, understanding our priorities and what our developers are working on constantly means that, though your suggestion may be amazing, we simply may not have the developer resources to put towards it.
To communicate this better, we've decided to impose the following:
If your suggestion reaches 25 agree reactions (regardless of how many disagree reactions), and a staff member spots this, they will forward this internally to the product team (currently @Camezonda , @Story and I).
We will discuss this suggestion amongst the product team and staff team in order to understand if the suggestion is something we want to see in the future, when in the future.
We will then aim to respond to all suggestions that reach this 25 agree reaction milestone. That's right, all of them. This means that we will need to be very blunt and honest with our reactions. Do not be discouraged if our responses may be direct, as this is ultimately us being as honest as we can with these suggestions. I'm sure you can agree, but us saying "This may be something we consider in the future!" may be nice to hear, but may not be realistic with our surge in players and shifts in priorities.
We will document all of the suggestions that reach above 25 agree reactions internally, so that we can easily look at the awesome suggestions you guys have come up with, and refer the similar suggestions to the responses we come up with.
What about my old suggestions?
You'll need to repost your suggestions so that it becomes in line with these changes here. It'll need to be formatted in a specific way:
At the top of the thread, write "This is a repost with my old suggestion here: <link>. This is to be in line with the new suggestions system."
Copy and paste your thread - you can make edits if you'd like.
Suffix the thread title with "- Repost"
If your thread is still able to be bumped without breaking the necroposting rule, you should.
If your thread has a substantial amount of yes votes on an existing poll, then you can ask a staff member on Discord or the forums to forward it on. This would need around 30 yes votes.

My old thread - woo it's basically getting added. xd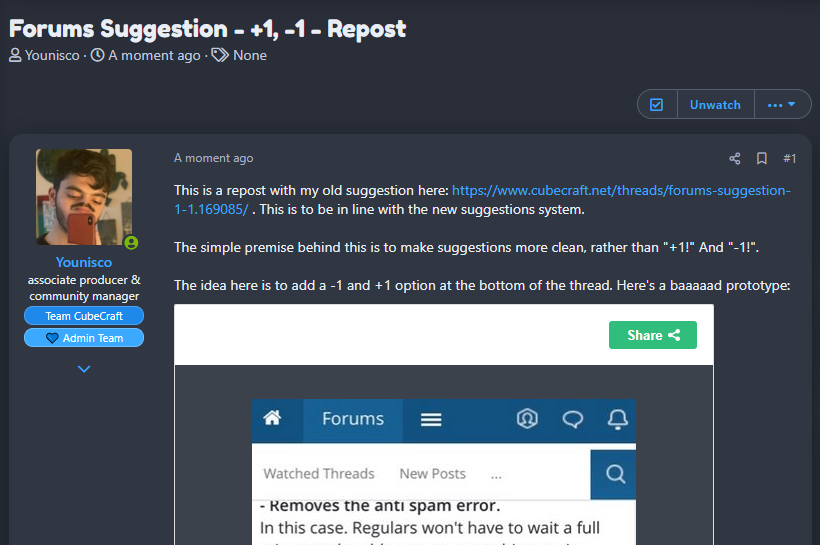 My new thread - following the new format.
Thanks everyone for reading, if you've made it this far! If you have any questions, feel free to respond to the thread! Have a great rest of your week!
Last edited by a moderator: