Lead Game Developer
Team CubeCraft
💻 Developer
Hello
Java & Bedrock
CubeCrafters!
It's time for an EggWars Update! - We've been working hard behind the scenes making an awesome EggWars update. This update is for
Java & Bedrock
! As some of you know, in March this year we released EggWars Beta. The game added a lot of new content that we wanted to experiment with. We took your feedback and balanced and tweaked the content to be more suitable to everyone. So now we're proud to announce that EggWars Beta is being merged in Normal EggWars (Team & Solo - Java & Bedrock)! - Read below to learn more about the update
In celebration of this awesome EggWars Update, we've activated a x2 Points multiplier on EggWars! - Enjoy :p
Please read
this thread
beforehand. EggWars has received a lot of changes since the update so the features on the server may not align with the contents of this thread.
Emerald shop and generators!
Emerald generators are now on all maps! But these generators are completely different to the other ones, because you cannot upgrade them! Emerald generators always start on level 1 and every 10 minutes, they will automatically level up, capping at level 3. Depending on the size of the map or the layout of the map, Emerald generators have been balanced across the map, to make obtaining them fair! - Also, Emerald generators are only located at the middle island!
Now, you're probably wondering, "What can I buy with Emeralds?". Within the EggWars villager shop there's now a section for Emeralds, where you can buy an awesome tunnel structure, eggmites, a leap feather & potions! - The pricing of Emeralds have been monitored and tweaked to not allow these items to become a norm within EggWars. - Emeralds have a purpose for late game activity and usage.
Emerald generator.
Emerald shop - Java.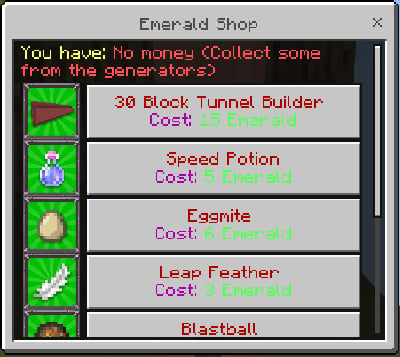 Emerald shop - Bedrock.
​
One of the biggest pieces of content that EggWars Beta had were structures! After some tweaking and price balancing, we've made them perfect to be added into the main game! - They assist with getting to islands, defending your island and breaking eggs. There are 5 structures in the normal shop: 10 block bridge, ladder, stairs, wall & tower!
Structure items being used.
​
When EggWars Beta was released, we added a new map into the gamemode. Now we're releasing that map into the new game, and we're added 2 NEW Solo maps! - These are
only on Java
, for now! :D
Team EggWars - Blossom
'Leaf' your opponents in shock!
Thanks to @_The13thDoctor_ for this awesome map! Check out their map submission
here
!
Solo EggWars - Undergrowth
Moss-t of our players will love this map!
Thanks to @_The13thDoctor_ for this great map! Check out their map submission
here
!
Solo EggWars - Oasis
Anyone there?
​
New achievements, new ability & more!
We've added 10 NEW kit achievements & 4 NEW unique achievements. You'll now need to try and obtain these, how long will it take you?
"Neggative K/D" - Die 15 times in one game (SOLO)
"Eggscuse me, how!?" - Break an egg 60 seconds into the game (SOLO)
"Doing lots of eggsercise" - Run 3500 blocks in a single game (SOLO)
"Fleggsing my new sword" - Kill someone using a diamond sword with sharpness VI (TEAM)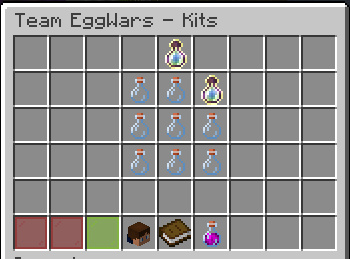 Java Kit achievements.
​
We've also released a
NEW ability called "Theft"
. It's not longer Beta only, it's in the main game! - This ability will allow you to get 20% of the tokens from the players inventory, upon killing them.
Bug fixes and other additions over the last couple of months from EggWars Beta:
- ADDED: Armour bundles into the Armour shop.
- ADDED: Golden carrots are now in the Food shop & along with Milk.
- ADDED: Weakness arrows are now in the Archery shop.
- ADDED: Eliminated players will now drop 50% of their tokens from their inventory.
- CHANGE: The price of steak in Normal mode has been reduced.
- CHANGE: Tweaked the production rates of Emeralds.
- BUG: Fixed an issue with the Theft ability giving too many tokens.
- BUG: Changed the spawn location of spectators on "Vacation".
- BUG: Changed the starting Iron generators on "Technology" from level 0 to 1 to make all islands equal.
- BUG: Fixed an issue with structure particles staying after dropping the structure item.
- BUG: Filled in a hidden room on "Instruments".
- BUG: Added a ladder in the pre lobby to avoid players getting stuck down the side of the toy train.
- BUG: Changed the Emerald generator on Jungle to start on level 1 rather than level 3.
- BUG: Fixed an issue with half health not working correctly.
- REMOVED: Map specific items have been removed
Thanks for reading this update thread! We hope you enjoy this epic EggWars update. At the end of every game you'll see a voting message, be sure to vote. Have fun and stay safe! ❤