Developer
Staff member
Developer


Hello CubeCrafters!
​
It's been a while but we are here to announce that we have a MinerWare update for you! This update includes 6 new microgames, 1 new bossgame, 6 new achievements, additions, changes, and fixes! This update is for both Java and Bedrock!
NEW MICROGAMES INTRODUCED!
Here is a list of every new microgame introduced into MinerWare. I hope you enjoy them!​
Feed Animals

(ONLY JAVA)

-

Feed a set amount of animals to win.

​

One in the Chamber -

You are given one arrow to survive in a fight. Kill someone? Get another arrow.

​

Find the Button -

Find a stone button on a stone surface.

​

TnT Tag -

Tag but with TnT. Tagged when the countdown is over? You explode!

​

Less is Better -

There are two colored platforms.

Stand on the color with the less amount of people to win.

​

Tower Climb -

Climb to the top of a tower but wait ... everyone has knockback sticks!

​
A brand new bossgame! TnT Run is now a part of MinerWare and has a chance to be one of the selected bossgames!
​
TnT Run
If you aren't familiar, TnT Run is a classic game where the target is to not fall into the void. There are four layers of TnT and sand which falls when you run across it, so be sure to watch out for holes in the floor! In
normal mode
, you have 100 seconds to survive, but test your abilities in
hard mode
where there is 160 seconds and PvP is enabled - be extra cautious for players!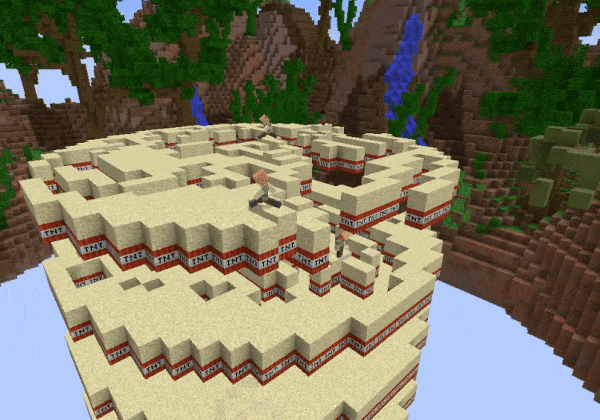 Example of TnT Run bossgame.
​
We know a lot of you have already completed all of the MinerWare achievements so here are 7 more to complete!​
Am I doing it right? -

Throw all snowballs to other players in the build a snowman microgame.

Astronaut -

Fly 100 blocks high in the fly to the moon microgame.

Gymnast -

Cross the balance beam in less than 3.5 seconds in the cross the balance beam microgame.

Quick & Effective -

Enchant the correct item in less than 5 seconds in the enchant the correct item microgame.

Invincible -

Do not die in the deathmatch bossgame.
NEW ADDITIONS, CHANGES & FIXES
Here's a list of everything added added, changed and fixed in this update!
ADDED:
"Wait for it" microgame now has a new outcome called "Fly" for normal difficulty.
ADDED:
Mute players in the "Answer Question" microgame.
FIXED:
Keep players from fake igniting TnT in the "Ignite TnT" microgame.
FIXED:
Remove potion effects after each round is over.
FIXED:
Fix the grammar for the "Through the hoop" achievement.
FIXED:
Players can no longer interact with other menus while participating in the "Find the..." micrograme.
REMOVED:
Wood from the "Find the..." micrograme has been removed.
REMOVED:
Removed the maze bossgame.
Thanks for reading! We hope you enjoy this update, stay safe and have fun playing!