game maker
Staff member
Admin Team
Oct 20, 2013
306
2,908
283
22
Hello CubeCrafters,
Yippee! It's that time again, where we bring you an awesome update! This time we're here with an epic SkyWars update! We've added new achievements, maps and a lot of QOL features. Including changes to current maps and kits! Read this thread to know exactly what we've added.

Following the new Achievements and Challenges update that we did last week, we've been able to add many more achievements to SkyWars! We've added a total of

49

new achievements in this update!

Solo SkyWars


Too hydrated

- Drown in a game of Solo SkyWars (50 Experience)

Axellent

- Kill 100 players using an axe (500 Experience + 25 Points)

Anti looter

- Win a game without opening any chests (100 Experience + 50 Points)

+ 22 other achievements for winning games using all of our individual kits.

Team SkyWars


Unlucky boxes

- Open 35 chests in a single game (200 Experience + 20 points)

I'm bready…

- Eat 20 loaves of bread in a game (100 Experience + Cubelet)

+ 22 other achievements for winning games using all of our individual kits.
New kits achievement page.
​

We've done some tweaks to our kits to ensure that they're balanced. Some kits we've felt were very weak so we've given them some extra perks to help increase their viability in games.
-
Noobly
- Removed the wooden hoe and given 5 bread to replace it. -
This will increase the speed at which you can play this kit with. Actually farming your food took too long and wasn't worthwhile.
- Builder -
Upped the amount of bricks from 20 to 25 and added a yellow leather cap -
A general buff to this kit, since it's effectiveness wasn't great.
-
Fisherman
- Add yellow leather boots with depth strider 3 on them. -
Increases the survivability of this kit around water.
-
Spiderman
- Potion of leaping has been increased to jump boost 2. -
This means that you can now jump 2 blocks high so will improve your manoeuvrability greater.
-
Lumberjack
- Add stone pickaxe to the lumberjack kit. -
This will help lumberjacks rush other islands defences.
-
Blacksmith
- Added a sharpness 1 enchantment book. -
Gives this kit more value. A single protection enchantment book just didn't feel enough.
-
Digger
- Diamond ore amount has been increased from 1 to 5, and has now been given a furnace, as smelting the iron ore was really painful without a furnace.
-
Scout
- Speed potion duration has been reduced from 30 to 20 seconds. -
The aim of this kit is to get into a fight and get a quick kill. The large duration meant that you could engage in multiple fights with a single potion effect.
-
Enchanter
- Add 5 bookshelves to the enchanter kit. -
Most people could do enchantments, however this kit now helps unlock those higher tier enchantments that aren't unlock-able by players using other kits.
-
Enderman
- Enderpearl times changed to 3, 6 and 9 minutes. -
Getting enderpearls too early in the game meant that you had too much of an advantage over other players. The slightly delay gives players more chance to bridge to places.
-
Redstone master
- Increased the amount of sticky pistons from 1 to 2. -
This just gives more creative freedom to this kit, and will hopefully unlock a whole lot more potential traps.
-
Smuggler
- Upped the number of smuggler chests from 1 to 2. -
A lot of the time the contents that you got in the chest didn't really benefit you, so we've added another chest to increase your chances of getting more helpful loot.
-
Iron golem
- Added iron boots. -
A lot of other kits had a similar amount of armour so we've slightly increased the amount of armour you get to improve the effect of this kit.
-
Bomber
- Upped the blast protection on boots from 2 to 10 and added a wooden pressure plate. -
The boots means you can deal a lot better with your own explosions (and a lot of the time survive them). This makes this kit so much more fun, and dangerous. Adding the pressure plate means that your set up is that little bit easier.


It's time to add new maps to SkyWars! Yay! We've added 3 brand NEW solo maps, and we've ported over a Team Lucky Islands map to join the SkyWars community.
Ancient (Solo)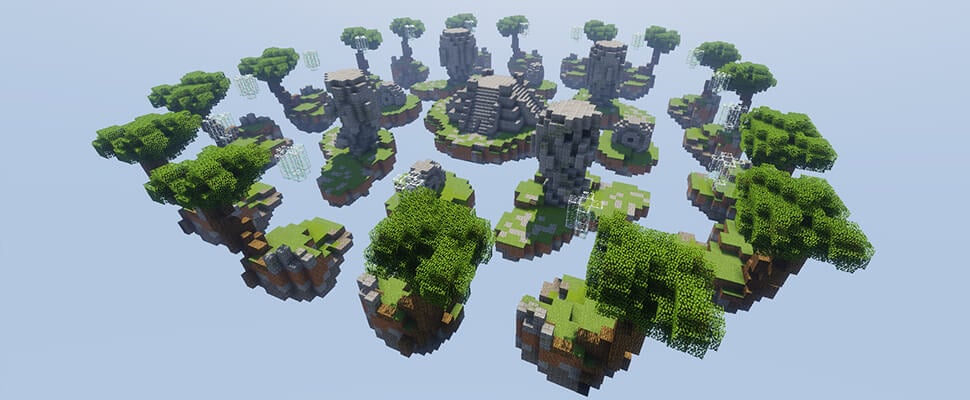 Despite this maps name, it's actually quite new
​
Pirates (Solo)
What is it called if a person copies a pirate? Piracy.
​
Dust (Solo)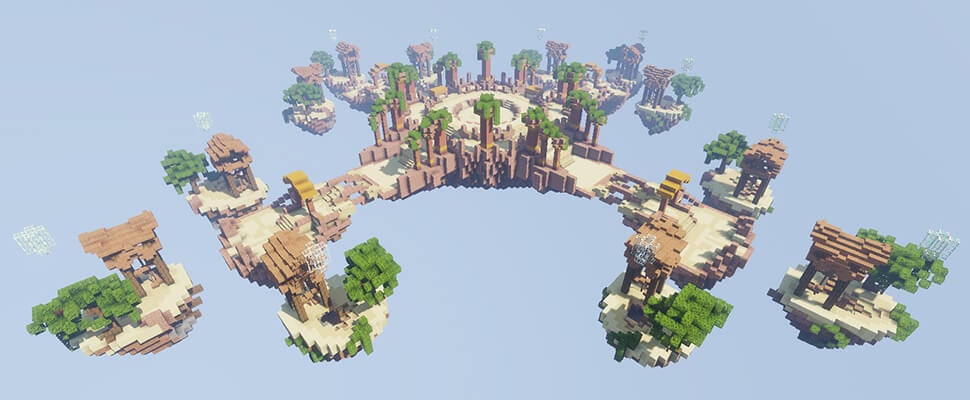 I dust play this map.
​
Lumbermill (Team)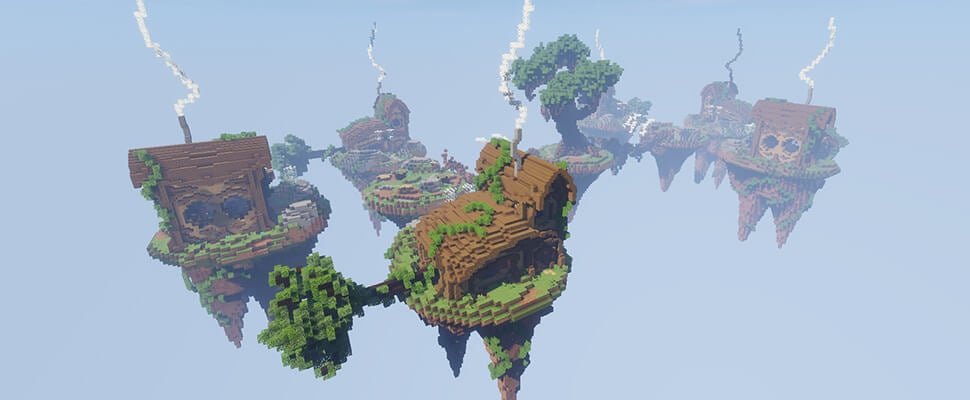 Wood you look at that, it's from Lucky Islands. (We're just testing out some Lucky Islands maps to see how they fair in SkyWars)
​
Along with the new maps, we've taken some suggestions on how to improve our current maps. Here's what we've changed:
Solo SkyWars

Rainbow - Changed the mid-centre islands to a rainbow ring.
Sundae - Removed the outer ring and made a small inner ring.
Castle - Made the starting islands a bit bigger, so it's easier to pvp.
Music - Added mid-centre islands.
Beach - Changed the pressure plate bridge to a wooden bridge.
Pokemon - Added an anvil to the map in the centre.
Drought - Added an anvil and enchanting table to the map.

Team SkyWars

Rainbow - Changed the centre island, now it's more flat and user/pvp friendly.
Toxic - Changed the quartz bone bridges to be bigger and thicker.
Farm - Added an anvil to the middle of the map.
Pokemon - Added an anvil and enchantment table to the middle of the map.
Prison - Added 1 diamond block to the loot in the prison.
School - Added an anvil to the middle of the map.
Swamp - Add an anvil and enchantment table to the middle islands.
Tipi - Added an anvil and enchantment table to the middle.
Tribal - Added an anvil to the middle and added a gold block inside the iron blocks.
Mushroom - Added an anvil to the middle of the map.
Mario - Moved the anvils from the middle island mid-centre surrounding islands.

Full changelog:
- Balances to kits (listed above)
- 49 new achievements (listed above)
- In overpowered mode, your starting chests are guaranteed to contain a full set of armour.
- Lava buckets have been removed from chests in Hardcore mode.
- In overpowered mode, sharpness 4 swords are only obtainable in centre island chests.
- Removed bows, from overpowered mode, that don't have enchantments since they're pretty useless.
- Added TNT to centre chests in overpowered mode.
- Added weakness, damage, blindness potions in overpowered centre chests. (Don't worry, they're not that common)
- Added potion arrows with blindness, poison and levitation to overpowered mode. (1.9 only)
- Removed enchantments from all basic starter island loot.
- Added 3 new solo maps.
- Added a new team map "Lumberjack" which is an edited version of our Lucky Island map, to test out what happens if we start adding maps from different modes into SkyWars. Let us know if you like the idea
- Fixed achievements "Kill steal" and "I'm helping"
- In team mode you're now allowed to vote in the lobby before the games starts.
- Added a victory title to the end of the games.
- Made the void deeper before you instantly die, so you're able to use enderpearls to escape.
- Standardised the voting menu with the rest of the network.
- Reduce the build height on most maps to help reduce sky basing.
- In team mode, when the game starts, some magic voodoo stuff has been added to merge teams together so that the game is balanced and reduce the change of a game not starting because the teams are unbalanced. You will not be split apart from teammates, as your entire team will switch to another team.
- Fixed being able to team kill with lava buckets.
- If you die in the void, your death message is that you "you died in the void" and not just "you died".
- Reduced lag at the start of the game when you are released from your cage.
- Fixed an issue that caused some items to randomly disappear that should have been in your chests. This will help chest contents across islands remain balanced, and may mean that you could see more items in your chests.
Other network improvements:
Daily challenges:
- Fixed an issue with the rewards not giving the correct amount of Cubelets
- Fixed an issue with challenges saying the wrong "out of" number, such as 1/10.
- Fixed an issue with the experience bottle not being full if a challenge has actually been completed.
Loot:
- Fixed an issue with the "Egg projectile" arrow trail not showing on 1.8.
Global:
- Fixed an issue with all gamemodes with win statistics, appearing as "slime wins".
- Fixed an issue with slime blocks causing pullbacks.
We hope you enjoy this update. Comment below what you think, and if you have any suggestions, suggest them HERE. Thanks for reading!