🏳️‍🌈
Team CubeCraft
💙 Admin Team
Jul 23, 2015
6,160
7,210
568
23
Pronouns

He/They

​
Hello CubeCrafters and Merry Christmas!
Wow, it's Christmas already? Well you know what that means... it's time to announce that Christmas has come to CubeCraft! This year we've got a lot of content for you. We've added back one of our classic Christmas games, our famous present hunt is back and wonderful Christmas Cubelets filled with chilly loot are back. Want to learn about this update more, read below!

For one of the biggest additions to this Christmas release. Present Rush is back for 2019! Wow... it's been a while, it's been sitting on the top shelf getting dusty, but now it's back for everyone to play and enjoy over the Christmas period! So if you're not familiar with Present Rush, it's one of our classic Christmas games. It's a game of speed, collection, skill and agility.
The aim of the game is to collect the pieces of fuel from the middle arena and bring them back to your present production zone to feed your generators. As the generators are filled with fuel they will start producing presents. The player with the most presents at the end of the game wins! Remember - the presents don't count until they fall into Santa's bag at the end of the production belt.
Powerups will spawn within the arena to help you collect the most fuel as well as help you ruin the chances of other players collecting precious fuel. Other players also have the ability to punch and steal your fuel from you, and you should avoid taking fall damage - you'll drop fuel as a consequence! You'll have speed from the start of the game, but the more fuel you're carrying, the slower you move! You may think collecting the fuel from the arena is simple, but you're sadly mistaken. Overtime the arena decays, making it harder and harder to collect the fuel. If you fall off the arena, you'll lose all the current fuel pieces you're carrying.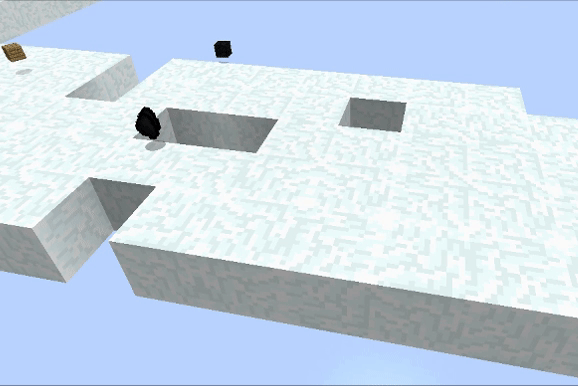 Arena decaying.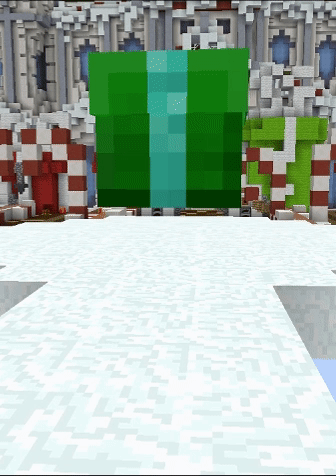 Powerup present.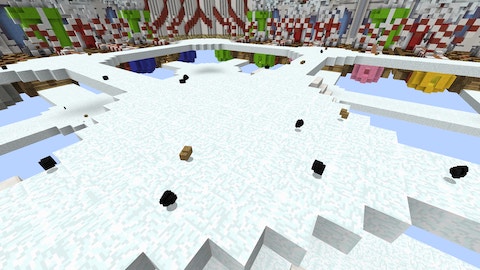 Fuel pieces within the Present Rush arena.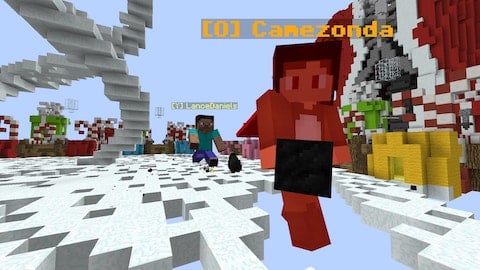 Player stealing fuel from another player.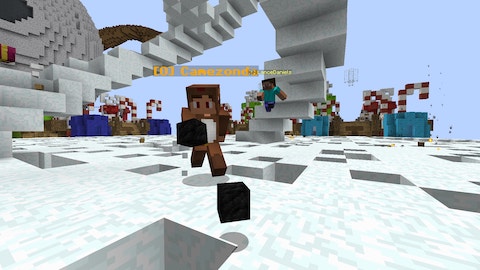 Players collecting fuel from the decaying arena.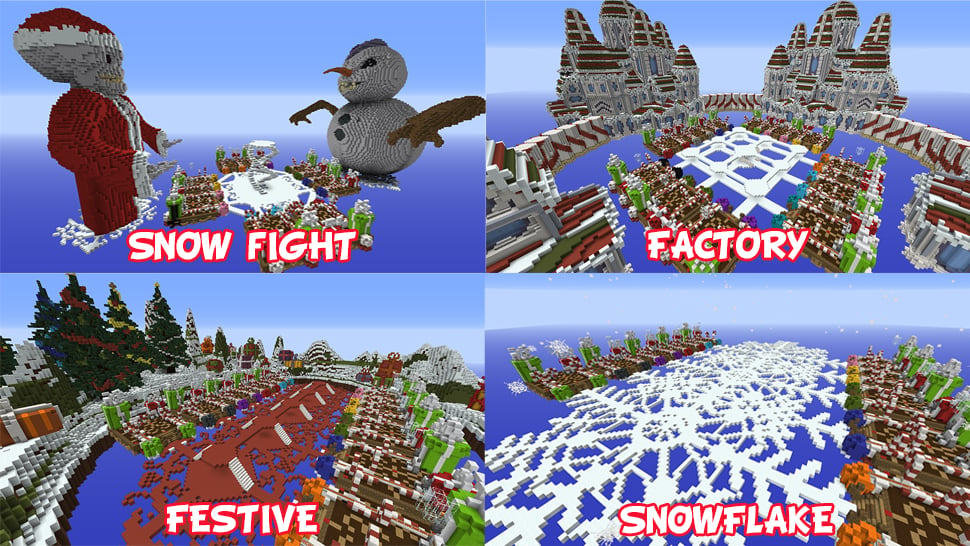 Present Rush maps.
​

As usual with our seasonal content, our lobby has changed to fit into the Christmas feeling. Covered in snow and presents dumped everywhere, you'll definitely be in the Christmas spirit now! So what are you waiting for, explore our Christmas lobby!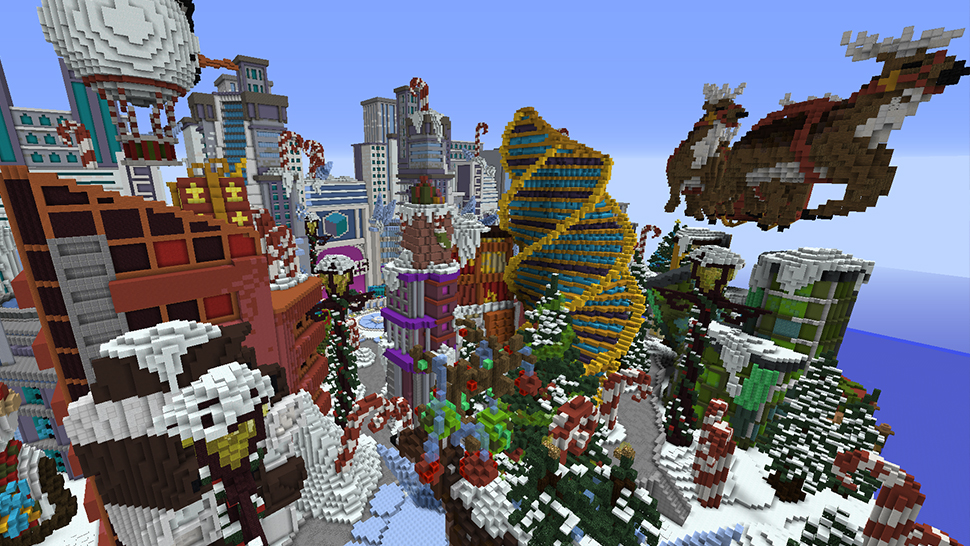 Java Christmas lobby 2019.
​
If you don't want to travel and explore round our lobby, sadly you're going to need if you want awesome rewards. Whilst our lobby is filled with Christmas joy, it also has 25 little presents scattered round it. Introducing our Present Hunt for 2019! You'll need to find all 25 Christmas presents round our lobby to win an exclusive Win Effect and a Christmas Cubelet! Happy hunting.
Collecting a present.
Win Effect reward from Present Hunt.
​
Once again for 2019, we've brought back our epic Advent Calendar! Join our lobby and visit it. If you haven't seen it already, this NPC was added into our main lobby a couple of days ago to give players prior notice that a calendar will appear soon. If you don't know how an Advent Calendar works, you've been living under a rock, but if not, let me example. Every day between the 1st and 25th of December, you have the choice to claim prizes. You need to join our network on that specific day and claim the reward for that day. You will also get extra rewards for consecutive days, such as getting 5 days in a row. Better get counting! :D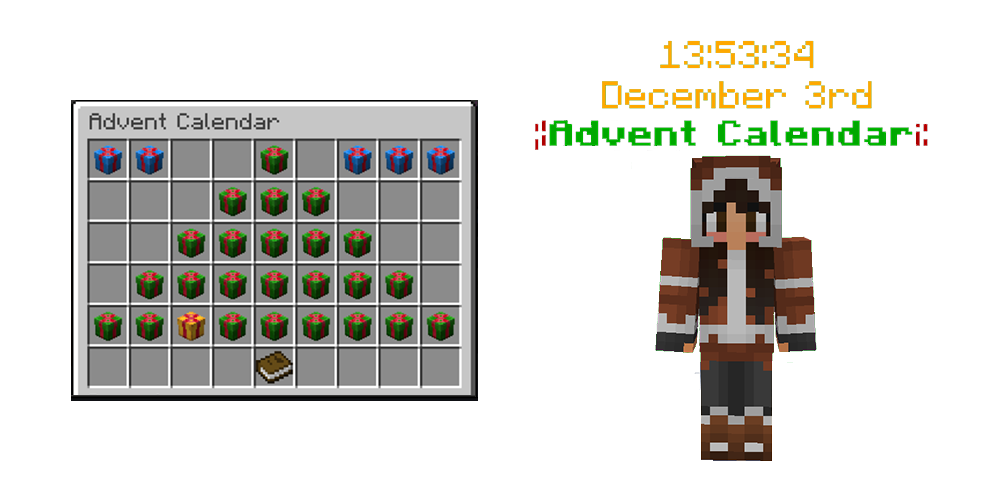 Advent Calendar menu and NPC.
​

With seasonal content, comes seasonal Cubelets! Are you ready for some chilly Cubelets to enter your inventory? This year we've added more Christmas loot on top of last years, adding up to a total of
38
NEW pieces! Giving you more opportunities and variety for Christmas loot. From Cages to Banners and Balloons to Wardrobe, this Christmas has it all. Want a free Christmas Cubelet, well if you join our network during our Christmas event, you'll get a free Christmas Cubelet to open!
If you want to purchase Christmas Cubelets, you can get them on our store HERE!
If you purchase Christmas Cubelet packages, you'll get exclusive Miniatures with them!
List of new 2019 Christmas loot!
- 11 Cages
- 7 Hats
- 3 Banners
- 7 Balloons
- 1 Shield
- 3 Trails
- 2 Arrow Trails
- 1 Gadget
- 3 Wardrobe sets (12 pieces)
-
38 in TOTAL!
Exclusive Christmas Miniatures with Christmas Cubelet packages.
​
Opening a Christmas Cubelet.​
Animated Present Cage.
Snowman Gadget.
Gingerbread and Elf wardrobe outfits.
​
Thanks for reading! We hope you enjoy this Christmas update part 1, look out for part 2 :p Merry Christmas!