Hey CubeCrafters!
Today we have a massive announcement to let you all know about! It will be affecting an entire community on our network, which we would encourage you to read about.
Firstly, we'd like to mention how lucky we are to be in this position we are in today, and that couldn't be done without you. We're all super excited for the future of CubeCraft Games, and we can't wait to show you all what we want to do!

Our aim always has been to provide the best experience for our players on our network - from both a game and design perspective. Recent discussions within the team have lead to some really interesting concepts being brought forward, which we're super excited to show you! We want to prove that we can be the best in terms of content going forward.
Minecraft 1.8 was first released on 2nd of September 2014, nearing the 7th anniversary! Since then,
eight
new versions of Minecraft have been released, with another version release being planned for this summer! Since the beginning of CubeCraft, we've been supporting the 1.8-type PvP -
we updated to 1.9
in March 2016 and have been supporting the version for the last five years. Every update that we've planned has had to be restricted to 1.9 features only - with this comes the massive question in the product team: What are we holding on for?
A glimpse into the future!
We've decided to
update our entire network to 1.12.2
, and are supporting all its content!
Bare in mind, this is Java 1.12.2 content, not Bedrock 1.12.
The prospects of 1.12.2 features can affect every end of our server! Here are some ideas that we've brainstormed, but are
not
confirmed.
Colourful lobbies and maps to complement our upcoming loot with Concrete, Glazed Terracotta, and Nether blocks!
​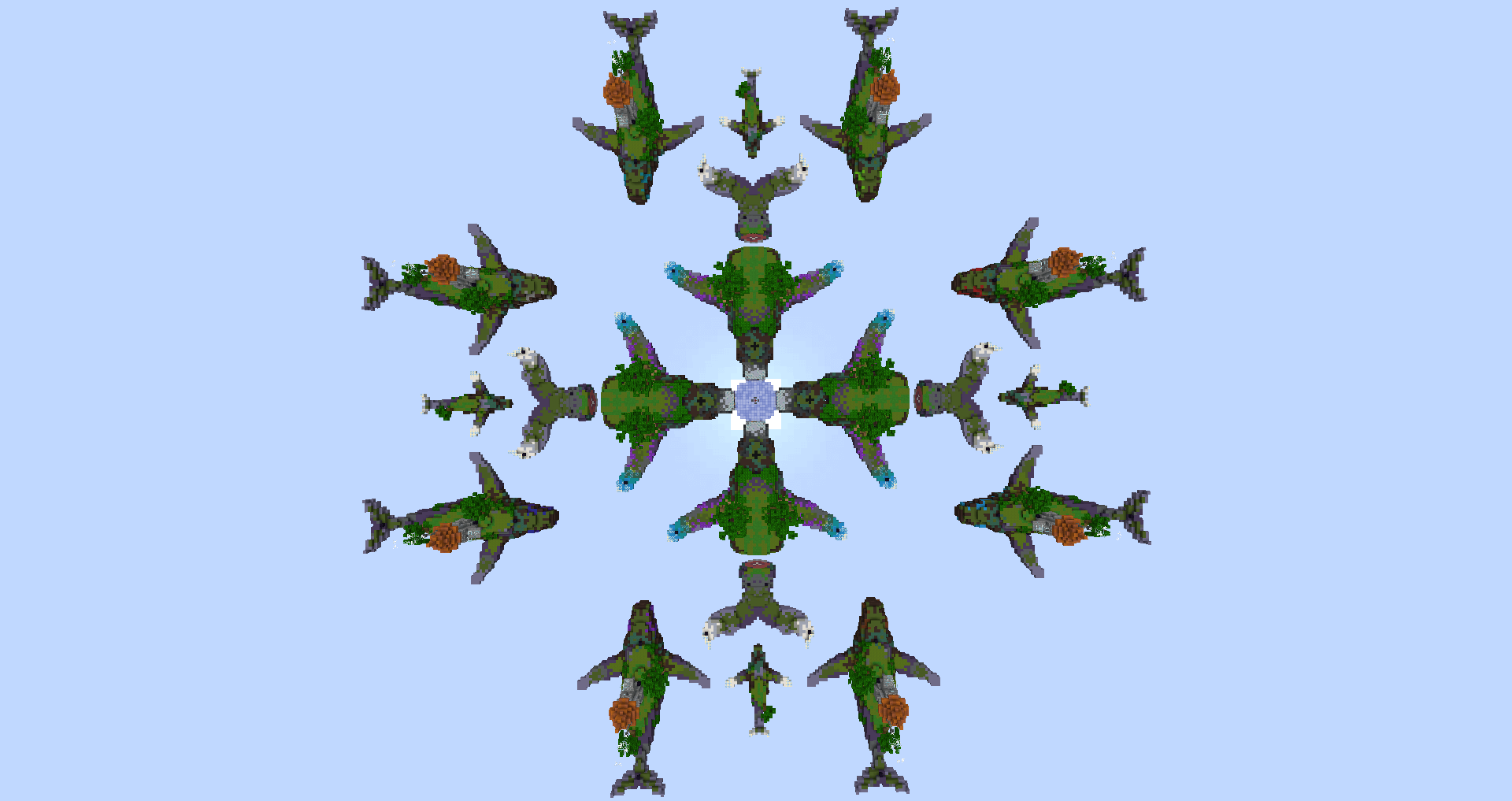 An example of a future Team SkyWars map. Imagine what we could do with a whole lobby!
​
Cosmetics can also be created - new trails utilising new particles, riding Llamas, Shulker boxes as chests in SkyWars, and much more!
Game specific ideas:

Tower Defence - Illager tower, which produces Vexes & Evokers Fangs; Polar bears, parrots, husks & stray waves of mobs!
Lucky Blocks - Endless possibilities of new lucky blocks such as spawning parrots and polar bears that help you fight (or attack you!), and lots more!
MinerWare - Utilising new mechanics such as fireworks working with Elytras, use a Totem of Undying, snipe a Vex, dodge the evoker fangs, and much more!
SkyWars - Curse of Vanishing books to protect your most important gear when you die,
EggWars - We're wanting to experiment with new items in EggWars, specifically in the emerald shop, which updating will help with! For example: replacing terracotta with concrete (more representative of the team colour).
Skyblock - Shulker shells sounds pretty neat...
We've settled with 1.12+ due to the additional extensive work that would need to be done if we updated beyond 1.13+. This doesn't mean that we won't be considering it in the future, however, this is the first step in making that transition slightly easier!
When also considering the number of player connections on Java, with any versions from 1.9 to 1.12, the number of connections is negligible:
To explain these numbers, this is useful information that we collect on player join, which shows what protocol version you're joining on. Every update, every snapshot, there is a new protocol version which is an internal number for the Minecraft version you're running on. For example, protocol 754 is 1.16.4 and 1.16.5. More information about protocol version numbers can be found
here
.
Listing the versions, their protocol version number, and their connection on a peak day for the last twenty minutes:
1.9 - protocol: 107 - 20 connections.
1.9.1 - protocol: 108 - 1 connection.
1.9.2 - protocol: 109 - 1 connection.
1.9.3/4 - protocol: 110 - 16 connections.
1.10 - protocol: 210 - 5 connections.
1.11 - protocol 315 - 4 connections.
1.11.1/2 - protocol: 316 - 5 connections.
1.12 - protocol: 335 - 10 connections.
1.12.1 - protocol: 338 - 2 connections.
Total connections for all protocol versions - 64 connections.
When compared to the 1.16.4/5 version of 3,325 connections, it's very low, and we won't be cutting too many people off.
Want to update to 1.12.2 or higher, check out this Help article here:
https://help.cubecraft.net/en/article/937qhx
Over the last couple of months, we've been monitoring our growth and player count on all of our networks, particularly focusing on the 1.8 network.
As of recent, the 1.8 network is consistently reaching peaks of 650-700 players, and reaching lows of 70-150, as shown by the graph below. (The single outlier being the peak at 1150 players on the 15th of January, likely when larger servers had an outage of some sorts.)
The decline in players is something that could be seen as our fault as out of our 11 stands shown on our 1.9+ server; only four are completely accessible by players on the 1.8 network.
"Make more games on 1.8 - that should boost its player count!"
Unfortunately, it is not as simple as that. We're at a stage in our growth that updating the 1.8 network is ultimately a time sink - the time put into considering 1.8 on our network, with the limitations it causes and the clear lack of players that it pulls, is something that we've been concerned about for the last couple of months. Especially when comparing it to our entire network...

Bedrock
|
1.9+
|
1.8
​
... 1.8 is pulling anywhere between 0.7-1.2 % of our
entire
player base, and the majority of our decisions in terms of design and gameplay mechanics are being stagnated because of it.
With the removal of 1.8 in mind, we will be able to focus more of our development efforts towards our Bedrock and 1.12+ networks - this includes vital parts such as Sentinel, where 1.8 anti-cheat development can be viewed as a larger cat-and-mouse game, which we, unfortunately, are not able to sustain at this moment.
The possibility of having completely separate networks, so dropping 1.9-1.12, making a 1.12.2+ server, and a 1.8 server would still mean a lot of cautionary measures would need to be made. For example, if we make a new map in the future for Survival Games, Lucky Islands, a new hub, or anything along the lines of that, we'll still need to think about the implementation of these onto our networks. This means that while we're updating our server, we're still limited, which is the opposite of what we're trying to achieve.
Simply put, we have a lot of plans for the future, and we believe that we want to take the next step forward. Which is limited at the moment with the continuous consideration for 1.8. Upgrading to 1.12.2 will allow us to have access to so many new features for both our Java and Bedrock server that we'd love to have at our disposal.
1.8 has been carrying us since the end of 2014 and has brought us success that we have been amazingly privileged to be a part of. However, it's reached a point that it's limiting the capabilities that we can truly achieve.
Our decision regarding 1.8
As a result, we've decided the following:
For the next couple of months, our 1.8 network will be remaining online.
On the 15th of June 2021, we will be shutting our 1.8 network.
On the same day, we will also be dropping support for 1.9-1.11, and will be supporting all versions from 1.12.2 onwards!
"What if I bought a rank because of your 1.8 network?"
If you have made a purchase in the last 14 days and would like to request a refund, please email
sales@cubecraft.net
, and we can look into it. This does not include used items, such as if you had bought a multiplier and used it, it would not be eligible for a refund.
We still invite you to check out our 1.12.2+ network, packed full of the fast-paced minigames previously on our 1.8 network, alongside our other amazing games, including BlockWars, Among Slimes, Skyblock and a whole featured games system!
If you're still enjoying the 1.8 PvP mechanic, you can also check out our Bedrock server. This is full of the games you know on our Java server, with the addition of custom modelled loot, game-specific lobbies, and a plethora of supporting content coming soon!
We feel like there are concerns that will need to be addressed, which we haven't mentioned.
As a result, we would like to invite you all to a community talk,
hosted on our Discord
, where we can address these concerns. This will take place on Saturday 17th April 2021 at 6 pm BST. If you cannot make it, don't worry, we'll post notes on the contents of the talk.
Notes of what was discussed in our community talk can be found
here
.
We want CubeCraft to be the best and offer the greatest content-driven gaming experience. In order to push these boundaries, this is the next step forward.
Thank you for reading!

Last edited: