Developer
Team CubeCraft
💻 Developer
Hey Java CubeCrafters!
A few weeks ago, we revealed that we hired two new game developers to help with updates around our Java & Bedrock network. In case you missed that,
read this thread
, it reveals a lot of our plans for the next month.
Today, we're happy to be releasing a new update for Lucky Islands on our Java network - new Lucky Blocks, new world events, and a new wand?! Read more to know what's in this update
New Lucky Blocks
TNT:
Drops 3-6 TNT, a lever & a stone pressure plate. Do you dare to TNT jump? :o
Brewing Stand:
Places a brewing stand with 1-2 buff or debuff potions. All buff potions are drinkable, and all debuff potions are throwable. Will you get lucky this time?
Farm animals:
Spawns a chicken, cow & pig. Friends?
Cactus trap:
Traps you in a 3x3 cactus cage. Don't be afraid of the green!
Extra lucky:
Spawns 3 lucky blocks in a line. Hopefully you don't get unlucky with these ones! :crossed_fingers:
Steak & porkchop:
Drops 5 of the food. Woohoo for more saturation!
Anvil drop:
Drops a 3x3 platform of anvils on your head. Hope you have a helmet on!
Horse:
Tamed horse & saddle. An animal fit for the titans!
Rock paper scissors:
Play some rock paper scissors with the server. If you win, you get a golden apple, but if you lose, watch from above!
Fast pickaxe:
Drops a golden pickaxe with 0 durability, efficiency 1337 and unbreaking 15. Mine all these blocks with ease!
New wand - Fake Lucky Block Wand!:
Replacing the lucky block trap, we're introducing a Fake Lucky Block Wand! Simply right click with the wand to fling a Trapped Lucky Block to your opponents.
Pretty cool stuff. :o
Thor's Hammer:
Drops Thor's Hammer...
Thor's Hammer
Thor's Hammer is a new addition to the Lucky Islands roster of weapons, accompanying the Fire Sword. Right-click on the Hammer to release a devastating attack on your opponents, knocking them back! It also has sharpness 4, meaning it can also be used as a melee weapon, with a 40 second cooldown. Show 'em chaos!
​
We think that the possibilities for these weapons are almost endless, so if you have any suggestions for these items, feel free to let us know!
New World Events
What makes Crazy Lucky Islands so crazy? The world events of course! Introducing two new events:
Strength for all:
Gives all players strength 1 for 30 seconds... watch out from behind you!
Arachnid Ambush:
Spawns a myriad of spiders & cave spiders. Killing them opens a Lucky Block... so you need to be ready for all circumstances!
New Resource Pack & Optimisation
We have reworked our current 3D resource pack, as well as adding a new 2D "Fast" resource pack!
Courtesy of our resident Game Artist
@Story
, these additions mean that players with lower-end PCs can enjoy our 3D resource pack more, but also have the option to play with an awesome 2D resource pack for a great experience! Take a look!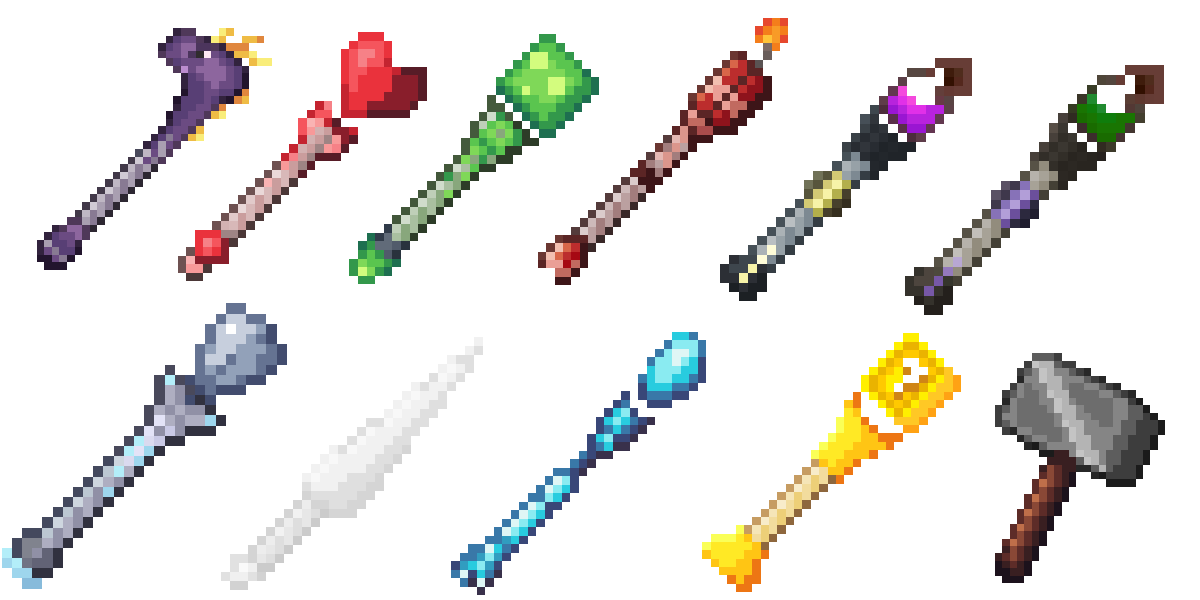 All of our wands, but in 2D!
​
New Abilities
What else are you going to be spending your points on, right? Here are some cool new abilities you can now get!
Double Luck:
A chance to get a lucky block after you break one! Level 1 gives you a 0.1% chance of getting another, but level 8 gives you a 10% chance... Expensive!
Fire Resistance:
Take 50% less fire damage. Level 1 has a 4% chance, but level 8 has a 32% chance!
Enhanced Knockback:
Deal 15% more knockback. Level 1 has a 2% chance, but level 8 has a 23% chance!
New Achievements
To top it all off, there are new achievements!
[SOLO] Bow Master: Medium Challenge - Kill 3 players with different special bows. Reward: 75 points.
[SOLO] Would you like fries with that?: Medium challenge - Kill a player with the hot potato. Reward: 75 points
[SOLO] Snowball fight!: Easy challenge - Hit Frosty the Snowman with a snowball. Reward: 15 points.
[SOLO] Trying to hide?: Win a game using the "tracker" kit. Reward: 150 exp, 10 points
[SOLO] Fried: Easy Challenge - Kill a chicken using the Fire Sword's fire. Reward: 15 points, 50 exp.
[TEAM] Saved by the wand: Medium Challenge - Save yourself from falling in the void using the Shield wand. Reward: 100exp, 75 points
[TEAM] Found you!: Easy challenge - Find 3 different players using the Tracker wand. Reward: 15 points
[TEAM] Tamer: Easy Challenge - Get both an ocelot and a wolf pet. Reward: 20 points
[TEAM] Look what I found!: Win a game using the "tracker" kit. Reward: 150 exp, 10 points
[TEAM] Tremendous Trio: Hard challenge - Get an ocelot, a wolf, and Frosty the Snowman to each kill a player. Reward: 100 points, 400 exp.
Other Quality of Life Changes
If you die and your team wins, you now get the win!
Invisibility wand now makes you completely invisible (excluding what you're holding). If you're hit when you're invisible, your armour will appear.
Shotgun bows have been buffed; it now shoots a LOT further than before, and its spread has been tightened.
Elytra durability has been reduced to 40 to avoid players going from one side of the map to another.
Added a new kit called "Tracker". This gives you a player tracker, for 500 points. Added kit achievement for this as well.
Increased weight of the player tracker, so they should be given more often.
Diamond kit has been nerfed and the price has been inflated; 7 diamonds are given now, for 1000 points.
The fireball dispenser lucky block now automatically shoots. :D
Frozen shot bow now gives slowness to all entities that aren't players. Helps with slowing horses!
Added a cooldown timer for Thor's Hammer & Fire Sword on your action bar so you know when to use them again!
The Fire Sword can now ignite TNT, taken from this suggestion!
​
Chat filter added to pet names.
Beacon is changed from iron blocks to emerald blocks.
Fixed hot potato duplication bug.
The Lucky Islands Shop has been renamed from "LuckyIslands Shop"... inconsistencies
Nametags can no longer stack, so now you can name all your pets!
Slimes should not look at you when you launch them with the Slime Wand. Keep that momentum!
Butterfly has been removed from Team Lucky Islands. You're welcome.
Whew. That was a lot of content...
Hope you enjoy this update! Hope you're just as excited for the next update as I am!