Nov 14, 2020
387
499
84
Pronouns

He/Him
(I made a similar post like this 5 months ago but it didn't get any attention -
https://www.cubecraft.net/threads/choose-a-custom-price-for-the-shop-in-the-favorites-menu.309654/
)
Alright, so if you played Eggwars before December of 2021, you might remember that certain aspects of the Eggwars Shop used to be different. I'm talking about the price of blocks. Bascially, the options (In OP mode) were:
5 iron = 15 Terracotta
8 iron = 24 Terracotta
21 iron = 63 Terracotta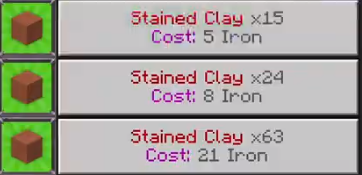 I didn't have a problem with this, however in the Eggwars update, they decided to change it to:
1 iron = 3 blocks
4 iron = 12 blocks
21 iron = 63 blocks
I have 2 problems with this.
My first problem is that the 1 iron option is kinda useless. I have barely used it.
Secondly, let's say you have 20 iron. You would need to click 5 times to buy 60 Terracotta. I think that this is already inconvenient, but it gets really bad if you have like 300 ping.
So my suggestion is to bring back the 8 iron for 24 Terracotta option instead of the 1 iron for 3 blocks because it didn't really have a problem. Or, if you really don't want to remove the 1 iron option you might aswell change it to this: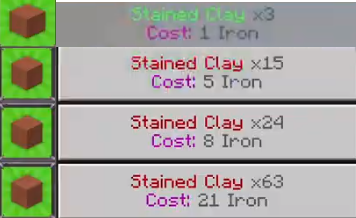 Edit: I also forgot to mention that the Eggwars Update made generators start while you are in your cage. This made obtaining resources like iron easier. So I don't get why you would add a 1 iron option.
If you agree with this, then react with

Last edited: