Moderation Manager
Team CubeCraft
💙 Admin Team
Oct 13, 2016
1,382
3,805
413
30
Hello, CubeCrafters!
Today we have updated our Forum, Discord, and our Java/Bedrock server rules. We have made several changes thanks to the community and moderation team's suggestions!
Main Change
We wanted to allow our rules page to be more consolidated and remove the repetitive statements when it comes to the same rules being stated in multiple sections. Due to this, the chat rules for our Servers, Forums, and Discord have all been merged into the same section.
This means that the punishment tracks will all follow the same time length, with the respective punishments for mutes on the Server and bans on the Forums/Discord remaining. There are exceptions to the sections that are solely for a specific part of our network. These have been labeled accordingly: Forums, Discord, or Forums and Discord only in the punishment track title.
This allowed us to provide more details about the situations that break these rules, or the exceptions to the rule, without the page becoming a mini-novel.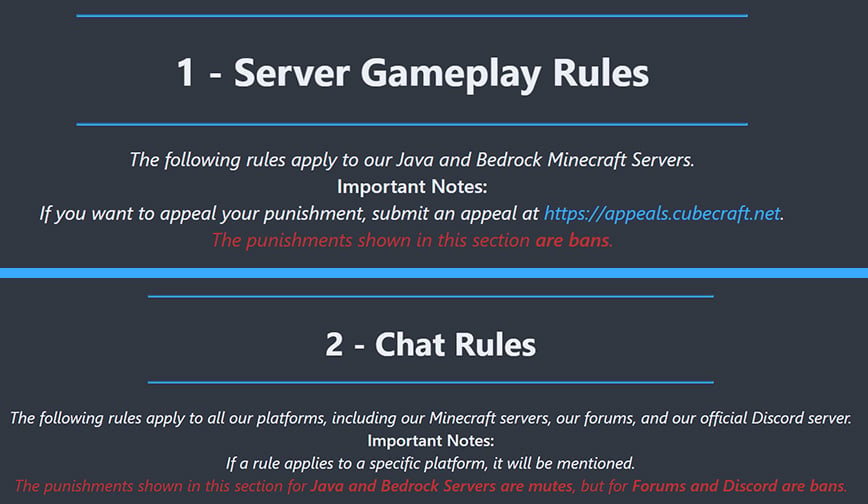 Rule Specific Changes
While making the change to the overall layout for the rules, we also went through and made some minor tweaks to specific rules. These were all based on feedback we had and overall discussions about the rules as a whole.
Invisible and small skins will no longer be allowed on our Bedrock server. We will have a week-long grace period, where a warning is issued first.
Added a "strategic misplacing" rule to Tower Defence.
Added the rules for our reporting platforms.
Added references to drugs, self-harm, as well as derogatory comments to the CubeCraft Team to the Swearing rule.
Added Text Art (ACSII), copypasta, and chain messages to the Spamming rule.
Added exceptions to the spamming rule.
The Advertising rule has been changed. From now on players will be able to share their social networks, and invite links to their Discord servers in their forum signatures.
We encourage you all to read our updated rules by clicking here.
We will continue to make adjustments, if necessary, and the minor ones will be reported in the #changelogs channel on our Discord server.
Not part of our Discord community yet?
Don't wait any longer and join
!