Lead Game Developer
Team CubeCraft
💻 Developer
Hello CubeCrafters!
Our Winter 2020 event is here and it's joined our Java & Bedrock networks. As you can see, we've rebranded the name of this event, but it's still full on joy! This release is packed with so much content to show you guys, it's our biggest seasonal event so far! As usual, we have Winter maps and hubs, including a Java Advent calendar and lobby present hunts. Java Winter Cubelets are back as well as awesome loot. We've got our best Bedrock seasonal bundle yet and the biggest piece of content is
our new game, Colony Control
! Read below to learn more about this update!
NEW GAME - Colony Control!
Colony Control is an epic 3v3v3v3 PvP-strategy game where the objective is to become the strongest colony there is - destroy your opponents buildings & Town Hall and fight to be the last colony standing!
You have a selection of buildings that you can purchase from the Town Hall, take a look!
But how do you get Gold and Food currency? - Around the map, there are farms and mines that you are able to use to purchase your first buildings. We all have humble beginnings, so get to mining and farming - purchase a farmers or miners guild to get the villagers to do it for you once you have enough!
Each building will provide you with a different resource that you should use to be the strongest colony out there!
-
Blacksmith:
This shop gives you weapons and tools for you to batter your opponents! There are 2 upgrades, taking you from Wood, to Stone, to Iron tools!
-
Armoury:
No weapon is good with armour to protect you! This shop gives you armour; there are 2 upgrades, taking you from Leather, to Chain, to Iron armour!
-
Food:
A hungry man on the roll- food is important to keep you strong! This shop gives you food; there is 1 upgrade where you can unlock golden apples.
-
Construction Site:
For all construction purposes, the construction site gives you some defence mechanisms for your colony! You can buy an
archer tower
, armed with 4 skeletons, or a
wall post
. If you place two wall posts next to each other completely, it will fill it in for you!

Walls filling in are very satisfying...​
-
Upgrade Store:
Upgrade your person with this store - you can buy a hospital, gym or running track with this! Limited to one, you can give yourself extra hearts, speed or resistance. 2 upgrades, each increasing your speed/resistance by 1 or extra hearts by 3.
-
Farmers Guild:
Resources are limited, but also time-consuming! Get a farmer to do it for you - they'll go, farm wheat and return back to the guild, giving everyone on your team 20 wheat. There are 3 upgrades, each giving you one more farmer!
-
Miners Guild:
Resources are limited, but also time-consuming! Get a miner to do it for you - they'll go, mine gold and return back to the guild, giving everyone on your team 10gold. There are 3 upgrades, each giving you one more miner!
-
Pet Shop:
Nothing is better than having an extra person on your team! Choose between a zombie, a skeleton or a wolf to help you attack! They'll attack players, guard your buildings or attack enemy buildings, just need to tell it to by right-clicking on it! There are 2 upgrades, taking you from 3 pets, to 6 pets, to 9 pets maximum! You can also upgrade your pets damage, range and speed!

Exploring the pet upgrade menu.​
Around the map, there are two trees and three boulders for you to break - these will give you gold, but also the ability to place more buildings as you free up more space! To place a building, simply buy a building from the Town Hall, and right-click the ground to place! You need to be wary of placement though, as your space is limited!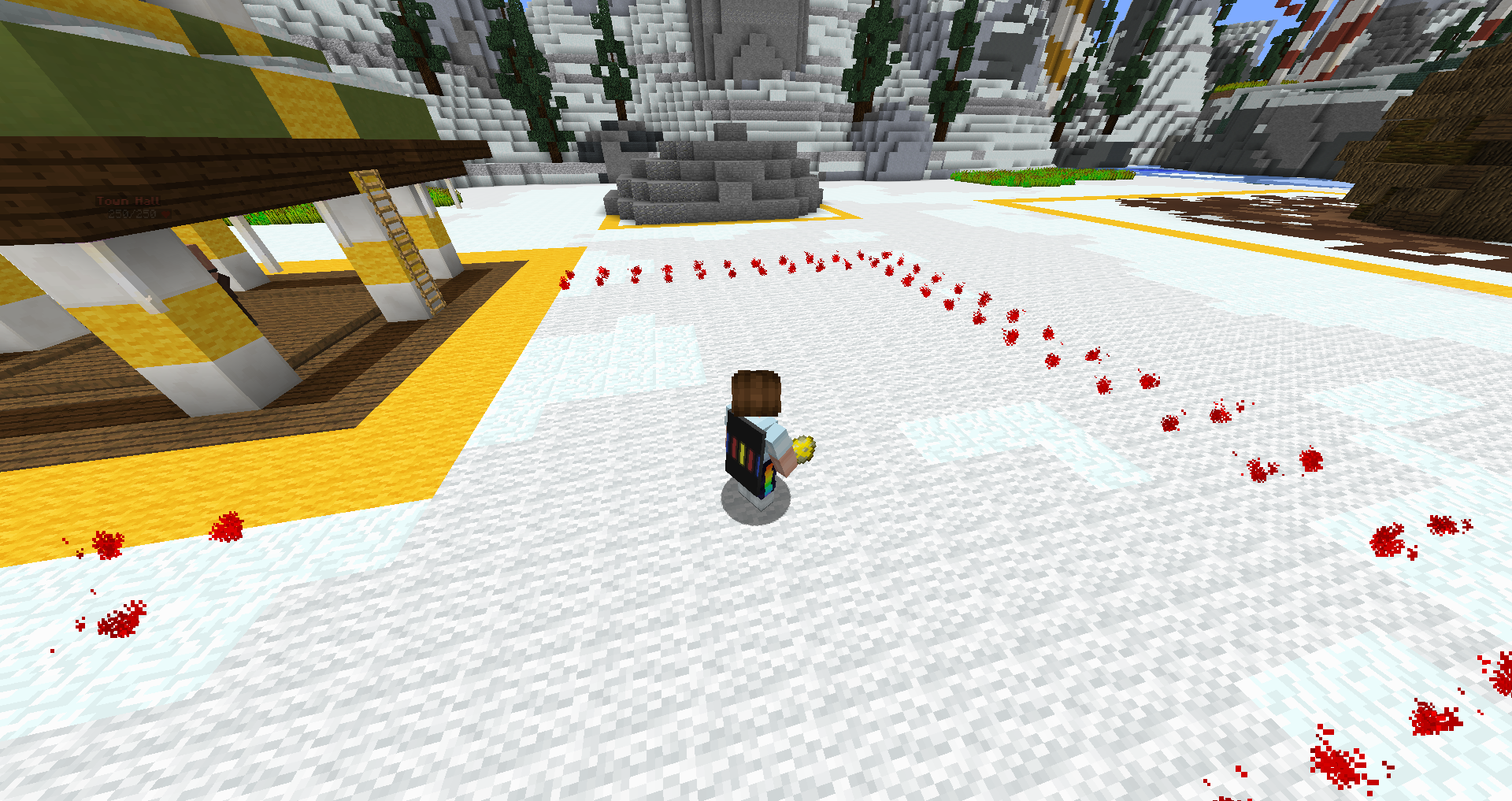 You can't place a building here - it's shown as having a

red

border!
Woohoo! You can place a building here - it has a

green

border!

​
You have 10 minutes to gather resources as a team before the walls drop - your hunger won't deplete, so it's important to remember to get a Food shop to get food. When the walls drop, you'll need to go and attack other colonies - first, you need to attack all of their buildings, before attacking their Town Hall. If you lose your Town Hall, you can
no longer respawn
!
If your building takes damage, you are able to repair it again, but if your building is destroyed, you cannot repair it. You'll need to clear the debris for gold!
Want to share currency with your team? Simply type
/givecurrency
,
/givegold <IGN> <amount>
or
/givefood <IGN> <amount>
.
All of this information is reiterated in the "How to play" book, which is given to you in-game and in waiting lobbies.
Snowman Survival - Bedrock only!
Snowman Survival returns to our Bedrock network and joins our Winter Games lobby. Sadly Java edition doesn't have Snowman Survival, but if you want to play it, you can join Bedrock to try it out! Snowman Survival allows 8 players and there are 3 maps available to join and choose from.
Snowman Survival is a fun game where the objective is to survive as long as you can, without the Snowman giving you frostbite! The game starts with 8 players, then the sacred Snowman performs a ritual and the starting Snowman is chosen. The remaining players are human survivors and have a brief grace period of 7 seconds to run away before the Snowman is released. Humans need to run and hide whilst dodging the Snowballs that the Snowmen throw! The first Snowman needs to throw his Snowballs at survivors, this will convert the Survivors in to more Snowmen.
As a Snowman, you have to throw your snowball. Left or right clicking gives you a quick throw, with a predefined amount of force. If your throw hits a survivor, they will be converted into a snowman. HOWEVER as a Snowman you only get ONE snowball, so use it wisely! If you miss, you'll have to run and fetch the Snowball by walking over it, or wait 5 seconds and it will come back to you automatically.

Snowman throwing their snowball.​
When playing as a survivor, after 30 seconds of being released, you will notice there are powerups scattered around the arena which help you run, leap and teleport away from the Snowmen. Some powerups also allow Survivors to stun and gravity explode the Snowmen, as well as trick them with decoy survivors.

Survivor collecting powerups.​
The Starting Snowman has the ability to track players with a compass. If the Snowmen don't convert all the Survivors before the timer ends, they will explode and lose!
If you're wondering how stats work in Snowman Survival, that's simple! You collect Medals. At the end of the game, both of the Snowmen and Survivors can earn "Snowman Survival Medals". You'll get medals for the following actions:
- Every 30 seconds you are alive as a Survivor
- Converting a Survivor into a Snowman as a Snowman
- Stunning a Snowman as a Survivor
- Staying alive as a Survivor the whole game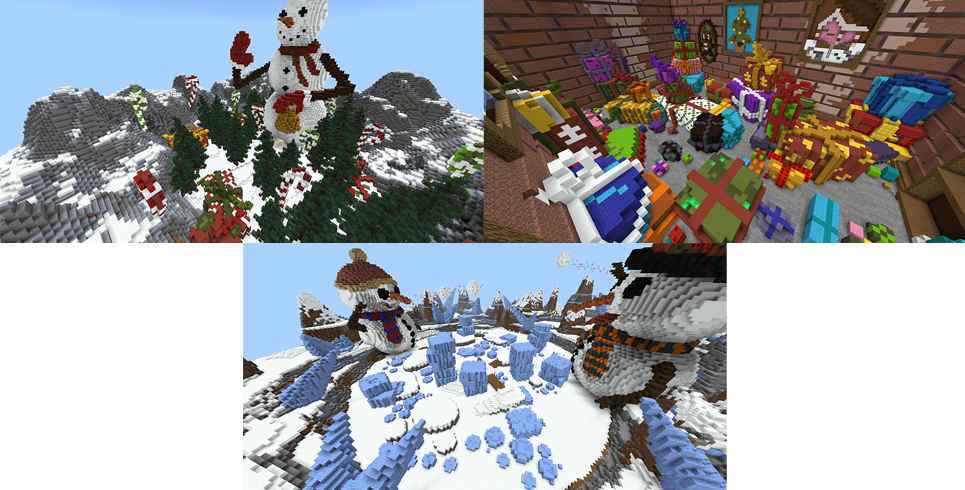 Snowman Survival maps.
​
Winter hubs, present hunts & Advent calendar!
Our Winter lobby has arrived and it's spreading winter vibes across both our networks! - But joining our lobbies is our traditional Present hunt! For our Java network, we've hidden 25 presents across the lobby, if you find them all, you'll win a Winter Cubelet, some points & experience and an epic Wolves Win Effect! For our Bedrock network, we're scattered 12 presents in the lobby, and if you find all of them, you'll win a present hunt 2020 prefix, some experience and an exclusive win effect also! - What are you waiting for, go and find them!
Having trouble finding the presents on our Bedrock? we've got you. Click here!
Discovering presents in our Winter lobby!
Winter Lobby 2020
​
Some of you might have already noticed, but last week we released an advent calendar to our Java lobbies to get you ready and remind you that December is starting, and what's the start of December with an advent calendar eh? So today the calendar unlocked itself and is now allowing days to be collected!
If you don't know how an advent calendar works, you get a daily reward! Join our network each day and get rewards for each day. If you get a claim streak of 5, 10, 15, 20 and 25 days, we'll give you extra rewards! Such as an epic gadget, trail, arrow trail, win effect and animated hat! - Remember, don't miss a day!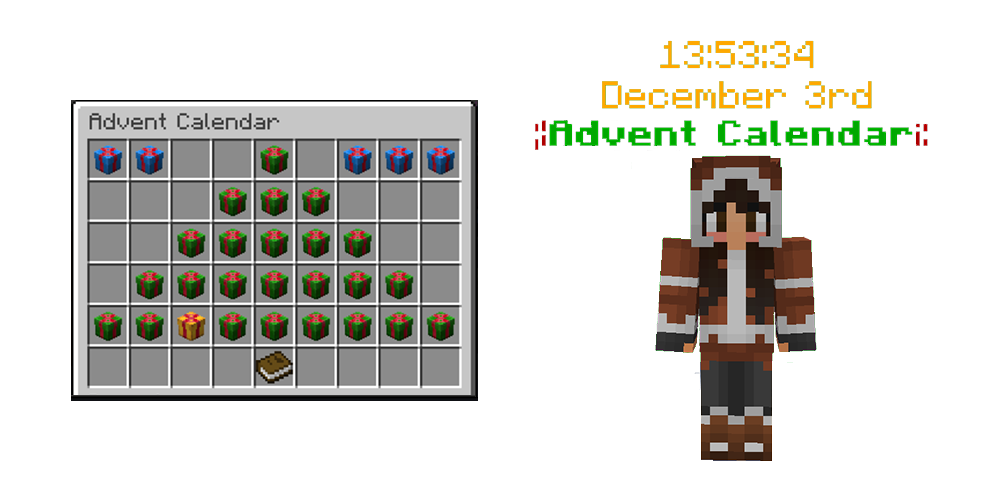 Advent Calendar menu and NPC.
Snowman Fight gadget - 10 consecutive day reward!
​
Winter maps, challenges & 4 weeks of Winter!
Our Winter maps are back, and they are on both networks. Our Java networks is receiving a visit from our classic Winter maps and our Bedrock network has some returning and BRAND NEW maps, including a community map submission!
Snowflake - Solo SkyWars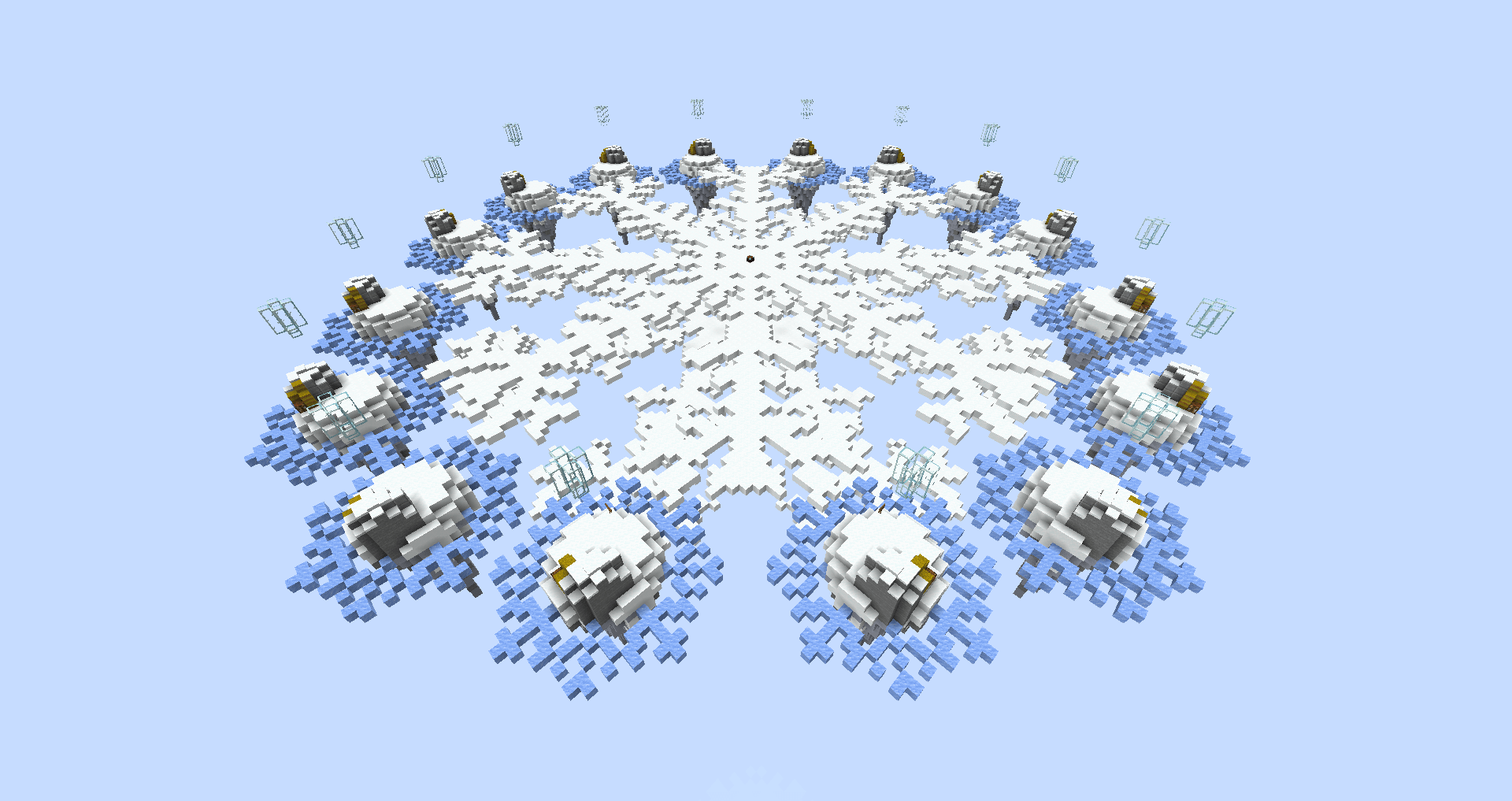 Snowmen - Solo SkyWars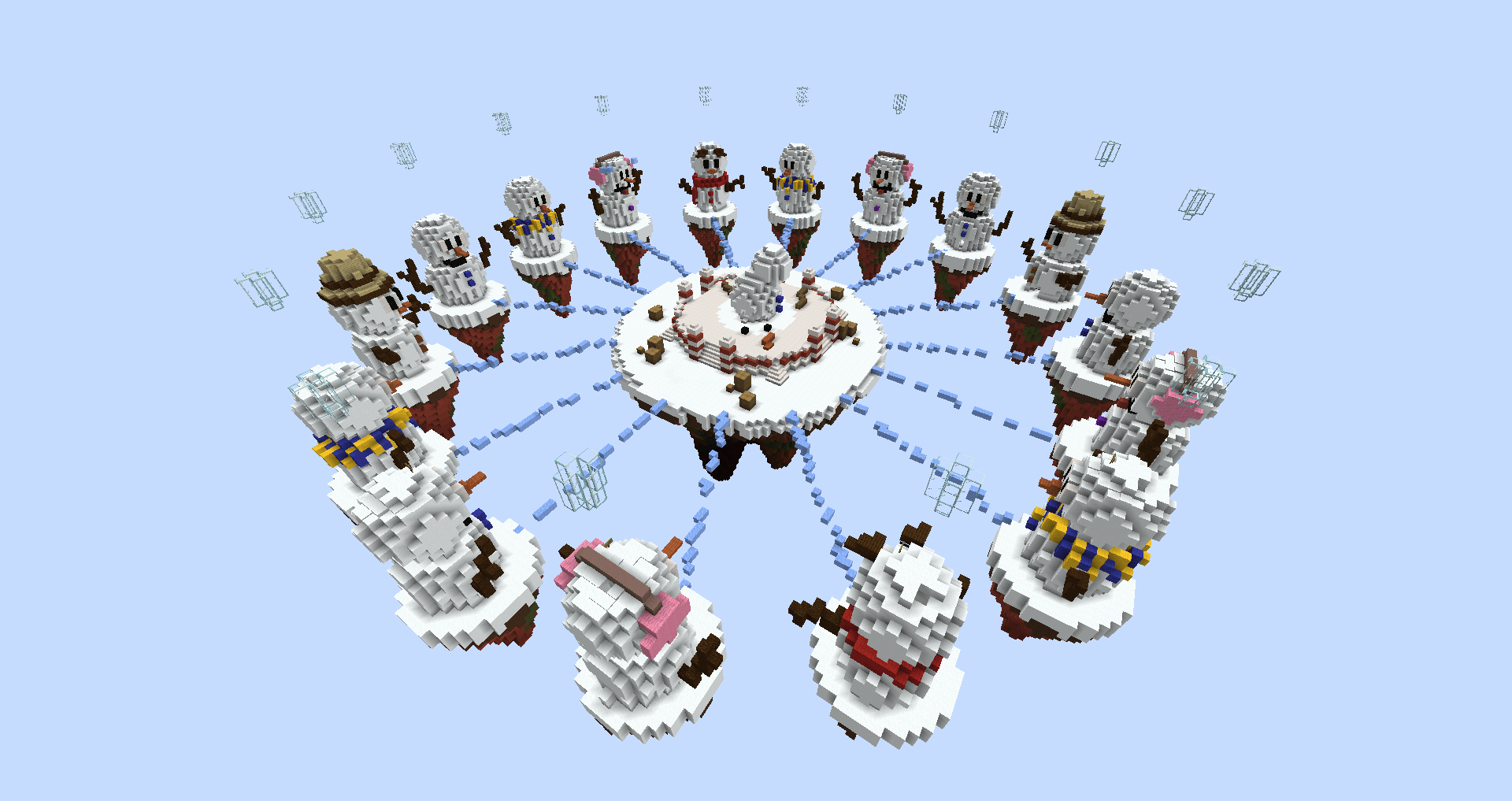 Winter - Team SkyWars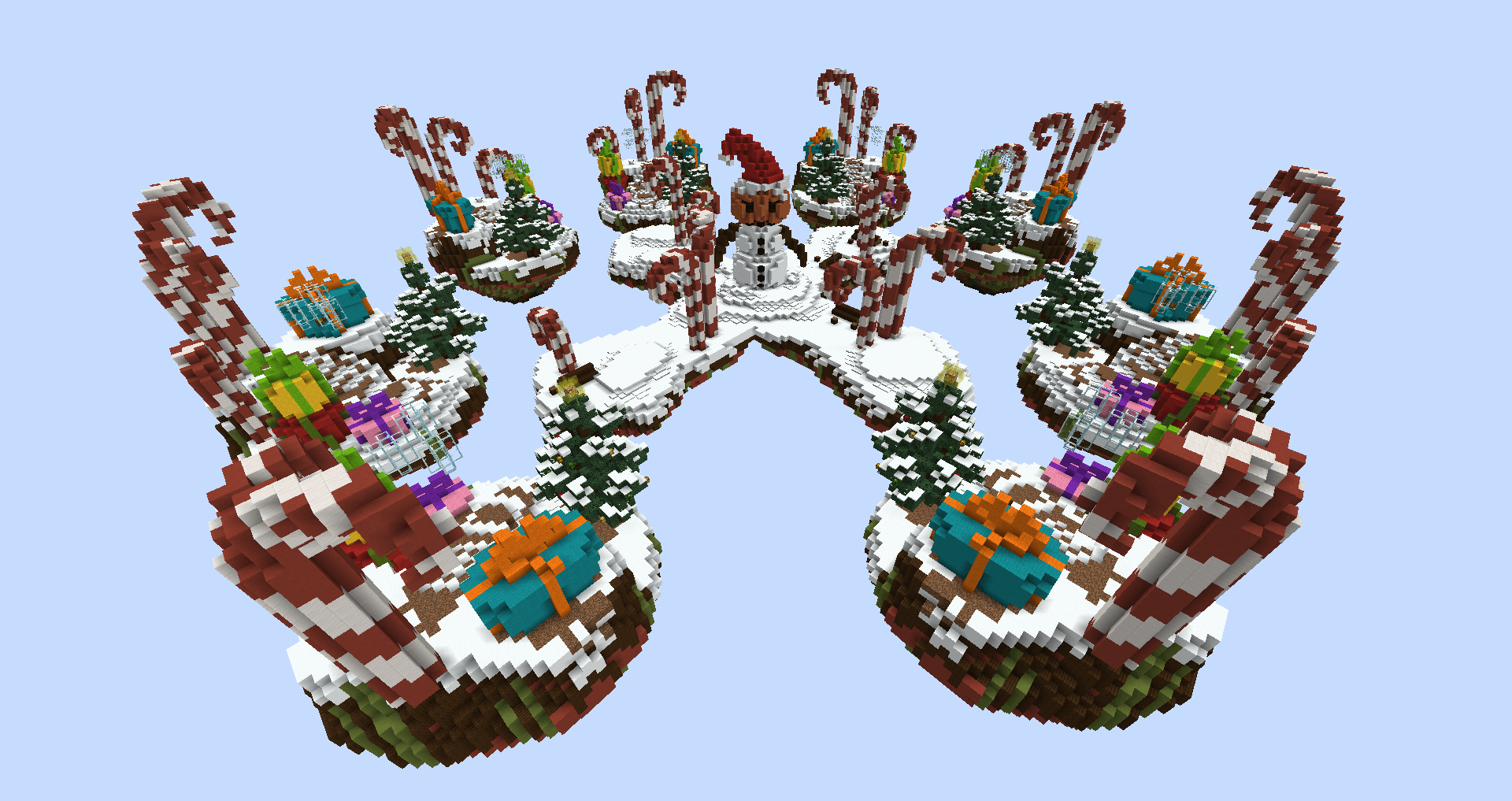 Dinner - Team SkyWars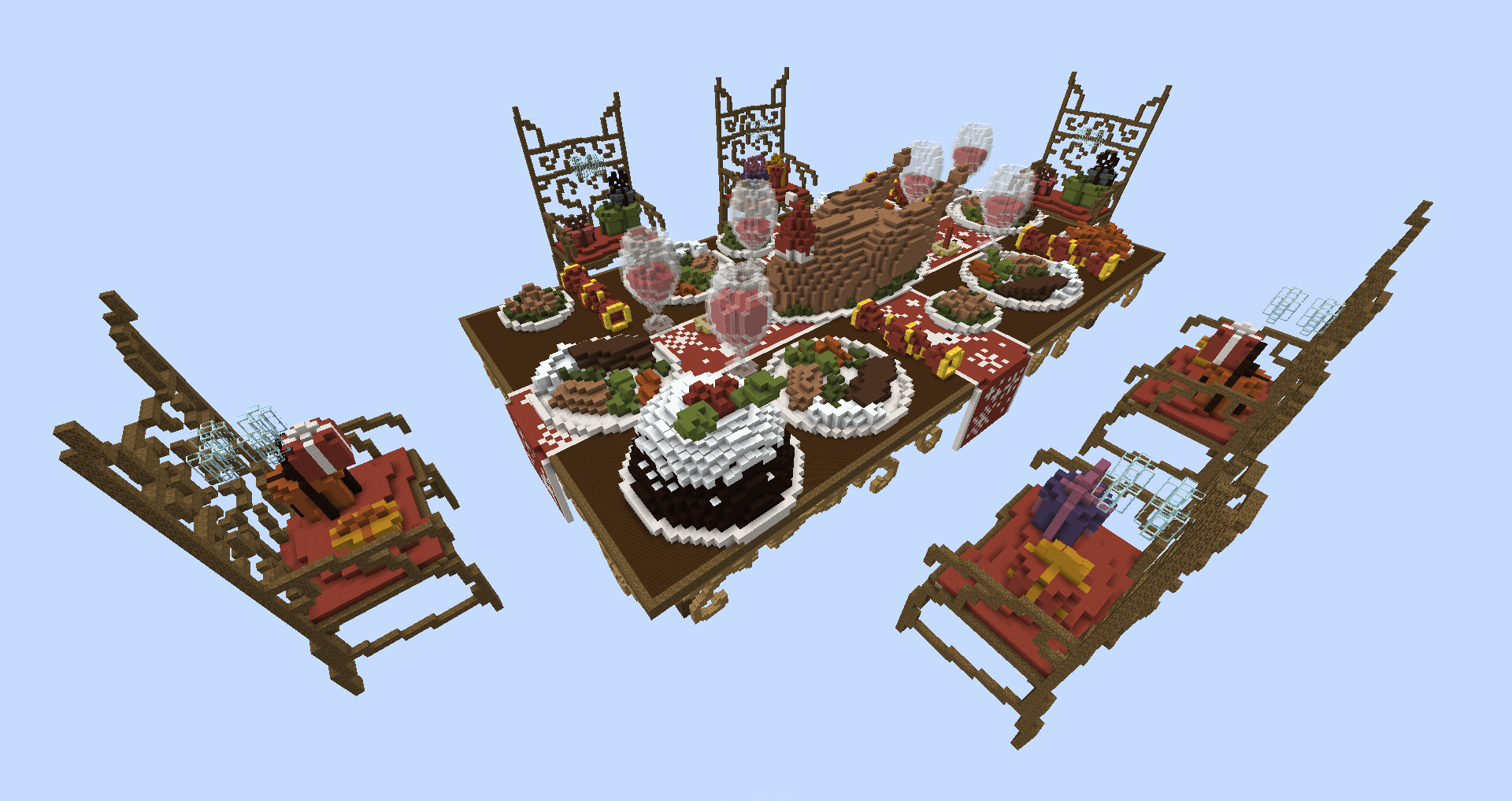 Frosty - Solo EggWars
Fireplace - Team EggWars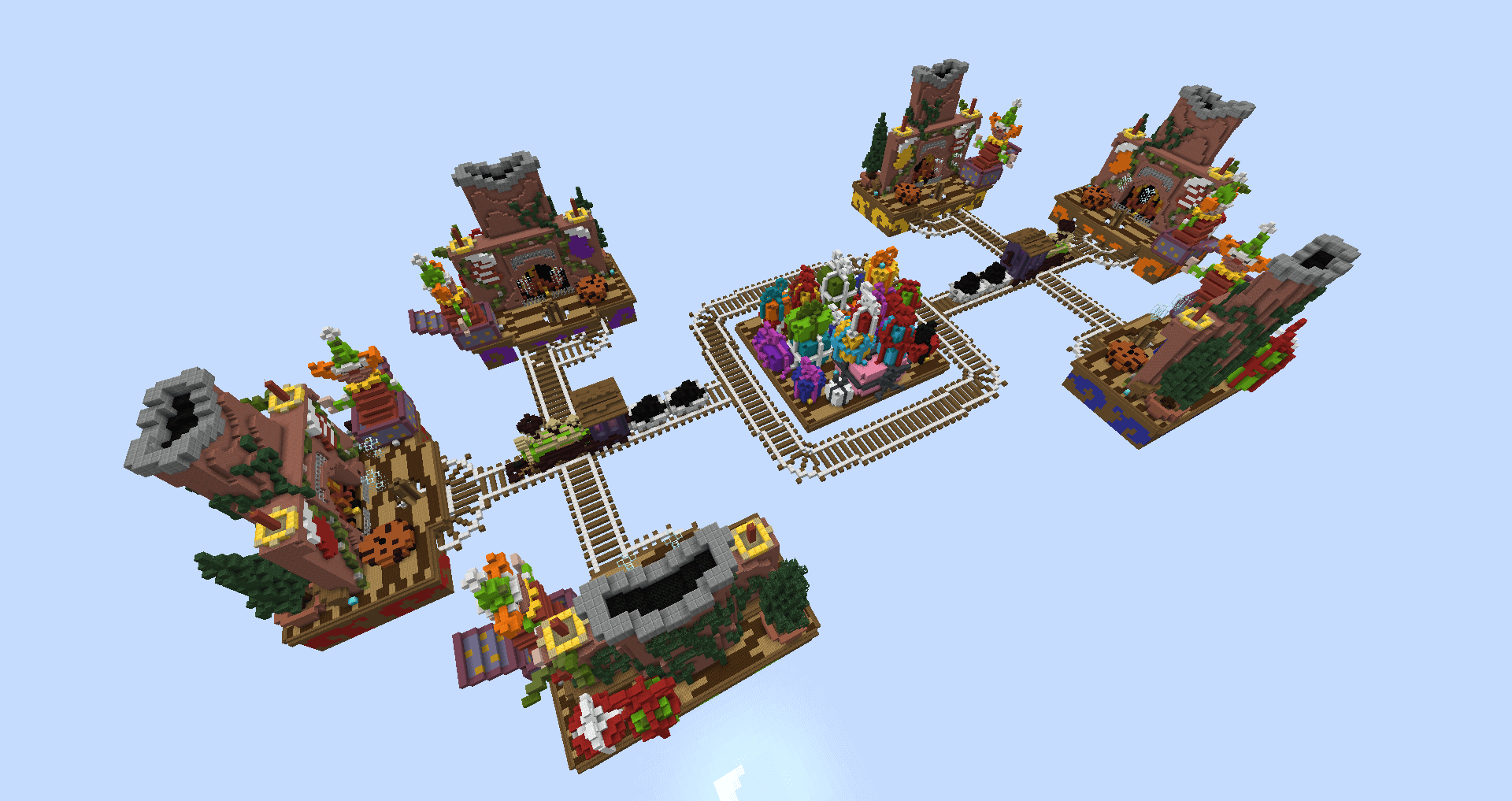 Snowglobe - Solo Lucky Islands
Factory - Solo Lucky Islands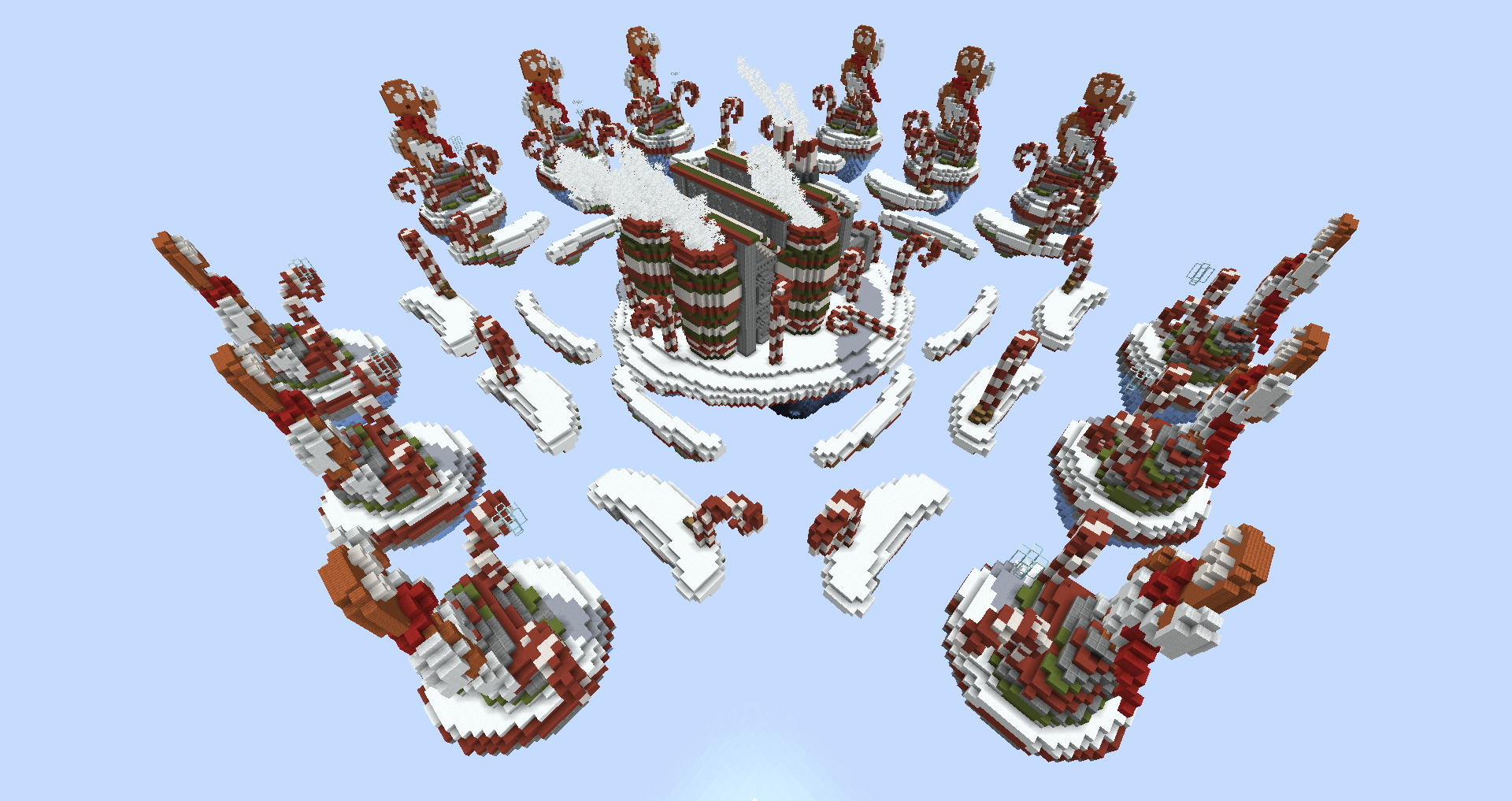 Feast - Team Lucky Islands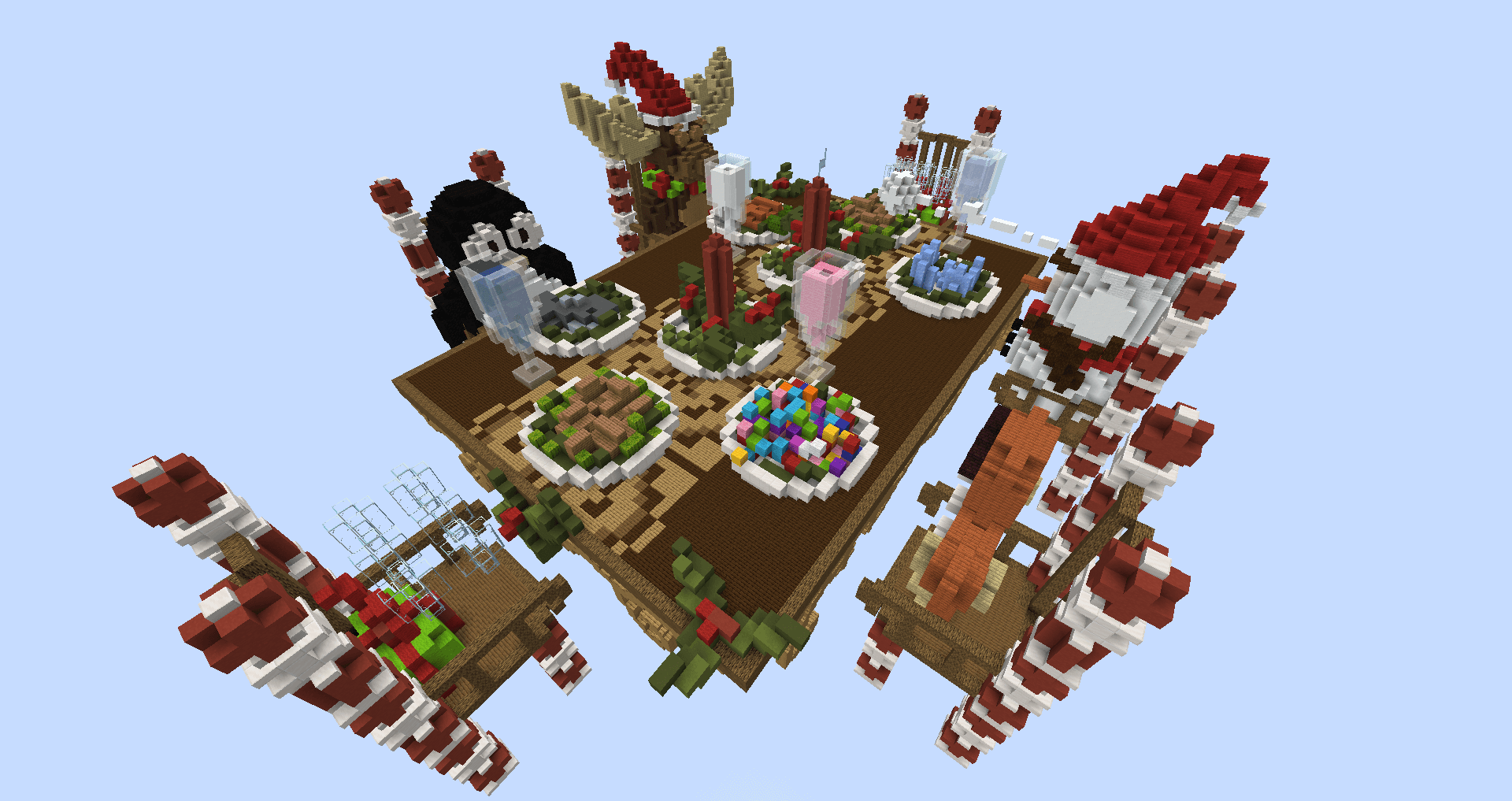 Gingerbread - Team Lucky Islands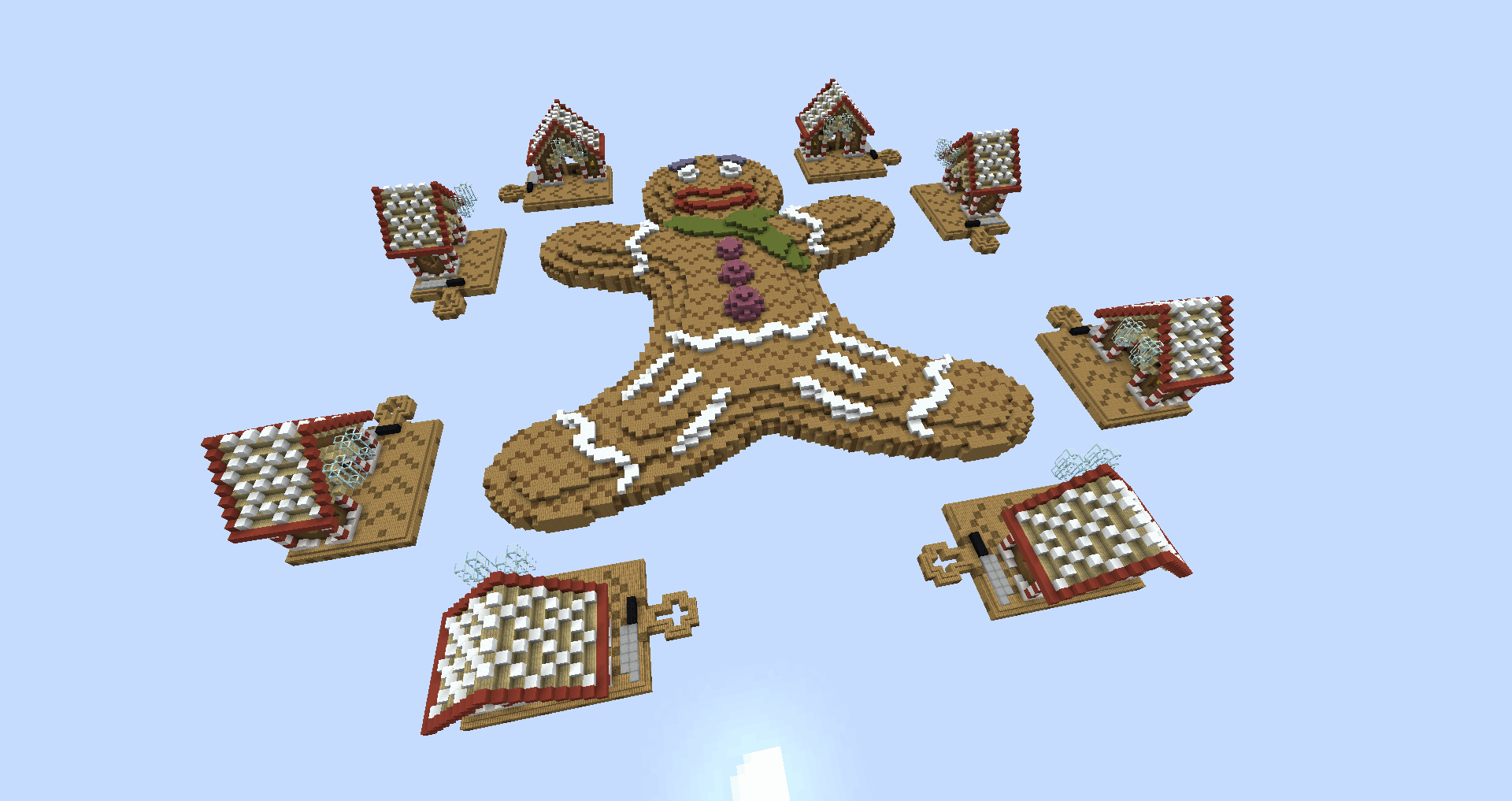 Grotto - MinerWare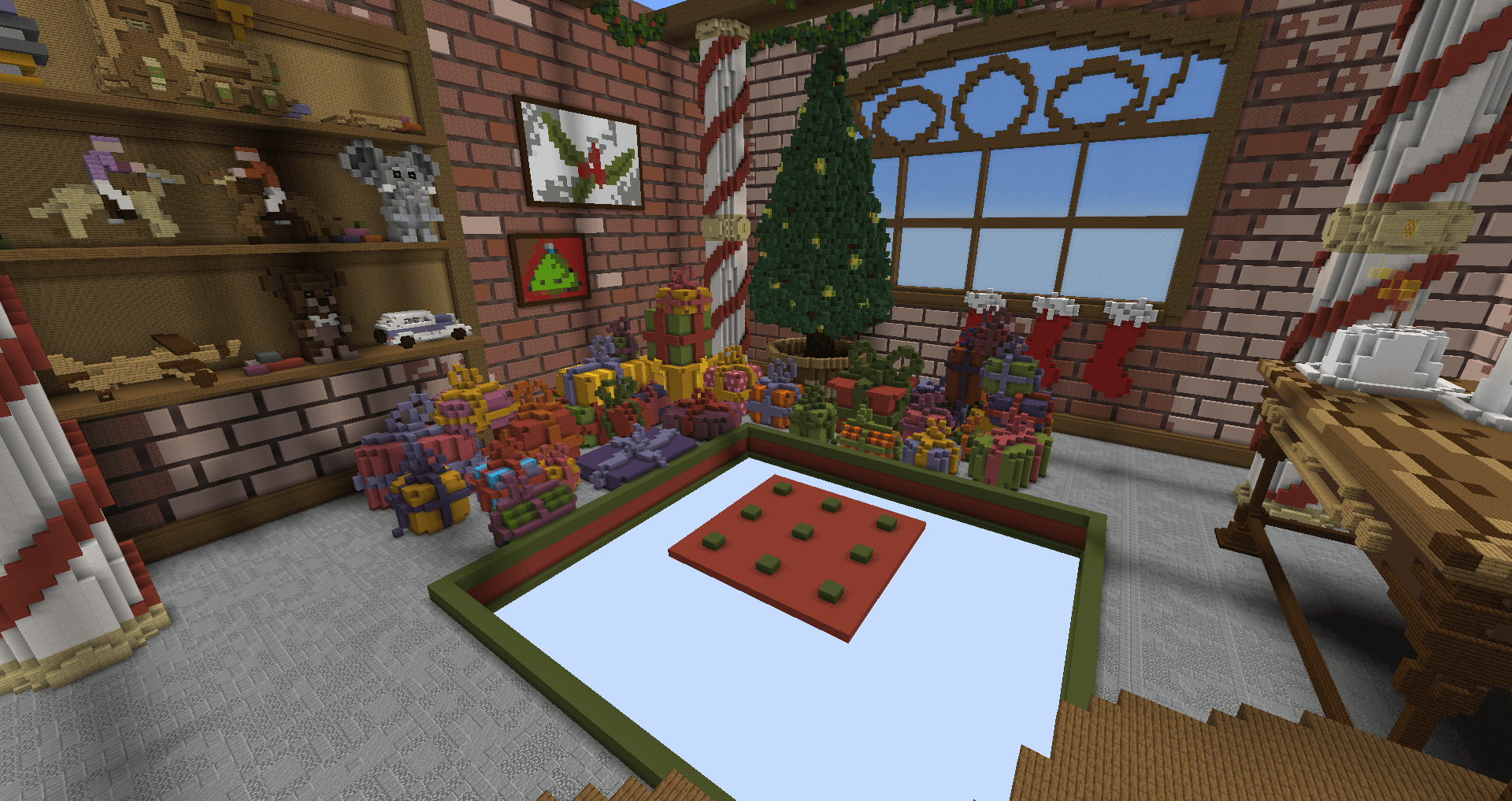 Turkey - Tower Defence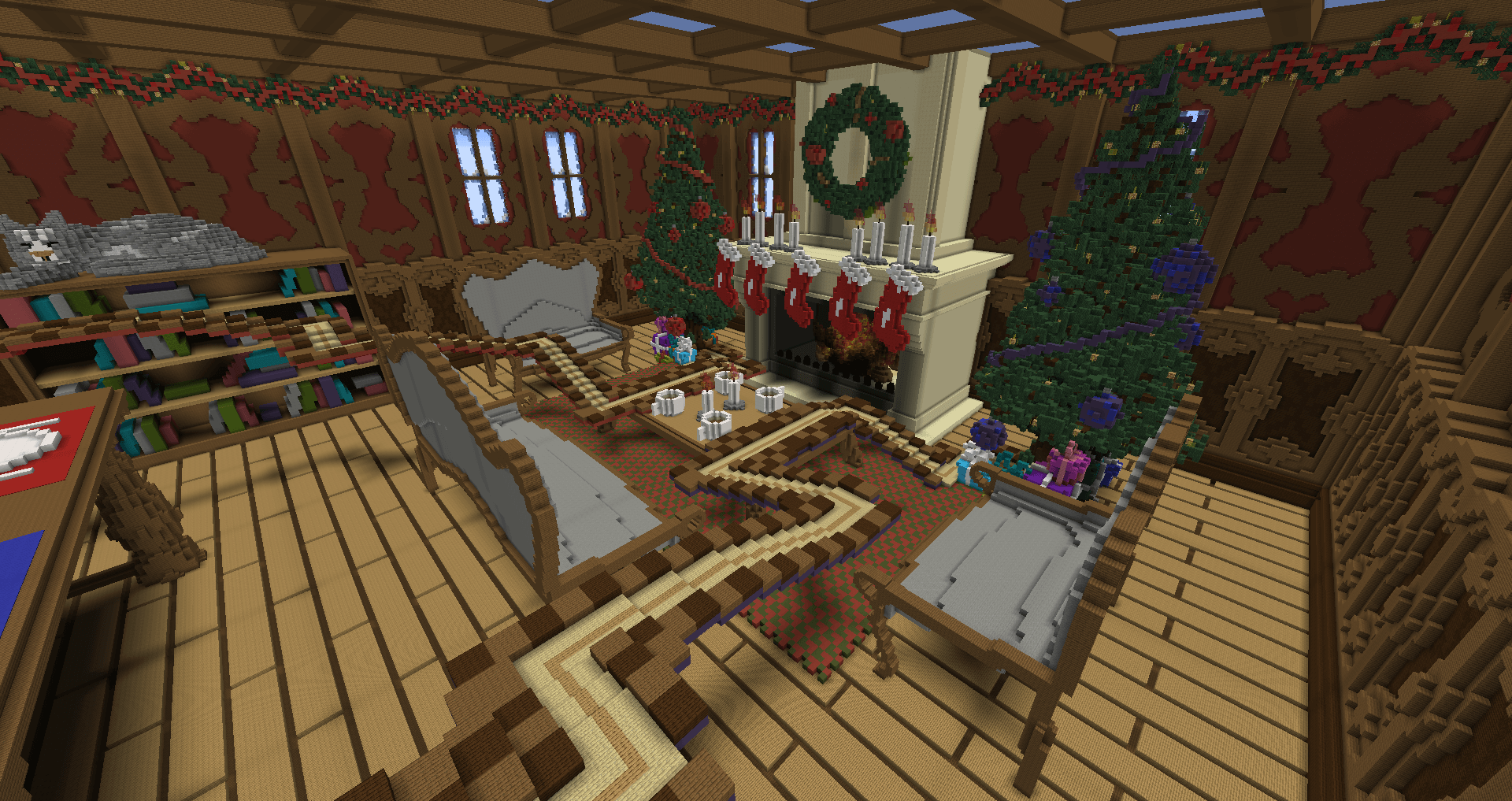 Snowflake - Solo SkyWars
Feast - SkyWars Teams of 2 - NEW TEAM SIZE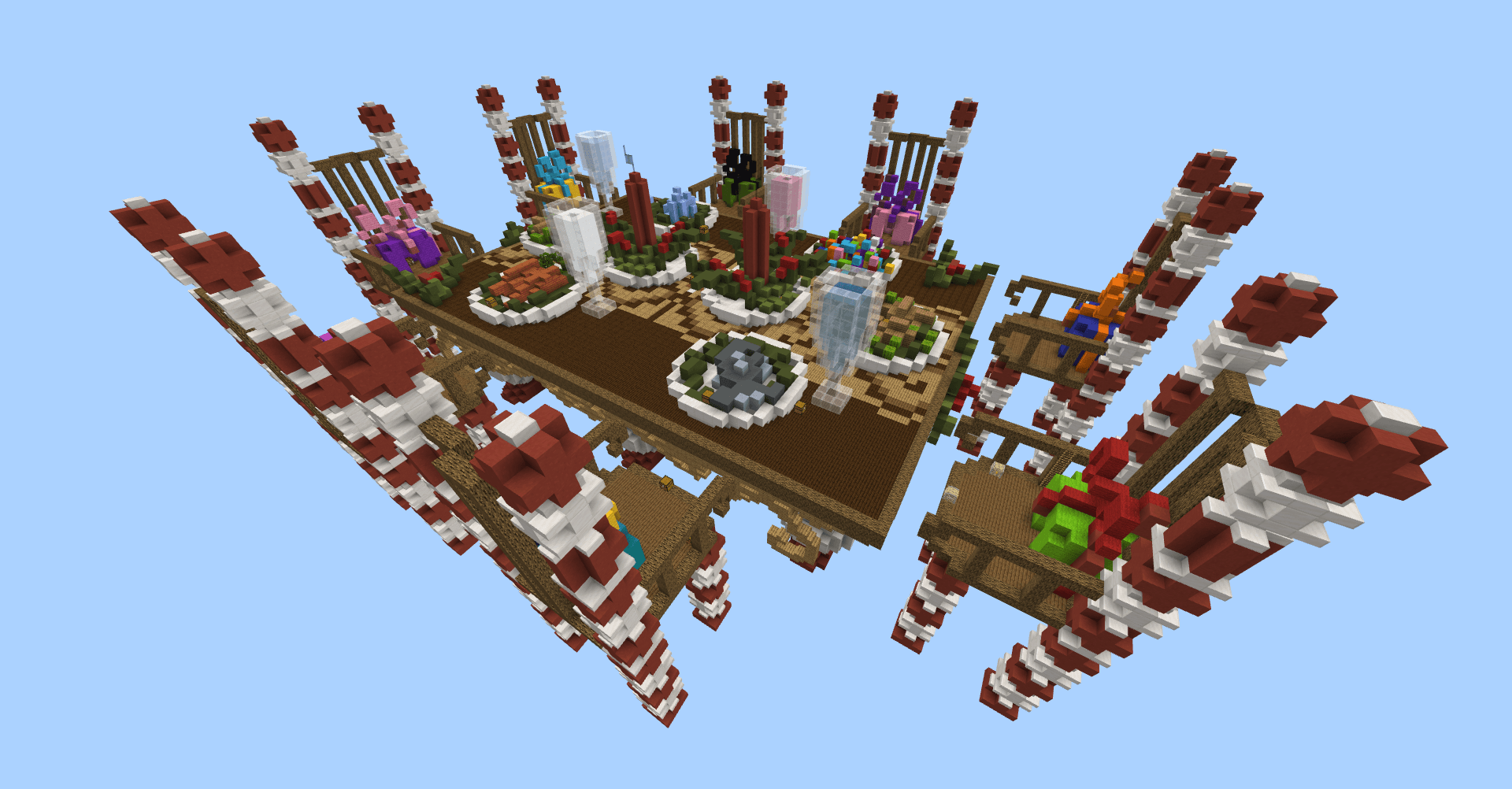 Dinner - SkyWars Teams of 4
Party - SkyWars Teams of 10 - NEW TO 2020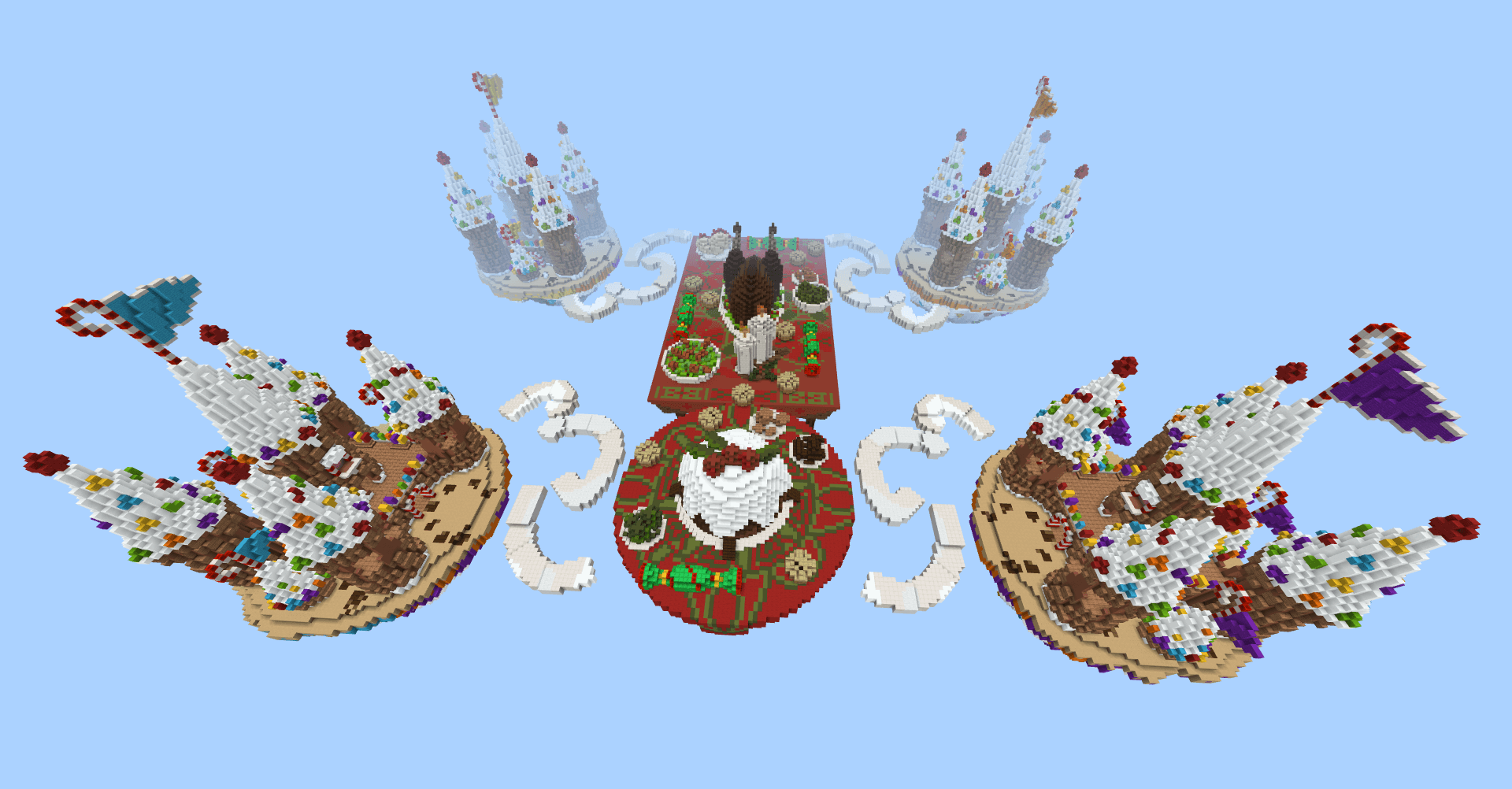 Fireplace - EggWars Teams of 2
Gingerbread - EggWars Teams of 4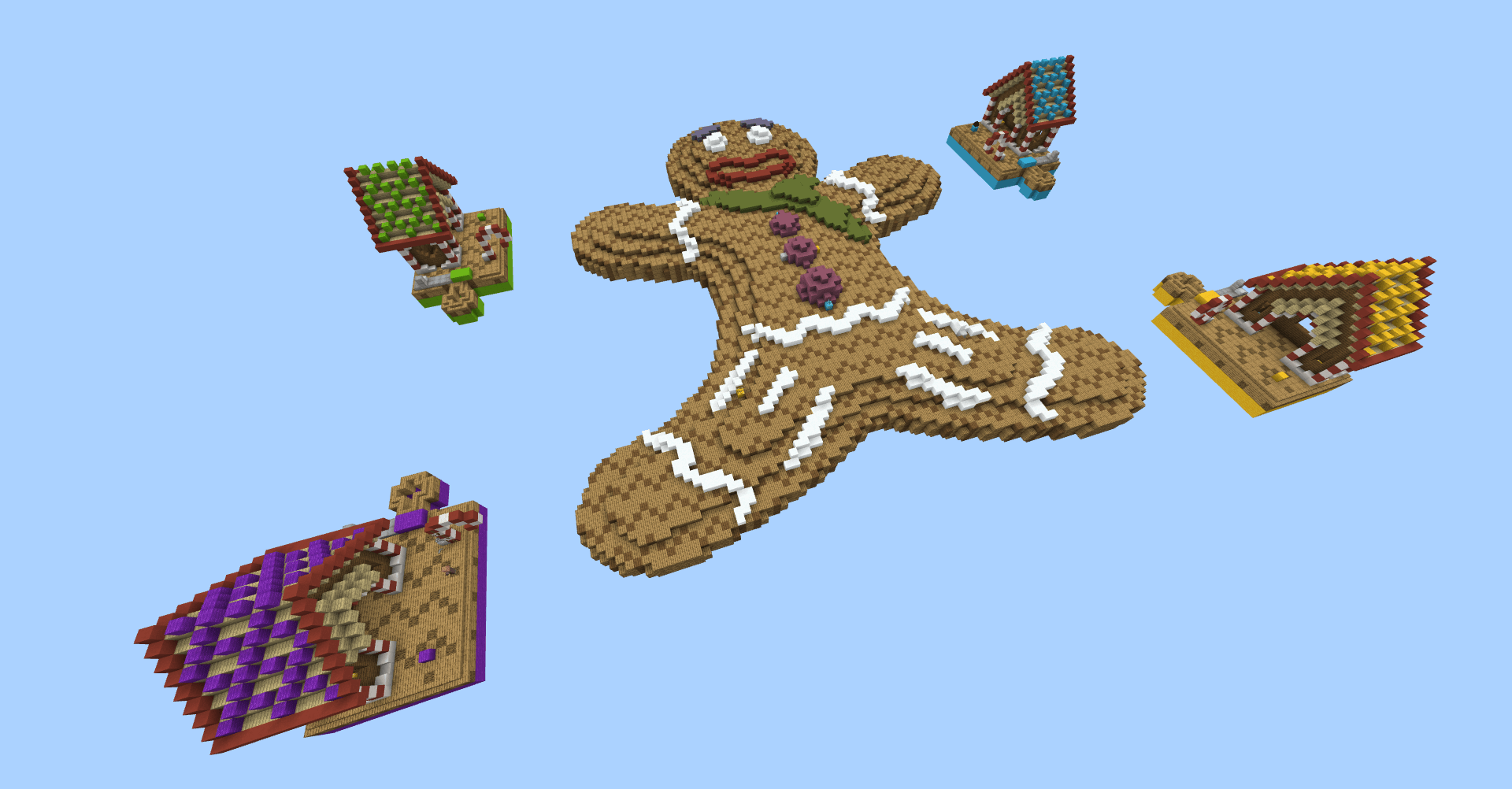 Snowglobe - Solo Lucky Islands - NEW TO 2020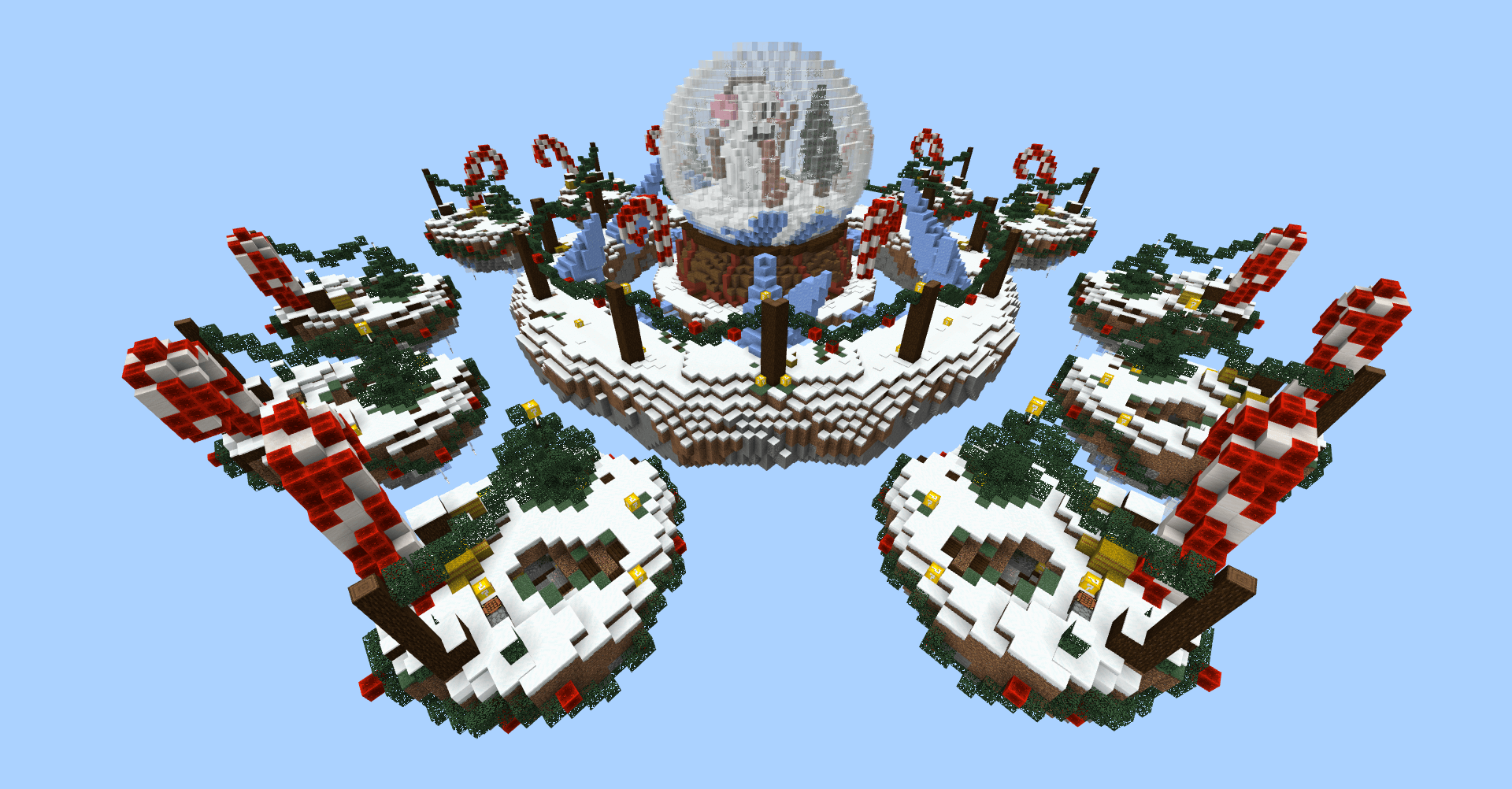 Factory - Lucky Islands Teams of 4 - NEW TO 2020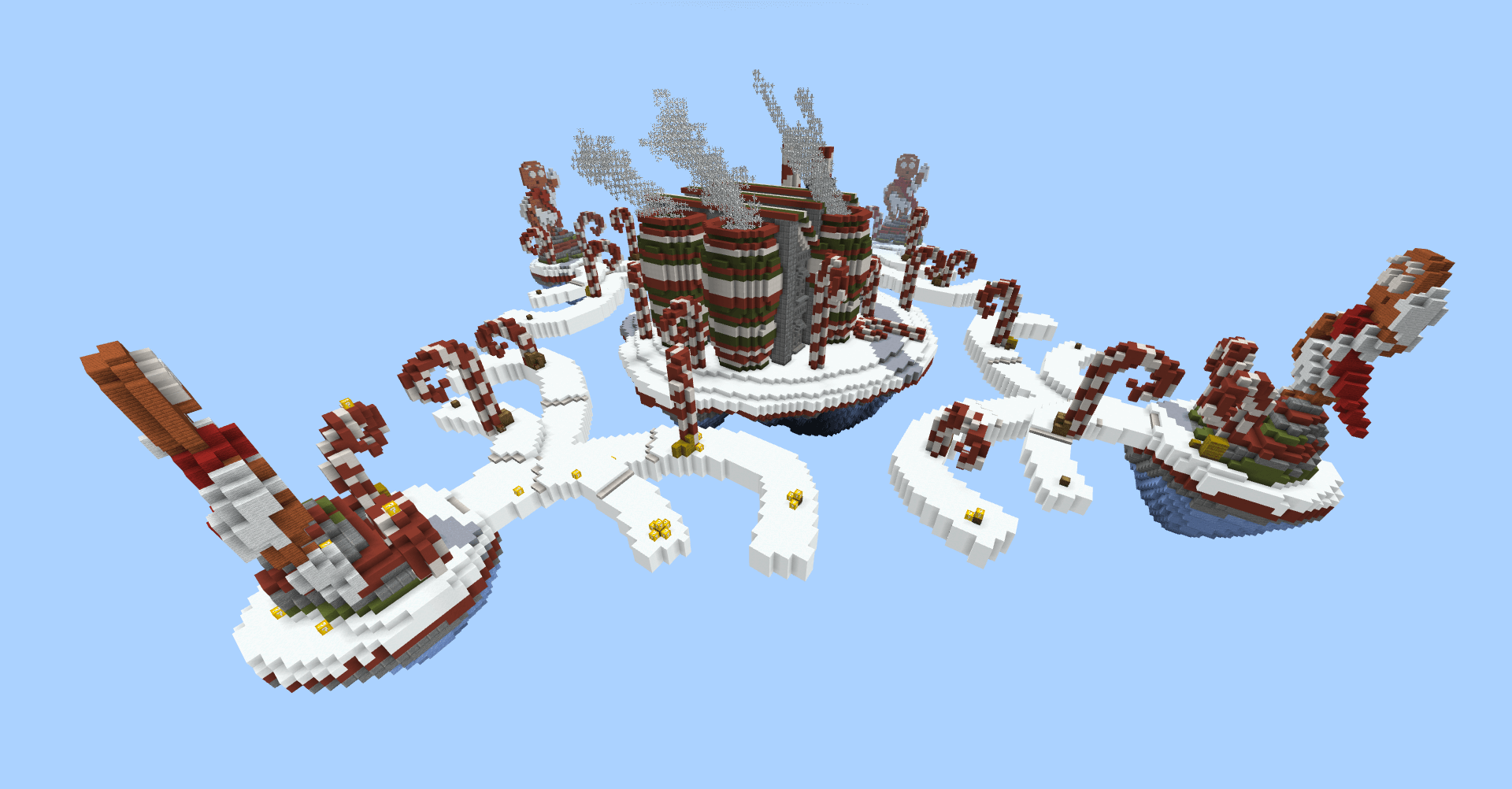 Grotto - MinerWare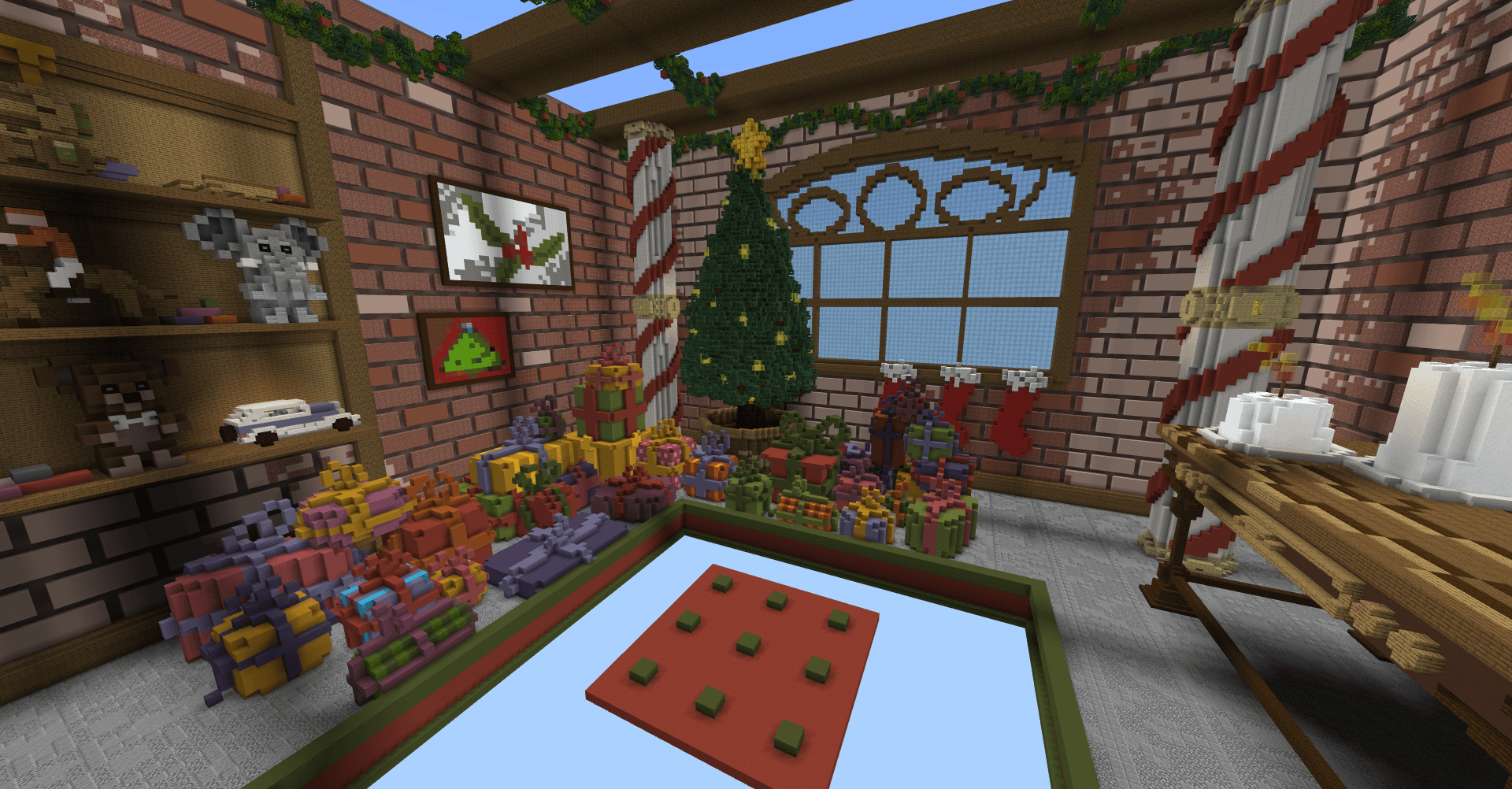 Winter - BlockWars CTF - NEW TO 2020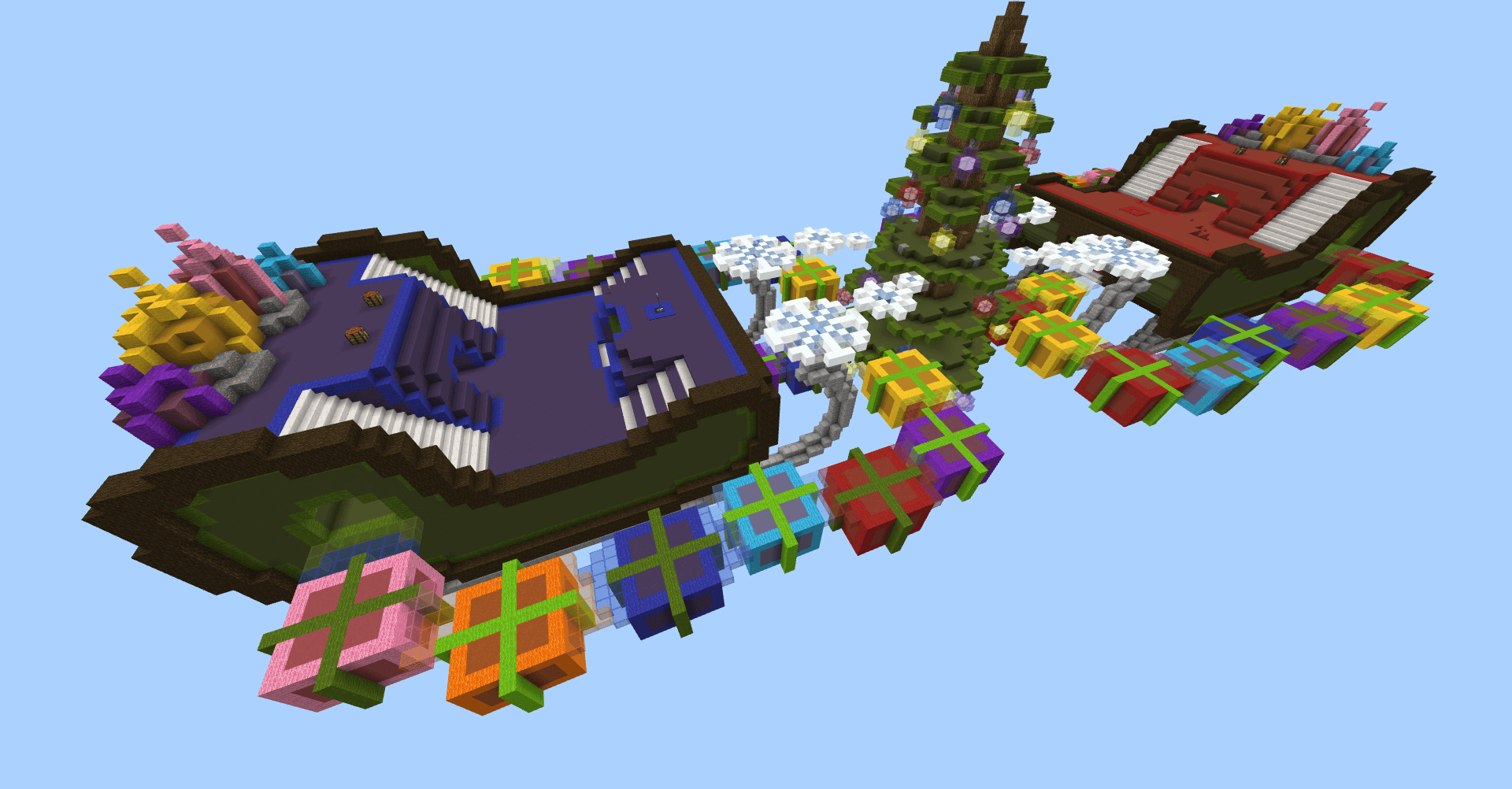 Made by - @Eli & @Yamin
Along with our Java maps, we're re-added our seasonal map challenges for our 2020 Winter event! There's 2 challenges to complete, you have the explorer challenge which tasks you to play our Winter maps, if you complete it you'll win a Winter Cubelet. The second challenge is called the winner challenge, where you need to play on our Winter maps, once again, if you complete it you'll win not one, but 2 Winter Cubelets! - What are you waiting for, accept the challenge!
Java Winter map challenges.
​
In other exciting news, we're bringing back our weekly permanent map updates! - Just like our 5 Weeks of Summer, we're doing a Winter edition with: 4 Weeks of Winter. This means that 3 permanent maps will be added every week for 4 weeks starting from next Wednesday. We'll see you there!
Winter Cubelets, Loot & Packs!
What would our Winter event be without Winter Cubelets. If you want jolly seasonal content, then purchase yourself some Winter Cubelets on our Java store. There's some over 70 Winter loot items to obtain. Now if you want to get some
FREE Winter Cubelets, then you can find them in our games as rewards or you can join our server during our Winter event!
If you want to purchase Winter Cubelets, you can get them on our store HERE!
If you purchase
Winter
Cubelet packages, you'll get exclusive Miniatures with them!

Exclusive Winter Miniatures with Winter Cubelet packages.
Opening a Winter Cubelet.
​
Our Java store also has Winter packs available: Winter cage pack, Winter miniature pack & Winter EggWars egg break message pack!
You can get them HERE!

​
Bedrock Winter Bundle!
As a tradition, we have once again have a seasonal bundle joining our event. Introducing our Winter Bundle 2020! This bundle is by far our best bundle yet and features so many loot items to be used in our lobbies and in many of our games, such as Skyblock, Lucky Islands and BlockWars.
The Bundle costs 990 Minecoins/Tokens and includes:
• Baby Yeti & Skier buddies
• Winter tree furniture piece
• Santa sleigh win effect
• Sledge cage
• Winter flag skin
• Frostie lucky block skin
• 4 chat prefixes
You can get our Winter Bundle 2020 HERE!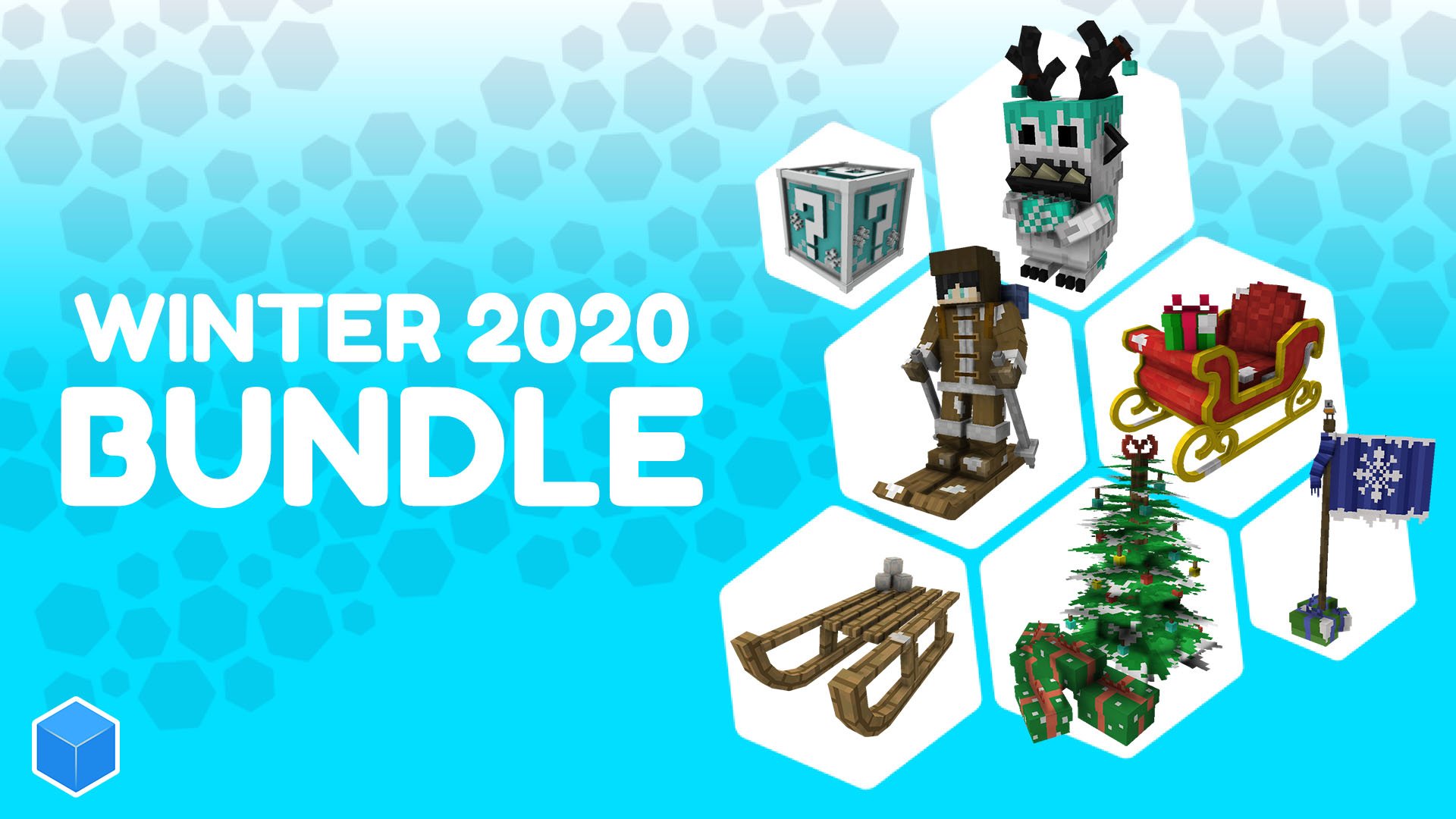 We hope you enjoy our Winter 2020 event, it's our biggest seasonal event to date. Have fun and stay safe, and Happy Winter!