Now that CubeCraft is being updated to 1.19 there is a lot of content that can be used in Skyblock in both the Overworld and Nether dimensions, the End dimension doesn't really have that much content (nothing new since Minecraft 1.9) and it might be a bit disappointing to release an update with the End dimension without first adding new content from 1.13 - 1.19 Minecraft versions.
We can think that the story of the Overworld and the Nether in Skyblock can no longer be extended, especially because of the quests 'Violent Ends' and 'Nethermancer', the last quests of those dimensions, so I came up with an interesting idea: Why not add island types?
Primary Islands
These would be the islands that we all know and nothing would change on those islands...
Oak Forest
Plains
Cold Taiga
Jungle
Desert
Birch Forest
Savannah
Extreme Hills
Swampland
Pigman Colony
Magma Graveyard
Nether Fortress
Blaze Spawner
Mega Islands
This would be the new island type, and unlike the Primary Islands, they would have unique features that would make them different and more challenging. However, everything will continue to be as faithful as possible to Minecraft Vanilla since it is the essence of this Skyblock.
I suggest that 'Island Type' be added to the scoreboard since now it could be Primary Island or Mega Island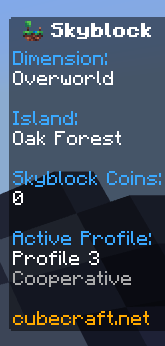 Mega Islands Features
Unlocking the first Mega Island in each dimension will require you to complete all the main quests of the primary islands of their respective dimension.
Like Primary Islands, Mega Islands will unlock an 80x80 area but the island itself will be much bigger than primary islands.
On these islands there won't be monster spawners, instead, mobs will spawn naturally.
All mobs that spawn naturally on these islands will be level 100 or higher.
Once all the main quests are completed, the monster spawner of the new mobs on that mega island will be unlocked in the shop.
Overworld Mega islands will have a new type of ore generator, 'Deepslate Ore Generators' (Explanation Below).
Mega Islands: Deepslate Ore Generators
Deepslate Coal, Lapiz Lazuli, Emerald, and Diamond Generators will give 3x more experience compared to normal ore generators.
Deepslate Iron and Gold Generators will give you three drops (no matter if you don't have fortune), so fortune 10 will give you 4 drops guaranteed, and fortune 20, 5 drops guaranteed in these deepslate ore generators.

Deepslate Coal Generator
Cost: 15k coins
Cooldown: 45 seconds

Deepslate Lapiz Lazuli Generator
Cost: 120k coins
Cooldown: 7.5 min

Deepslate Iron Generator
Cost: 1.05m coins
Cooldown: 1 hour

Deepslate Gold Generator
Cost: 6m coins
Cooldown: 3 hours

Deepslate Emerald Generator
Cost: 12m coins
Cooldown: 6 hours

Deepslate Diamond Generator
Cost: 48m coins
Cooldown: 18 hours

---
Deepslate Ore Generators will be important for a new generator in the End dimension (Explanation Below).
---
Mega Island Ideas Before The End Dimension (and required to unlock it)
Ice Spikes (Overworld)
Phantom
Silverfish
Skeleton, (Tough) Skeleton, (Stray) Skeleton
Zombie, (Tough) Zombie, (Baby) Zombie, and (Soldier) Zombie - Zombie with resistance I effect
Spider, (Tough) Spider, and (Speedy) Spider - Spider with speed II effect
Rabbit
Deepslate Coal Generator
Soul Sand Valley (Nether)
Ghast
(Teleported) Enderman - the spawn is rare
Skeleton, (Tough) Skeleton, (Infernal) Skeleton, and (Punch Skeleton) - Skeleton with the bow enchanted with Punch I
---
I can think of quite a few quests for these mega islands and even more mega islands like Deep Ocean or Mushroom Island with other types of Deepslate Ore Generators in the Overworld or Basalt Deltas with Ancient Debris generator in the Nether but I don't want to extend this thread unnecessarily since the objective is to introduce the Mega Island concept before the End dimension is released
---
The End Dimension Update
Just as some items are needed to unlock the Nether, some items will also be required to unlock the End
400 Ghast Tears
400 Ender Pearls
400 Blaze Rods
400 Phantom Membranes
---
Since you need ghast tears, ender pearls, and phantom membranes to unlock the End, you will need to unlock the Mega Islands 'Icy Spikes' and 'Soul Sand Valley' (which require you to complete all the main quests of the primary islands of their respective dimension) and that way you add more story to Skyblock!
---
New Generator: Amethyst Generator (End Dimension)
Since the End dimension does not have much content even in the newer Minecraft versions, I came up with the idea of this generator, which would work together with the deepslate ore generators!
Cost: 50m coins
Cooldown: 4 days
How would it work?
The generator will be a Budding Amethyst Block,

On this block will grow amethyst buds in the first 3 growth stages and an amethyst cluster in the fourth and last growth stage (basically as Minecraft vanilla). 4 growth stages and 4 days cooldown, when you mine the amethyst cluster, it will drop an amethyst shard and experience, but
how much experience?
As mentioned before, this generator will work together with deepslate ore generators, amethyst generators will accumulate the experience obtained from the deepslate ore generators that are around them, deepslate ore generators will still give you experience but the amethyst generator will accumulate that same amount. If you click on the generator you will be able to see the drop experience it has accumulated.
For example, the deepslate diamond generator gives you 1000 experience drop, when you break it you will receive that experience but the amethyst generator will accumulate that same amount, as long as the blocks are around it when you mine them, you can accumulate experience for 4 days and when you break the amethyst cluster will give you all the experience you accumulated!

Picture this, deepslate diamond generator has 18 hours cooldown, you can mine it about 5 times (no boost) in those 4 days, if you have 8 deepslate diamond generators around the amethyst generator, when you break the amethyst cluster will give you the same experience as 40 deepslate diamond generators after those 4 days because that is the experience you have accumulated, basically amethyst generators can give you as much experience as you accumulate in 4 days, sometimes could be a lot of exp and sometimes very little experience, it will depend on your effort.
That's all, I think they are very interesting ideas that can make skyblock an even better game!