So, the Discord layout got refreshed lately and honestly - it looks really good. However there is a big issue with this. While it might look nice, the actual content has not kept up. There are a lot of issues I want to address (and will address in later threads) but in this thread I want to address #rules-and-faq.
In this channel are the baseline rules that are to be followed in the entire of the server. However, they are extremely unclear, inconsistent with
https://cubecraft.net/rules
and not user friendly. To make them far better, I have a few suggestions that should help the channel become a lot clearer:
1 - Increase the clarity of the rules themselves. Currently, the rules are extremely vague and can sometimes be considered misleading as to what is usually punished for. Some examples include the rule "No malicious targeted language or actions towards other induviduals or group" or "there are minors using this Discord, so please avoid vulgar, obscene, or otherwise questionable language" which including any swearing, masking of swearing or anything rude whatsoever, but not just generic insults. A lot of people who spend lots of time on the internet will assume that this means no targeted hateful swearing or extreme swearing or something like that and a lot of children will assume that it covers generic insults, when in reality any form of swearing is not allowed. Another example is the "Use channels for their designated purposes" which is used to punish people for speaking the wrong language in the language specific channels as well as posting off topic images in any channel other than media, the rule being extremely vague. There are also rules for things like asking to buy accounts, mass tagging, tagging devs and admins for low level issues, etc that aren't 100% covered in any other rule that should be as they are punished for. Basically - the rules need to be clarified and properly explained, like they are on the forums
2 - Make them much more user friendly to read. Currently, the rules are just a big list block of text and honestly, most children won't be bothered to read them. A good way of encouraging people to read the rules is to make them easier and friendlier to read. Just look at these other Discord servers rules channels and see how friendly they are, especially compared to Cube's block of text.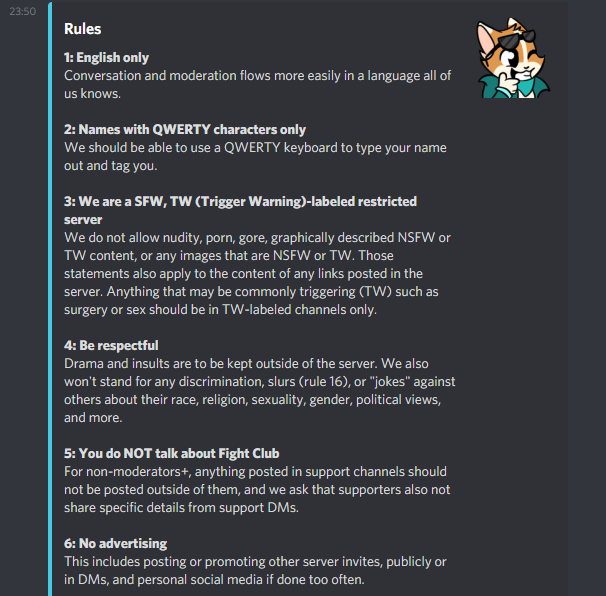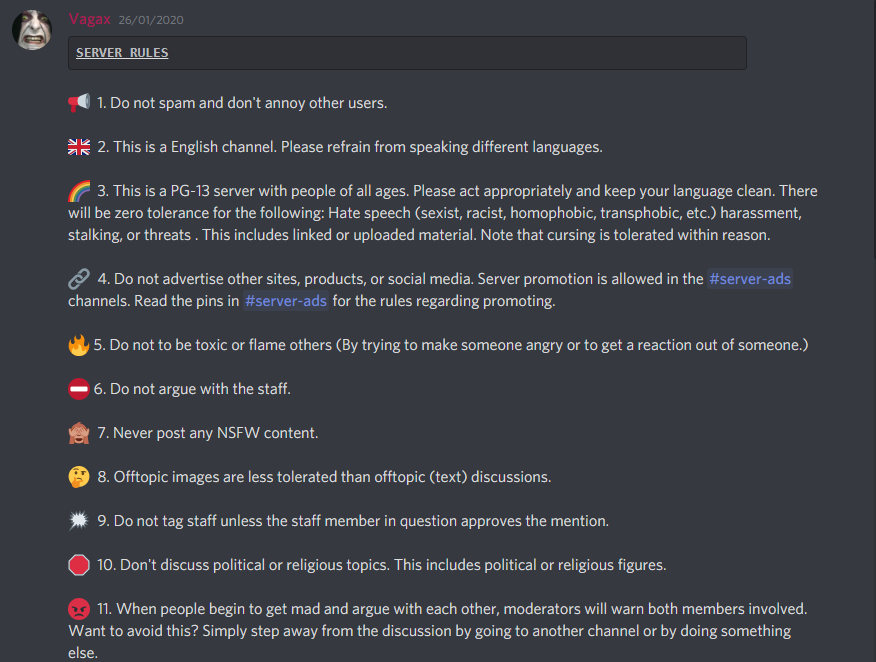 3 - Ensure consistency with the forums rules. As it stands, the Discord rules listed on the forums are vastly different from the rules listed on the Discord server itself. It would be much more clear and fair if these rules are the same across both platforms, especially the phrase "All server chat rules are enforced on the Discord". This would make it a lot more clear and consistent, reducing the chance of a confusion where someone gets punished for something not against one rule set etc.
4 - Release publicly the punishment tracks for all the different rules on Discord. If you ask staff, you can get wildly different answers for punishment tracks for different rules. Some people would ban for breaking 2-3 of any rule, some wouldn't ban for spamming discord adverts in every channel and swearing loads. It doesn't help that there are sometimes issues with recording punishments as well. Publishing the proper punishment tracks would allow staff and players to understand a lot better as to who should be punished when, and would much more easily allow players to challenge staff for punishing too early/heavily or lightly/late.
TL;DR - Make the rules much easier and nicer to understand.
And before all of these suggestions are rejected by staff - I don't care if you don't implement all of them because I suggested them as an excuse. Not implementing any of these just because you don't want to do all of them is a horrible excuse.