🎨 Designer
Staff member
Designer
Jul 6, 2015
3,879
13,676
644
18
King of the Poo
Hey! My name is Riley and I'm a Redstone Engineer at CubeCraft. I work alongside the other Designers to create fun and innovative minigames for the official Bedrock Marketplace!
Welcome to our Marketplace Highlight. In these sort of threads, we will go into detail about a particular project to show you our behind-the-scenes!
Last year, a friend introduced me to a PvP Duels kit called 'King of the Poo', this was essentially King of the Hill but with one big change: we battled on top of a big poo! This was quite popular amongst the community. So much so that eventually tournaments were held and videos were created!
I joined the CubeCraft team back in February of the year 2020. After a week or two, I showed my interest in creating a similar minigame for the Marketplace. The team wasn't really sure as it's quite a silly project! To my surprise, we received a green light!
One of the main difficulties we faced was the fact that King of the Poo is originally a multiplayer game. We solved this by creating a custom entity that would battle against the players.
@mitgobla
and
@Yamín
worked very closely together to create the poo entity.
Fun fact
: the sound effects for the poo entity are
@mitgobla
's voice sped up!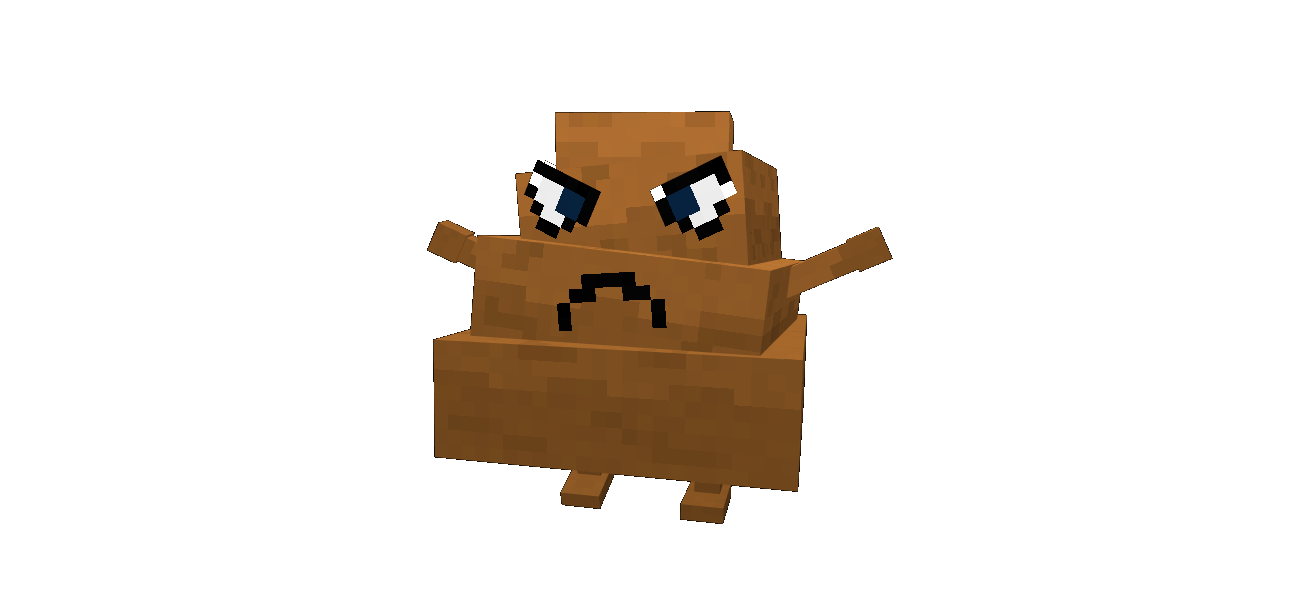 The base of the entity: texturing, modelling and animating
Coding the behaviour of the poo entity
​
The original plan was to only use the poo entities in singleplayer games. This would mean the entity, which took a lot of effort to create, would not be featured in multiplayer games
at all
. After one of my usual progress updates, a Design Manager pointed this out and collectively, we decided to show it off as much as we could: we implemented the entities into multiplayer games as well.
There is even an easter egg somewhere in the lobby that features the poo entity as well, just to give it that little bit extra!
At first, the entity was a bit too simple. The only kind of attacking it could do was by walking up to the player and slapping them. Later on, we added poo projectiles. The poo entities would randomly start throwing with said projectiles, massively improving the gameplay!
Closer to the end of the project, we decided to add random world events to boost replayability and to spice things up even more.
The endless supply of
crappy
puns we shared with one another can't go unmentioned of course! And overall, this must be one of the most hilarious projects we've worked on so far!
Creating art for a project like this wasn't easy. During one of our meetings,
@Efcluke94
pulled out this exact screenshot from a Harry Potter movie.
This inspired
@Story
to make some hilarious marketing art assets!
The QA team is an internal team that helps us test our Marketplace projects. Their feedback was key for the growth of this minigame: we discovered a dozen bugs and based on feedback they gave us, we made small or sometimes game-changing tweaks.
For instance, throughout testing, we noticed the knockback wasn't quite enough. We made the game so much more fun using some levitation magic. Some of the team members tested for hours on end!
Acting for the trailers is already quite nice, but imagine playing with almost a dozen other players on a giant poo... Can't get much better, can it?
You can find this any many more of our projects on the official Bedrock Marketplace!


If you want to contribute to our servers and Marketplace projects, feel free to check out our application thread!
Thank you so much for checking out our first Marketplace Highlight thread. We'll be doing these from time to time! Keep on being creative out there!​
Last edited: