Hey everyone,
Just wanted to make a quick suggestion regarding the discord. The current layout of the channels looks like this: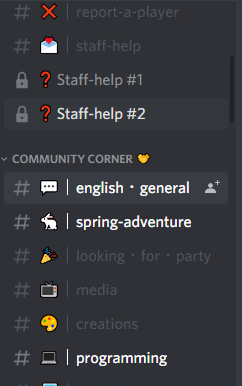 As you can see, there is a bullet point between "english" and "general" ( english • general). I personally like the bullets more than the dashes (hyphens, - ) and I think we should add these to the rest of the channels with spaces. For example, "spring • adventure". And all other channels that need it.
Edit: So I'm not suggesting that all channels should have a bullet, it could be either. I am trying to state that a little bit of consistency would be great.