Adminal Wolf
Team CubeCraft
💙 Admin Team
Jun 26, 2016
1,195
3,918
414
Forums Tweaks
Hai all!
We bring you a brief, but informative update about several changes that will be happening here on the forums! These changes will impact the way we handle a few aspects!
This includes the way bug reports are handled, appealing a punishment by an ex-staff member, and helper applications. Some of these tweaks are more drastic than others, so we will be going into detail on each.
Bug Reports
As some of you know, we have had Bedrock Bug reports on the forums, on top of being on the normal reports website for Java. This is something that our Bug Team has been struggling with as we don't have a centralised location for these bugs.
This has been something we did since there are issues with clicking links on the Bedrock platform, so users could not gain access to the reports site without a Java account. However, this minor difference has actually proven to be an advantage to sorting through the bug reports.
Due to the ease of use it has proven to be,
all bug reports will now be on the forums
!
Filling out a bug report is now a bit more systematic - this is because sometimes, the Bug Team will receive bugs that are quite literally 3 words long, which is a bit of a waste. We can now ask questions, categorise things relatively easily & get the correct information to tackle those difficult bug reports!
We've also created a guide for bug reports, which you can read here!
If you are curious about what information we will be looking for, or for what you need to gather in order to write a bug report, you can find the questions below. Some of them are conditionally shown, which we've marked with an * at the front. There are some differences in Bedrock & Java bug reports, but they're generally the same.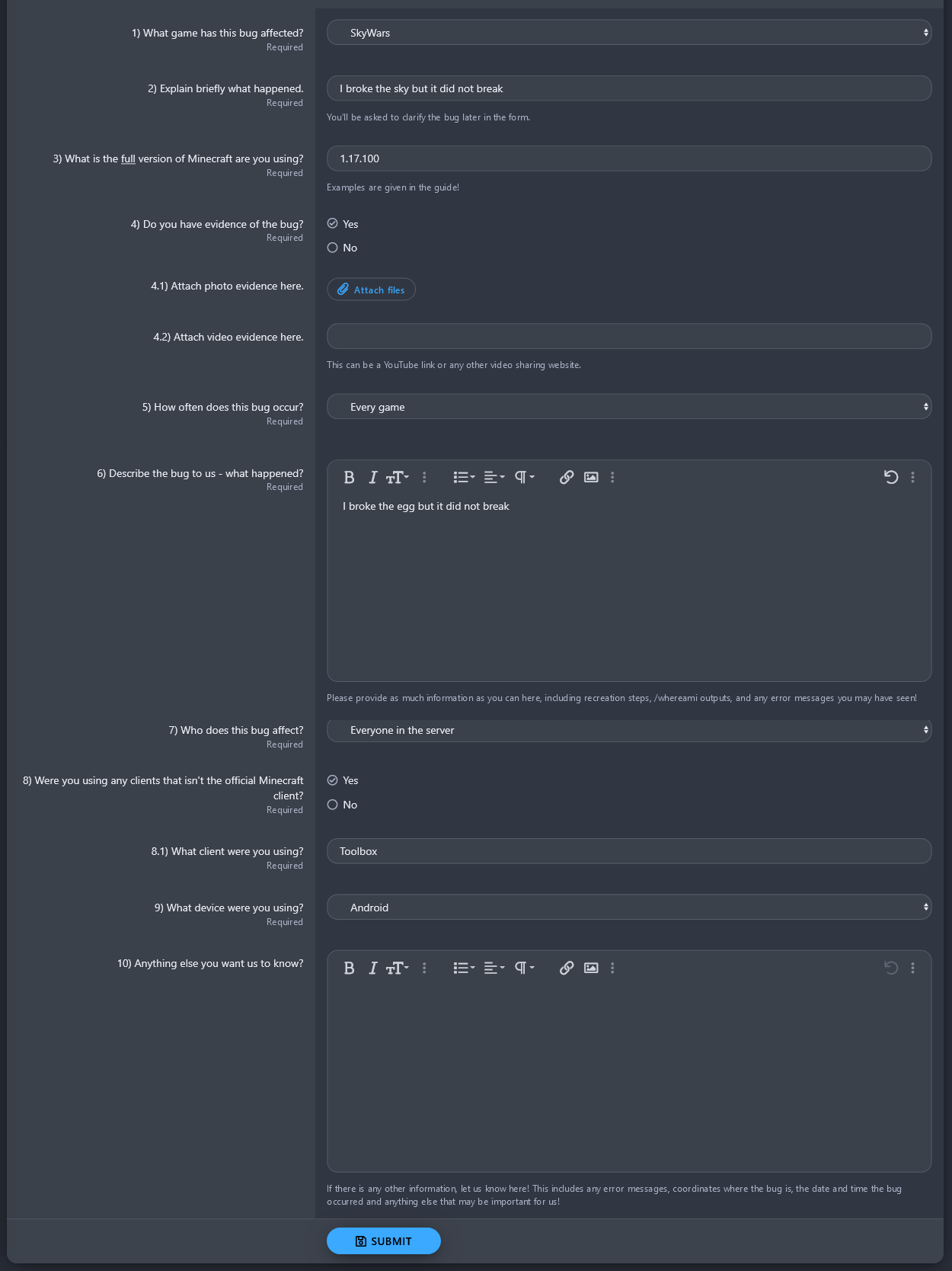 Finally, as a note for the Bug Team - currently, we have three people who go through bug reports;
@Marieke2001
@Keanu
&
@CNA1998
. We're super happy to be expanding our Bug Team to more than just one timezone, so you will be seeing 6 new fresh faces dealing with bug reports -
@Deann
,
@Pineapple
,
@EnderKnightError
,
@Spoon
,
@Dutchyyy
&
@Darkninja27
. These people will be spending some time getting used to the procedures of reporting bugs internally first - but this is our first step forward into pledging for better management of the bugs seen on our network.
Ex-Staff Appeals
While these normally have been coming to
@Capitan
and myself, in our DM's on the forums, this will be changing.
The reason for this is due to the mass quantity of appeals we both have been receiving, and the amount of work that actually goes into them. We will be moving it to a sub-forum, where you will be filling out a form for your appeal, to provide ease of access and processing. These will also be sorted through by the SrMod Team, but also
@Capitan
and myself.
You can find the location to appeal
here
.
If you have an open conversation with either
@Capitan
or myself, please do not then create an appeal in this section. We will be finishing off any conversations we have pending, that were started before this update was released.
However, if you start a conversation from here on out, you may be redirected to the sub-forum. This is to ensure consistency and also an efficient organization for our staff team.
Note:
This section is not going to be for Sentinel bans, Network Banned users, or False Punishments. It will only be for appeals from users that are banned by a staff member who is no longer a staff member.
Helper Applications
The changes to the Helper applications are genuinely very minor. In an attempt to make the process smoother for our team to sort through them, as well as for you all to be able to apply, we have added a form that will pop up when you start a new thread.
This will work similarly to how it does for our bug reports, ex-staff appeals, or the translation team applications. The template has not changed from what you had to copy/paste, but rather it has just been automatically provided for ease while applying.
That's all for this update! Thank you everyone for reading!