Developer
Staff member
💻 Developer
Hello Java CubeCrafters!
Just a quick update, we've revamped our server voting system, which means more sites to vote on & more rewards up for grabs!
- Read below to learn more!
New menu, new rewards & voting streaks!
Our voting system used to just be one website and a basic reward, but now you have the chance to vote multiple times and earn better rewards! Our voting system has a 365 day streak, one for each day of the year. Our voting menu has been beautifully designed to inform you of the day you're on and what's to come.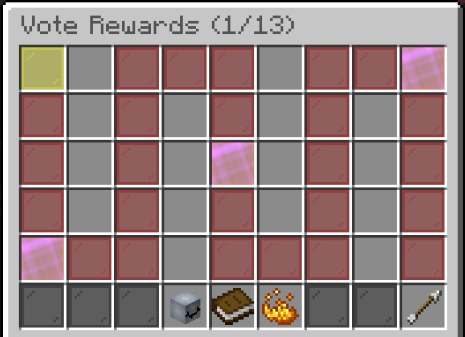 New Voting menu.



Daily votes.
​
You can vote 5 times a day from 5 of the voting sites given. The first vote gives you 200 experience, the second is 10 experience and the third is a
Votelet
! - Now, I know what you're wondering, "What's a Votelet?!". A Votelet is an exclusive Cubelet type given from our voting system, upon opening, you have the chance to win loot points, normal Cubelet, a Super Cubelet or even a
Uber Cubelet
!

Opening a Votelet!​
Streak recovery, Voting milestones & Exclusive loot!
Now most of you are probably wondering, "How can I get to 365 days without missing one?", we we've got you covered. If you accidently miss a day of voting, when the 24 hours is up, you'll have another 24 hours to recover the streak, it'll cost you some loot points and sadly you won't get the rewards from the day you missed.
Along with the daily rewards, we've also added voting milestones! - Meaning that on big days like 5, 15, 25, 50, 100, 125, 150, 175, 200 etc, you'll earn very special and exclusive loot. Such as a Duck Miniature, epic particle trails & incredible animated cages!
Thanks for reading, we hope you enjoy this Voting update! Have fun and stay safe!