Lead Game Developer
Team CubeCraft
💻 Developer
Hey CubeCrafters!
It's been a while since we had an update for both our Java and Bedrock networks at the same time - but now's the time! Read more about what we've done on this epic Minerware update...
12 New Microgames!
Today, we're releasing a bunch of new microgames for you to try out on our networks!
Cooks Request
The chef has requested some food for you to gather! Look in the chests and cook the food with the furnace, and give him the food to complete the microgame!
​
Thin Ice
Help! The ice is melting below your feet - make sure you don't fall in the water!
Harvest the Crop
You need to harvest the crop it tells you to... good luck, as it keeps changing!
Find the Sapling
You need to find the sapling it tells you to... same as above.
Fight and Sleep
Zombies have invaded Minerware! Kill them all, and race each other to the bed!
​
Good Door, Bad Door
You spawn on a platform and you should try and make your way to the beacon - watch out though, as people can close the door on your face, and you fall into the void!
​
Mushroom Parkour
Parkour as you love it, but with jump boost and a new Mushroom theme, and jump boost!
Shoot the Creeper
You spawn on a platform and you must shoot the moving creepers as they come! Make sure you land at least one though!
​
Sumo Smash
Fling each other into the air, and into the void with your sumo smash abilities!
​
Fill the Tank
A random puddle will form on the platform, and you need to fill the tank - collect the water from the puddle, and click on the furnace to fill it up!
Thimble
Watch out, jump into the hole before time runs out! And make sure you're accurate, you have one chance!
​
Hole in the Wall
You'll get teleported into a room and the walls will begin contracting! Be sure to fit through the holes in the 4 walls that come towards you to win the microgame!
​
New Bossgame - Hook the Mob!
You have a pit to capture animals in with your fishing rod - the person with the highest number of captures will win the bossgame!
New Map - Crimson!
To top it all off, a new Minerware map! You may need to beware of extraterrestrial life...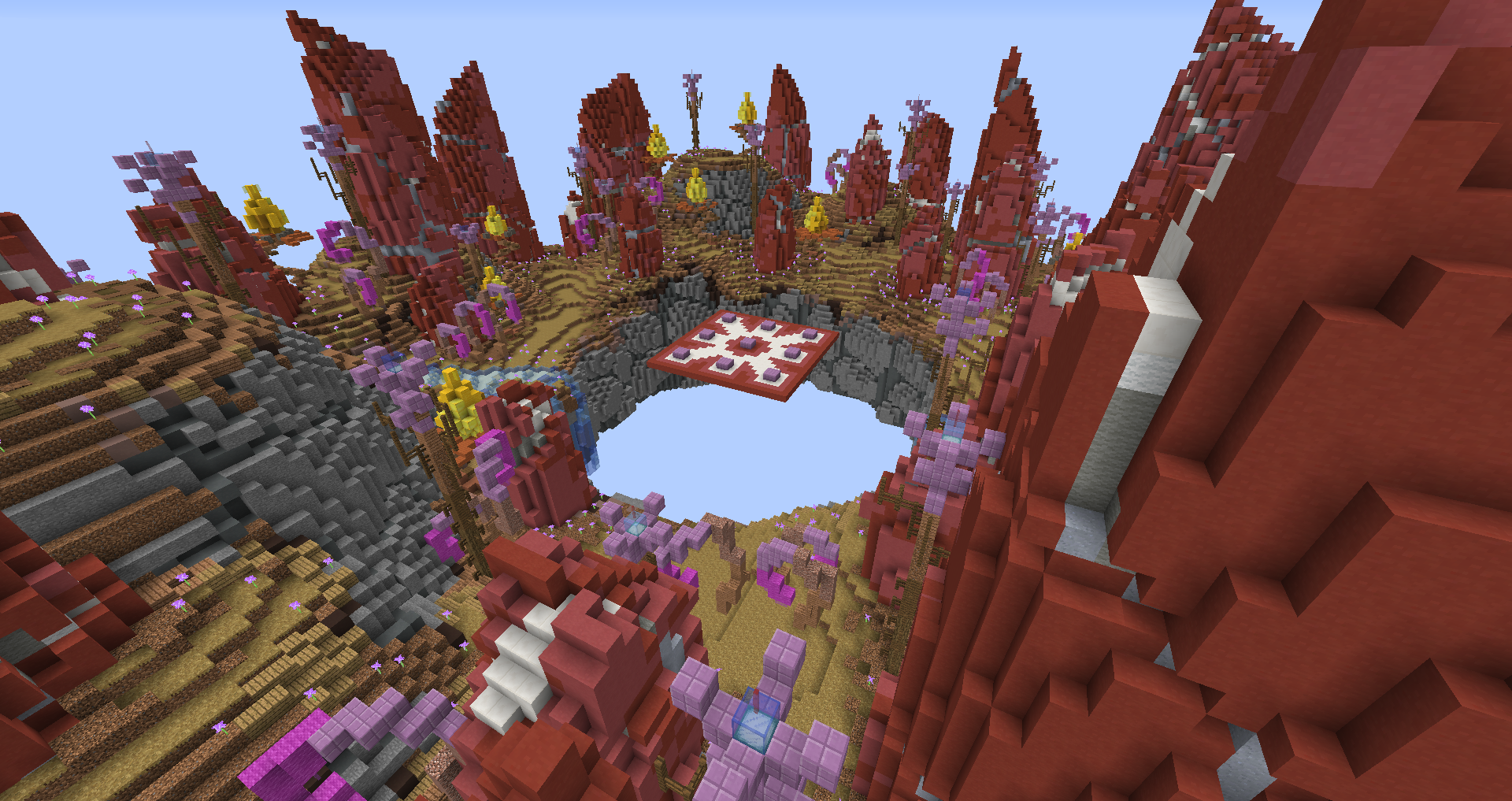 ​
Changes to Minerware!
We've also made some changes to some existing microgames! Take a look:
Added new outcomes to "Wait for it..." microgame.
Made the lightning strikes in the "Avoid the Lightning" microgame more accurate / less frustrating. (Java only)
Added more structures to the "Complete the parkour" microgame.
Added 26 more "True or False" outcomes. Removed 8 existing outcomes.
Added 13 new achievements to Java.
Made players invisible in the "Fly through the Hoops" bossgame.
Thanks for reading everyone, hope you've enjoyed this update - have fun, and stay safe