Jul 18, 2020
278
157
74
18
This forum is now a serious joke now and I mean that. I can't go to the lobby or game discussion channels to see at least 1 player make 4 incredibly dead posts that no one to reply to using bad English and everything really and I used to think. Nah it's fine it's just one person but now it seems like more and more people just think it's okay to post 4 POST ABOUT ABSOLUTELY NOTHING IN THE FORUMS.
Seriously I give up because at this point. I think what is better for the forums is the forums to just be limited to news and bug/player reports but that is the only thing that is good for this forum because as of rn. The forums are littered with junk discussions and I really realized that after I won't name them but just made posts on things that don't exist and I made my post about growing tons of birch in the birch forest island. cubecraft.net/threads/over-samplifying-my-birch-island.321788/ I thought that's what the cubecraft forums need a good post but no it only got 1 reply from a moderator telling me to show what it looks like after it has grown witch I did do but that's not the point. The point is that I thought that the post I made would gain more traction but instead, what gained traction is underaged forum users making posts about something that is done in private like reports about players or bug reports or just really dumb things.
But I have one more thing to prove and that is the forums dying and it definitely is dying and I can just prove it by looking at the about of people who said happy birthday.
That's how many people said happy birthday last year and it was so many that I had to decrease the page size to 50.
This is how many people said it this year in fact tbh no one managed to say it on the day of my birthday. T-T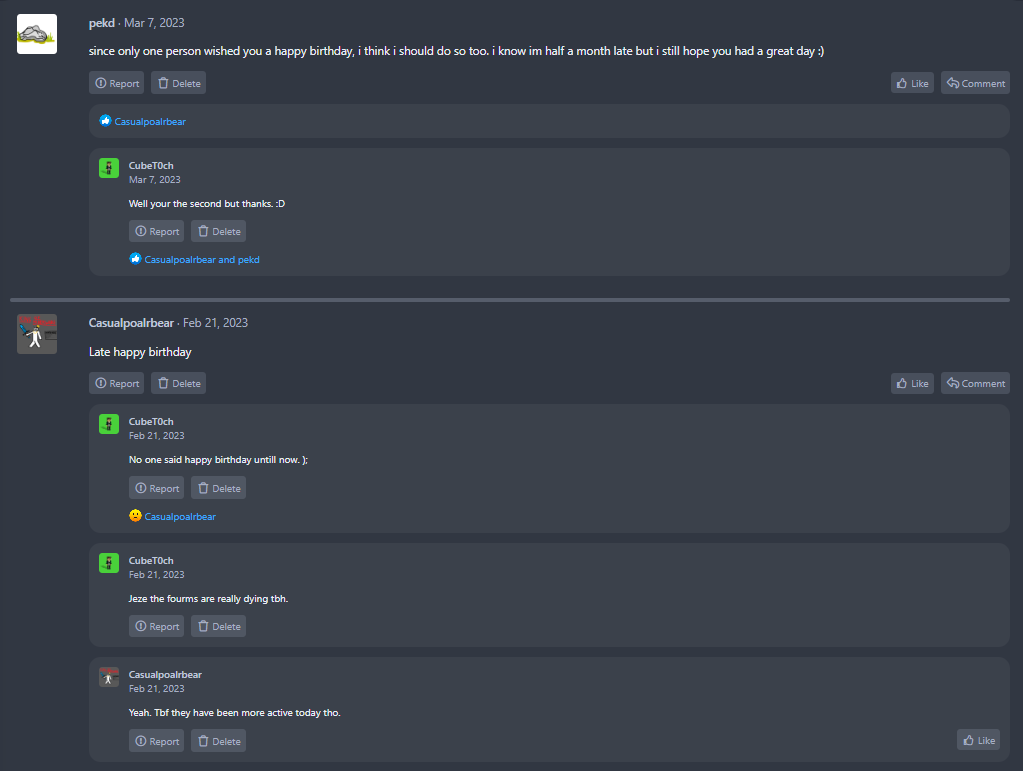 Overall I think that the cubecraft forums are just a lost cause for me to chat in and I am not expecting people to agree with me but with the way things are going I won't be surprised if these forums shut down and tbh the unofficial cubecraft Reddit is a better forum to talk in than this place.