Sep 12, 2018
423
1,336
159
Pronouns

He/Him

Achievement Menu Revamp

​

Hey there, me again with another suggestion!

With Quality of Life 6, the statistic menu got revamped so that you can see all the games, also the games that are not Featured at that moment for both BlockWars and Arcade games. I really like the idea of seeing the stats for every game, but why not the achievements? Right now, you can only see achievements for the current two featured game modes, which I think is strange and unnecessary, as it could also be revamped to look similar to the statistic menu: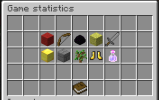 Let me know what y'all think! Please respond with

if you agree with the suggestion, not with likes or heart-eyes or something similar. Obviously you can also respond with

or

, but please let me know why if you do!
Thanks for reading, lets make a change! <3