CubeCraft Games

​
Hello CubeCrafters,
We are incredibly proud to announce our brand new game which is now available to play:
Battle Zone
.
Up to a hundred players must battle to the death in what is the largest map we've ever manually crafted for a game here on CubeCraft. Scavenge and mine the map to gain weapons, resources and potions and avoid the deadly world border. Our brand new structure builder allows you to construct your defences and navigate the map with speed!
The Map
The build team have done an incredible job creating a monstrous map for you all to explore! You'll discover locations scattered across the 1000x1000 map along with many other structures. Loot is hidden amongst these areas, different locations contain different amounts of chests so choose your desired landing location wisely. But while exploring the map, avoid the deadly world border at all costs, it's fast!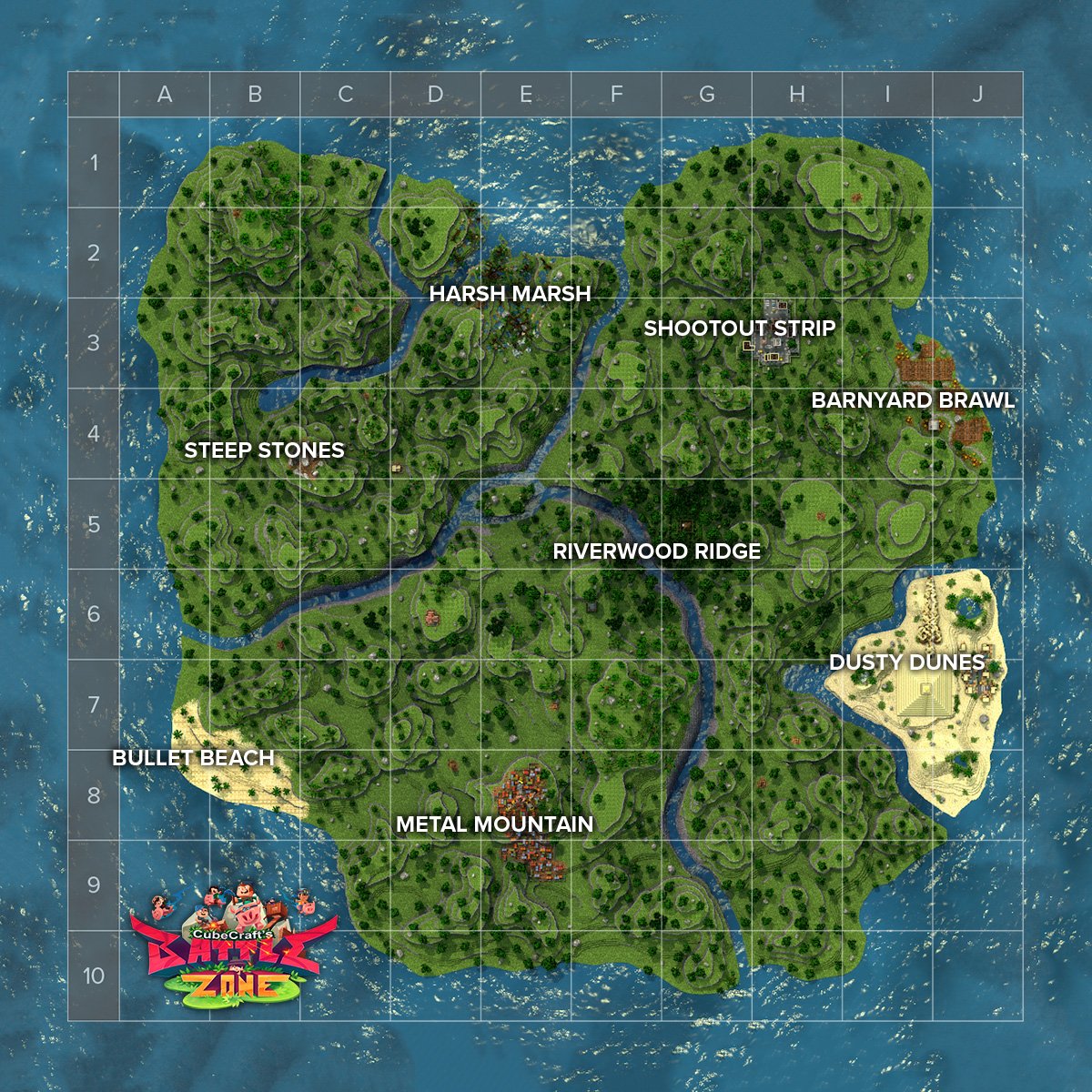 The Map.
​
Locations
There are numerous locations scattered across the map. Here are a few of our favourites:
Shootout Strip

Dusty Dunes

Metal Mountain

Harsh Marsh

Riverside Ridge

​
Resources and Building
To be able to build you have to collect some of the 3 available materials: wood, stone and metal from trees, rocks and structures found throughout the map. As you approach a structure that you can mine resources from - we will automatically select the best tool for the job and let you know there is something there! The amount of materials you...

​
Hello CubeCrafters!

It's finally time to announce the return of Parkour. After months of hard work we're extremely happy to bring you a new and improved Parkour section to our network. It now includes competitive mode, level unlocking and best lap times!


​
Normal Parkour
It's here! Finally here! We've released Normal Parkour with 3 modes, Easy, Medium and Hard. If you're amazing at Parkour you can enjoy our Hard mode but if you're terrible at Parkour you can enjoy our Easy mode. Our Parkour is user friendly to players which are good or bad at Parkour and players who want to play with friends. Normal Parkour doesn't just have maps, they have levels within them. There's over 57 different levels for you to try! You also have the ability to change maps and levels whilst ingame.
​

Joining Normal Parkour.
​
Whilst playing Normal Parkour you will be able to see everyone else within that server. But good news, if you don't want to see anyone or just your friends, Parkour has a player visibility setting on the hotbar for you to easily change. There's also the ability to make players semi-transparent, so if you want to see friends and party members but you don't want them blocking your view, you can make them semi-transparent.
Using the player visibility and transparency feature.
​

Normal Parkour doesn't have checkpoints, so be careful not to over-jump, trip or walk off. As Normal Parkour has levels, you need to complete the previous level before unlocking the next. Finishing a level will show a message in the chat and gives you the option to the next level if there is one, open up...​

Helloooooo CubeCrafters!
I'm so excited to finally announce "CubeCraft Games: Bedrock Edition". We've been hard at work an it's been so painful having so many of you ask where it was! I'd first like to thank all the developers that worked on this to get to this point, it's taken an enormous amount of effort and determination but I think we're all excited to see where we can push it to!
Let's start as we always do with a video. We've made a few short videos about playing CubeCraft anywhere. Here you go:
​
With this initial release we're bringing SkyWars and EggWars to Bedrock with Survival Games following in the not to distant future! We'll then be looking at all the feedback to see what other games the community wants us to make a Bedrock version of.
One thing you might notice on the Bedrock Edition is there is nothing to buy. We're going to be releasing an exclusive "Pioneer" rank in the coming weeks for a limited time so keep your eyes peeled for that. It will be a fantastic way to show people how early you were to the CubeCraft party!
Now I know there are going to be a lot of questions around this new offering from us so here's some answers to the most frequently asked ones. I will update this as people ask new questions if they are common enough. Feel free to ask about anything not covered below in the comments.
FAQs

Will my rank from Java carry over to Bedrock?
No. There is no way currently for us to have a link between the two servers. This means that all ranks, stats, friends etc that are linked to your Java account will not be made available to you from the Bedrock Edition. It's not impossible in the future that we might look at linking all accounts to your CubeCraft forums account but this is something that's not currently planned.
How do I connect to the server?
Just open Minecraft on your...

Hello CubeCrafters!

We've released an amazing mini update for BlockWars. A big part of this update are quality of life improvements and overall gameplay experience enhancements. We've also added some new content for you
Lobby and Pre Lobby
The BlockWars lobby has had it's layout overhauled!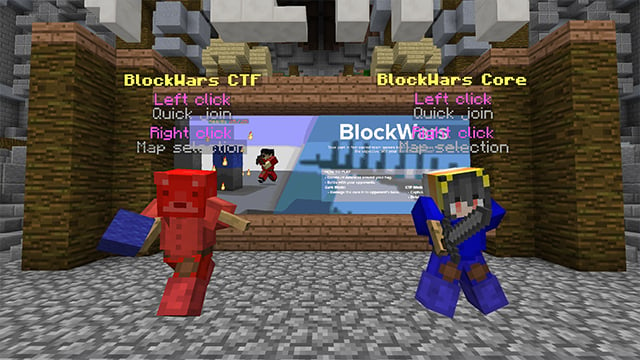 We've also revamped the BlockWars pre lobby!
Build Timer
The build timer has been tweaked to match a specific mode on BlockWars. The build timer used to be 2 minutes in all gamemodes, even in half blocks when you've placed all your blocks in the first 45 seconds. Now if the game has a specific gamemode, the build timer will change.
No voting option - 1:30 minutes
Half blocks - 1 minute
Double blocks - 2:20 minutes
Speed boost - 1:30 minutes
Low gravity - 1:30 minutes
Kits
We've improved some of the previous kits and added into some shiny new ones! The Tank kit has been given a shield and has had it's pickaxe given a sharpness 1 enchantment. The summoner kits Skeleton has been given a bow and the Archer kit will receive an arrow every 20 seconds if their arrow count is below 5.
Trap Blocks
As you know, Trap blocks in a game of BlockWars can be very useful, and now we've made them even more useful. At the start of game players will now receive 2 trap blocks rather than 1. TNT from the Explosion trap blocks is now more powerful and deadly. Monsters released from the Monster Spawner trap block have been increased and they are now smarter. Other than balancing previous trap blocks, we're also added a new one!
The new trap block is called the "Bamboozler" trap block. It's effects are if a player breaks it, it blasts the...​